Bruins GM Chiarelli says he was told he had Jarome Iginla
Bruins GM Peter Chiarelli held a press conference Thursday to talk about the Jarome Iginla trade and said he was informed on Wednesday he had the player.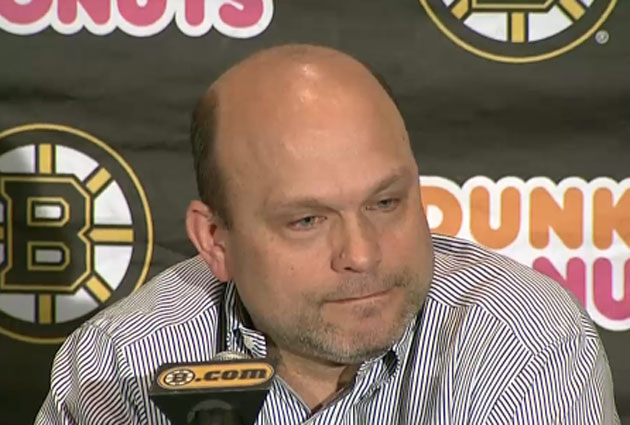 More NHL: Scores | Standings | Odds | Fight-O-Meter | League Leaders | Rumors
It's rare when NHL general managers call press conferences to talk after their team did not make a trade, but that's what happened Thursday in Boston with Bruins GM Peter Chiarelli.
Chiarelli missed out on Jarome Iginla after so many media reports had it as a done deal that the player was going to Boston. Iginla was headed to the Bruins from Calgary in exchange for Matt Bartkowski, Alexander Khokhlachev and a first-round pick, per the reports.
Instead, Iginla was traded to the Penguins.
It's pretty obvious where those reports of the deal being completed were coming from based on what Chiarelli had to say Thursday.
"We submitted a firm offer two days ago and were informed around noon [Wednesday] we had the player," Chiarelli said, referring to Iginla. "We all agreed to scratch our players."
The scene was unusual for the NHL. Chiarelli looked like somebody had kicked his dog or completed some other part of the first stanza of a country song as you can see above (via @Steve_Dangle). He was obviously a little upset about what happened. Why else would he call a press conference to share? Don't get me wrong, it was great to see behind the curtain and get some inside access; it was just ... different.
Chiarelli explained that he asked to speak with Iginla personally but was rebuffed. He didn't get a chance to try to convince Iginla that Boston was the right place for him or anything like that. Chiarelli said he started to get the sense something was up when he wasn't hearing back from Calgary.
The Bruins GM explained that these things happen a lot more often than we know, but he clearly was frustrated by it and wanted to vent. He did say he didn't think Feaster did anything nefarious; it was just a matter of Iginla's choice.
These are the risks you run when you're trying to swing a deal for a player with a no-trade clause. He was given that clause and had a right to use it. But certainly some will be upset after it was reported Iginla had the Bruins on the OK list for a trade and then said no when a deal was done and instead chose Pittsburgh. When the Penguins visit Boston on April 19, I doubt Iggy will be treated to a large applause.
Isn't the trade deadline fun?
By the way, I'm going to take this chance to insert this tremendous photoshop art from Benstonium (via @PezDOY). For you non-history majors, here's the backstory on Dewey Defeats Truman, probably the biggest newspaper gaffe ever.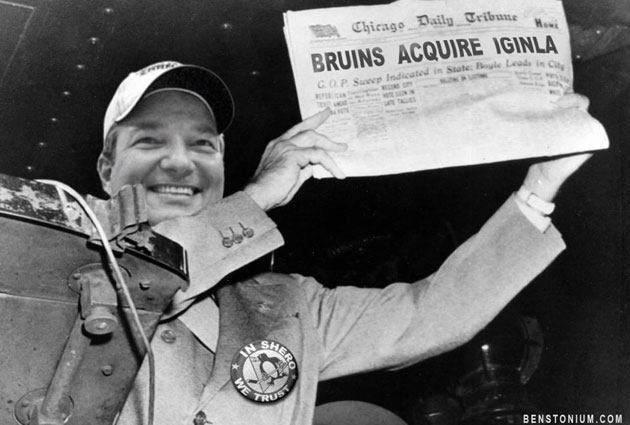 Stacia Robitaille says Donald Trump told her in an elevator that she was coming home with...

Vladislav Yeryomenko was the Teddy Bear Toss goal scorer for the Calgary Hitmen

The Golden Knights are finally getting their No. 1 goalie back after a 25-game absence
Washington has won four straight, and the Kings are also on a tear right behind the Lightn...

The NHL says it's only interested in expanding to Seattle, but here's a look at all the moving...

The NHL says it is only looking toward Seattle for the next expansion team