Bruins GM says team expected to stick with roster as is
After re-signing Patrice Bergeron on Friday, the Bruins expect to be pretty quiet for the remainder of the offseason and stick with their roster as is.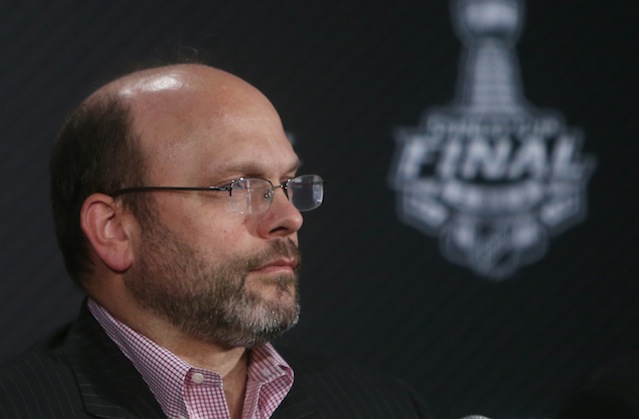 More NHL offseason: Rumors | Top 50 Free Agents | Buyout Tracker | Trade Tracker
Boston Bruins general manager Peter Chiarelli has been pretty busy over the first couple of weeks of the offseason.
He has locked up two core players -- Patrice Bergeron and Tuukka Rask -- to long-term contract extensions, completed what was perhaps the biggest blockbuster trade of the offseason to date when he sent Tyler Seguin to Dallas for Loui Eriksson and finally secured the services of Jarome Iginla by signing him to a one-year deal.
Put all of that together with the roster the Bruins already have, and they're right up against the league's $64.3 million salary cap (and that's not a bad thing) for the 2013-14 season and beyond.
That cap situation recently led to some rumors that forwards Brad Marchand and Chris Kelly could be on the chopping block when it comes to potential trades. But Chiarelli said on Thursday that things are starting to slow down this offseason and they are expecting to stand pat the rest of the summer.
"I think right now we're going to stand pat," Chiarelli said during a conference call with Boston reporters. "I like the fact that we're going to have competition on that third line. We've got some good young players already in the organization and just recently acquired.
"So, for right now, you never know what's going to happen in the summer, but it will slow down and already has slowed down, and that will apply to our defense too."
Marchand's name even being brought in trade rumors seemed a little odd. He not only just signed a new four-year contract extension but, for as much as the rest of the NHL outside of Boston hates him, he's a heck of a hockey player and still only 25 years old.
Really, there's no need for the Bruins to move anybody else at this point. Even with their changes this offseason (Seguin, Rich Peverley, Nathan Horton and Jaromir Jagr leaving; Eriksson and Iginla coming in), they're set up to be one of the best teams in the NHL once again and returning a core group of players that's been to two Stanley Cup Finals in three years. Once Marc Savard's contract is shifted over to the long-term injured list, their cap situation will clear up a little and give them a bit of breathing room.
Players are set to give personalized messages for Adidas' former hockey equipment brand

The 40-year-old center is returning to the Wild after a successful run in Pittsburgh

Edmonton locks up its 21-year-old RFA a month after McDavid's historic extension
Even with a new coach and added veteran help, the Canucks have a long road ahead

Unlike expansion teams before them, the Knights have enough talent to entertain right away

Brian Lawton says he 'would not be surprised' if Boston deals its young star to end contract...