Bruins sign GM Peter Chiarelli to four-year extension through 2017-18
Bruins GM Peter Chiarelli has led the Bruins to some successful times and now he's been rewarded with a four-year extension.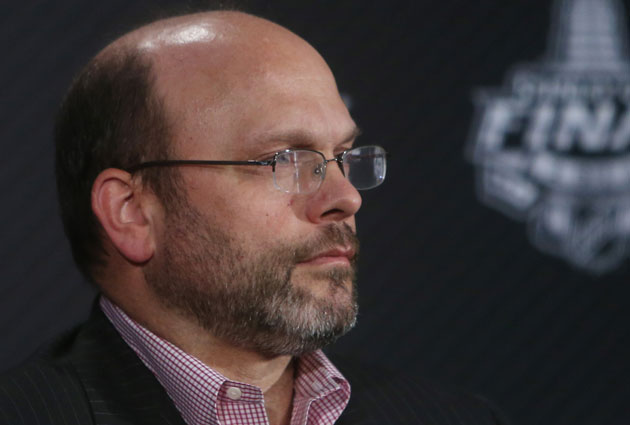 More NHL offseason: Rumors | Top 50 Free Agents | Buyout Tracker | Trades | Transactions
Boston Bruins general manager Peter Chiarelli has been busy handing out a lot of extensions the past couple of years so now it's his turn.
On Thursday Bruins President Cam Neely announced that Chiarelli has been signed to a four-year contract extension. That means he's on the books as the Bruins GM through the 2017-18 season. Plus he'll remain the team's Alternate Governor.
Chiarelli has been running the show in Boston for the past six seasons after taking over in 2005. In that time Boston has enjoyed a lot of success, highlighted by the franchise's first Stanley Cup since 1972 in 2011. The team was able to make a return to the Final this past season, ultimately losing to the Blackhawks.
What has been pretty remarkable about Chiarelli's run as GM was his ability to keep the team together for so long below the salary cap. It has finally started to catch up to him as the Bruins have felt the pressures of the cap this summer, leading to the departures of guys such as Tyler Seguin, Jaromir Jagr and Andrew Ference but that has been the cost of keeping the core guys such as Patrice Bergeron, Tuukka Rask, Zdeno Chara and David Krejci.
Overall, the Bruins have had three 100-point seasons under Chiarelli (you have to disregard this past season at just 48 games). In the six seasons he's been on the job the Bruins are 291-187-62, not too shabby. And with the core players locked in beyond next season for longer, the good times won't be leaving Boston any time soon.
J.T. Brown, who raised his fist during the national anthem, meets with Tampa Police Depart...

The decision would likely be met by anger from some fans, but it could also make sense

Toronto shoots to the No. 1 spot, just ahead of the Chicago Blackhawks
The Penguins' standout is at it again

Gary Bettman all but reverses course from his September comments on anthem demonstrations

The 'Washington Post' says many teams have stopped booking stays at Trump-owned properties