Bryan Bickell is a points machine again for Blackhawks in playoffs
Bryan Bickell had a monster postseason last year and he's doing it again with eight points in eight games so far after having just 15 points this regular season.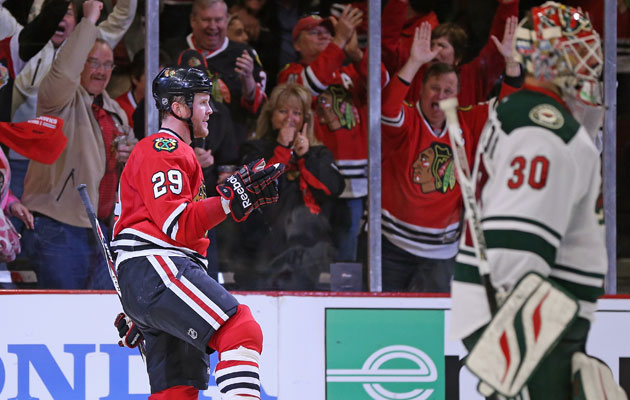 More NHL Playoffs: Schedule, TV listings | Expert Picks | Bracket | Scores | Odds
Whether it's luck or what, some players just bring out their best on the biggest stages. Bryan Bickell is one of those players.
A year after having a breakout postseason run for the champion Chicago Blackhawks, Bickell is the owner of a big, comfortable new contract. It was obvious some team would sign him to a handsome new deal and wouldn't get the player everybody saw last postseason; he had a great run but to expect that all season long was wishful thinking.
The Blackhawks knew that better than anybody but still ended up being that team to sign him to a new deal. Indeed he wasn't the same player in the regular season. He played in just 59 games and finished with 11 goals and four assists. That represented fewer points than he had in last year's playoff run alone (17 points in 23 games). His ice time that ran at 15:22 last postseason was trimmed to just 11:21 per game this season, his lowest mark since he was still a rookie in 2009-10.
Fast-forward to the playoffs and once again Bickell is producing. He's back to playing with Jonathan Toews and Marian Hossa for a lot of his shifts -- so naturally he's going to have better production -- but Bickell just looks a lot better, more engaged and overall more noticeable. On Sunday that equaled a three-point performance.
Bickell finished Chicago's Game 2 win with a goal and two assists. One of his assists was a nice pass up ice to find the wide-open Hossa behind the defense. Open or not, Bickell still had to actually spot Hossa and put that pass on his tape on the other side of the red line.
Then there was Bickell's rocket of a shot to the top corner that gave the Blackhawks their two-goal cushion late in the third period when things were getting a bit nervous for Chicago. The play was made again by Hossa in the neutral zone but he fed Bickell, who knew what to do with it (and of course Bickell was in position to make it a 2-on-1 rush). That came less than two minutes after Bickell rang one off the iron when he had beaten Ilya Bryzgalov.
So now for eight playoff games, Bickell has eight points total (five goals, three assists). In his playoff career that's 32 points in 46 games, a pace that puts him at a little more than 57 points in a full 82 games. Bickell's best season came in 2010-11 when he had 37 points in 78 games.
In other words, it's pretty clear that Bickell performs his best in the postseason.
Bryan Bickell, Postseason Performer
Season type
Games
Points per game
Shots per game
Shooting percentage
Regular Season
279
0.38
1.51
12.1
Playoffs
46
0.70
2.07
18.9
*Stats via Hockey-Reference.com
Why that is the case is a good question. The belief is that things get tougher in the playoffs, they get more physical. Bickell is a big, powerful player who fits that tougher hockey mold and could seem to thrive based on that. But we don't see the same from all other power forwards across hockey. Typically if you're good in the regular season, you're good in the playoffs and vice versa.
Does Bickell have the fabled clutch gene? We're going to have to go with no on that one because it's really nothing more than a narrative. Though it is always possible that he turns up his game a notch in the playoffs, which is probably more an indictment on the regular season than postseason, and for the overwhelming majority of professional athletes it's very hard to question their work ethic and/or desire. You don't get to this stage by being lazy.
Frankly, it might just come down to opportunity. Playing with Toews and Hossa in the playoffs, as mentioned, is going to bring the best out in anyone. In the regular season they weren't together much but now that it's the postseason again, Bickell is seeing action with the two superstars and in the playoffs it just seems to work.
As a result his shots are way, way up from regular-season totals. He is averaging just fewer than three shots per game this postseason. In the regular season? Bickell averaged 1.58 shots per game. If you nearly double your shot attempts, of course the point totals are going to increase substantially. Being healthy now helps too as he did deal with some issues this season, including a knee injury.
There's always a bit of good fortune, too. In his playoff career Bickell has a shooting percentage that is close to seven percentage points higher than in the regular season, shooting 18.9 percent in the playoffs over 46 games. That's an awfully high mark, one he's already above this postseason. Over a long sample size, it's really hard to keep that up but let's not pretend that 46 games is a tiny sample size, either.
Whatever the reason, Bickell is turning into a playoff machine for the Blackhawks, Mr. May for the organization. He joins the list of difference-makers at this time of year, something the Blackhawks already have plenty of and yet something you can never have enough of.
Los Angeles isn't rushing to sign the 45-year-old forward any time soon

The University of Denver star and Hobey Baker Award winner is drawing interest

Intrigue is high in Arizona after a wild offseason, but expectations should still be tempe...
Players are set to give personalized messages for Adidas' former hockey equipment brand

The 40-year-old center is returning to the Wild after a successful run in Pittsburgh

Edmonton locks up its 21-year-old RFA a month after McDavid's historic extension