Bryan Bickell's playoff run means big money and big risk
Bryan Bickell is earning himself a lot of money this postseason, but is it going to be a good investment for some team?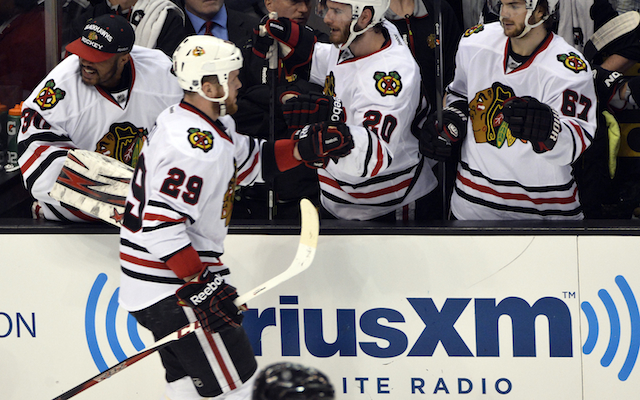 More NHL Playoffs: Scores | TV Schedule | Expert Picks | Odds | Mock Draft | Rumors
If you're looking at the NHL's goal-scoring leaders this postseason, you're sure to come across a rather surprising name near the top of the list: Chicago Blackhawks forward Bryan Bickell.
Bickell, 27, enters Thursday's Game 4 against the Los Angeles Kings in the Western Conference finals with seven goals in 15 playoff games for the Blackhawks, a total that has been topped by only two players this postseason (teammate Patrick Sharp and Boston's David Krejci).
Given that Bickell is eligible for unrestricted free agency on July 5, he certainly picked a great time to start scoring goals like he's one of the league's best snipers. It's no doubt going to result in a significant raise over the $540,000 that he's making on his current contract. Especially since he's the type of player that general managers seem to have no issue throwing large sums of money at in free agency.
Unfortunately for NHL GMs, if there's one type of player that almost always gets them into trouble, it's players just like Bickell under the exact same circumstances. The free-agent-to-be who comes out of nowhere in the playoffs and wildly exceeds his normal level of production right before he's availble to the highest bidder. Teams love players like that. The player who steps up at the right time and establishes himself as a clutch, big-time performer on the NHL's biggest stage. The player whom analysts can point to and say, "That guy is making himself a lot of money with a postseason performance like this."
They're not wrong, of course. That guy is going to make a lot of money based on that success. Way more than he was going to make without such a productive playoff performance. And the team that's responsible for making it happen is probably going to regret it or at least come away very disappointed with their investment.
That brings us to Bickell.
Not only is he eligible for unrestricted free agency this July, he'll also be hitting the open market in what is a pretty down year for impact players. There is no Zach Parise, Ryan Suter or Alex Semin in this group for teams to get into bidding wars over (the best free-agent forward might be New Jersey's David Clarkson, Boston's Nathan Horton or Detroit's Valtteri Filppula -- good players, yes, but hardly the guys who can significantly alter the future of a franchise). That means the NHL's 30 GMs are going to have stacks of money burning holes in their pockets, and they're going to have to give it to somebody.
That, of course, is great news for players like Bickell and their agents who stand to take advantage of it and cash in.
There are a number of reasons why teams will be attracted to him.
At 6-foot-4, 230 pounds, Bickell has the size and grit that general managers drool over in the hopes that he can become an impact power forward. His seven goals (and counting) this postseason will likely convince somebody that he's starting to develop a goal-scorer's touch around the net and will duplicate what he has done or perhaps even continue to build on it.
Chances are that he won't. There are a number of red flags when it comes to Bickell's future.
For one, he's 27. His development as a young player is probably finished. He's already as good as he's ever going to get. NHL players peak long before most people realize. The prime for an NHL forward in terms of point production is usually between the ages of 24 and 27. That means Bickell has probably already hit his peak performance. He's probably nothing more than a good depth forward rather than a power forward capable of playing on a team's top two lines.
In his three full NHL seasons, he has never scored at anything more than a 40-point pace over 82 games, while his underlying numbers point to a player who is a marginal possession player and not really helping his team to drive play in the right direction.
And then we get to the seven goals in 15 playoff games.
That is a run that is simply never going to continue. This postseason, Bickell has scored on an incredible 25 percent of his shots, a number that is in no way sustainable for him -- or any player -- on a consistent basis. Given his normal career shooting percentage (12 percent), he should be expected to score about three goals per 28 shots instead of the seven that he currently has. He's probably getting a little bit of luck right now and a lot of bounces to go his way.
Any team that considers signing him to a large contract and expects him to come close to what he's doing this postseason should probably examine what happened to players like Fernando Pisani, Sean Bergenheim, Joel Ward and Ville Leino in similar situations.
In 2005-06, Pisani scored 14 goals in 24 playoff games for the Oilers on their run to the Stanley Cup Final. Before that postseason, he typically averaged around 14 goals over an entire 82-game season. The following offseason, he signed a four-year, $10 million contract and never again scored 14 goals in an NHL season. In fairness to Pisani, he did have some health problems off the ice that surely affected his career. But based on his career before the 2006 postseason, there was nothing to suggest he was going to continue that type of scoring.
Before signing a four-year, $12 million contract with the Washington Capitals before last season, Ward, always one of the NHL's better defensive forwards, scored seven goals in 12 playoff games with the Nashville Predators, scoring on 25 percent of his shots. Before that playoff run, he had scored on 9 percent of his shots (40 goals on 424 shots) and on 10 percent (14 goals on 131 shots) after signing with the Capitals.
Leino's six-year, $27 million contract with Buffalo seemed to be based entirely on the potential that he flashed during one incredible playoff run and one good season with the Philadelphia Flyers.
Teams can make bad decisions based on what they see in the small sample size of a single playoff run or even the most recent full NHL season. They can either give up on a player who underperforms in a short series or spend too much money on a player who simply hit a hot streak at the right time.
What a player did most recently is not necessarily an example of what he's going to do next.
Bickell is a useful player and will have value to a team in the right role. But based on what he has done this postseason, there's going to be a team out there that is going to give him too much money and too big of a role because of it. It only takes one desperate GM and one team for it to happen.
The only thing that remains to be seen now is which team is it going to be?
NHL players are still disappointed they won't be going to skate in PyeongChang

With Artemi Panarin in the mix and a Vezina winner headlining the defense, Columbus can be...

The league's crackdown on faceoff infractions and slashing penalties isn't without some cr...
Joffrey Lupul spent last season on long-term IR but seems to be saying he's healthy

Early playoff trouble has been evident, but the Wild tout an offense capable of making another...

Why walk with skate guards when you can rollerskate instead?