Bryan Little, Jets agree on five-year, $23.5 million extension
There will be no arbitration for Bryan Little as he and the Jets reach a new deal for five seasons and $23.5 million.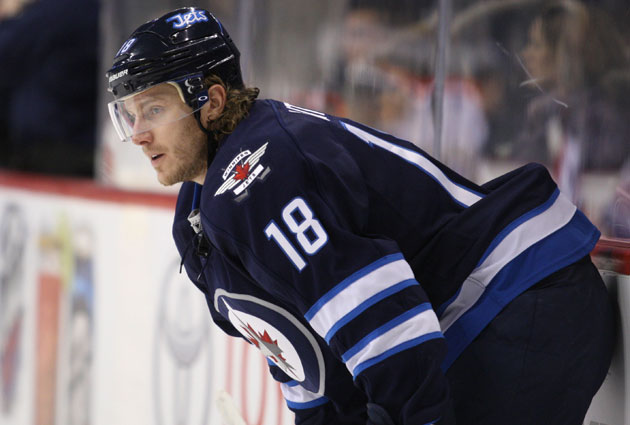 More NHL offseason: Rumors | Top 50 Free Agents | Buyout Tracker | Trades | Transactions
Bryan Little and the Winnipeg Jets have avoided arbitration by agreeing to a five-year extension on Monday. The deal comes just before Little's hearing was set to begin on Monday afternoon.
The cost? Try $23.5 million over the five seasons or $4.7 million per season.
Little is coming off a season where he played all 48 games for the Jets and produced seven goals to go with 25 assists. His 32 points were fourth-most on the Jets this past season, one behind Evander Kane. His goal scoring was down a bit from pervious years. In 2011-12 he had 24 goals with 22 assists and back in 2008-09 with when they were still the Thrashers, Little had a career-best 31 goals, so he has shown he can score.
Considering that the Oilers and Sam Gagner reached a deal earlier on Monday that will pay him $4.7 million per season over the next three years, this probably comes in line at a pretty fair value given their overall track records, though Little did get the more generous side of those two deals.
Still, it seems like quite a bit of money to give to a guy who has a career-high of 51 points at this stage of his career. It does eat up a lot of unrestricted free-agent years with the five-year deal and that's something worht considering when you look at this deal. Those years can be expensive, especially when they are a player's early UFA years when they are closest to their primes as Little is now.
Either way, the Jets have their top-line center signed up for many more years to come, which probably means the Jets are out of the Mikhail Grabovski picture. Some had suggested it was a good spot for the center but with Little and Olli Jokinen now each signed for next season to relatively big deals, it's tough to see the Jets adding Grabovski at this point, if it was ever feasible to begin with.
Little was a draft pick of the Thrashers, going 12th overall in 2006.
Vegas isn't being quiet about its hot start to the NHL preseason

The blue-liners are set for another big push, but Edmonton's rise is hard to ignore in the...

Meanwhile, the Devils' Brian Boyle isn't sweating his recent cancer diagnosis
Limited-time Warriors-colored jerseys are apparently on the way in January

The 32-year-old forward tells the media he expects to be back on the ice for the Devils op...

It seems it's all as wild as it sounds, with Canadian actor Zack Ward heading a 'West Coast...