By asking for the moon, Scott Howson could only disappoint in Rick Nash deal
Columbus GM Scott Howson set the bar so high for a Rick Nash trade that anything less than the moon was a disappointment.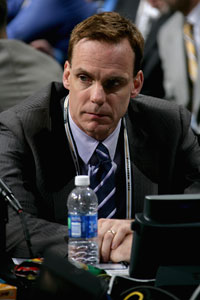 Scott Howson didn't deliver on the promises he appeared to make. (Getty Images)
Rick Nash was traded to the New York Rangers for Brandon Dubinsky, Artem Anisimov, Tim Erixon and a first-round draft pick on Monday. For good measure the Blue Jackets added in a minor-league defenseman and a third-round pick.
With that news, people around the NHL laughed and laughed at Columbus GM Scott Howson again. "That is the return he is getting for Nash? All of that posturing just for those guys? Bahahahaha!" Or something like that.
This is the danger that Howson faced when making his ridiculous demands for months on end. On the surface, I don't think it's an awful deal for the Blue Jackets. Hear me out for a second on this one.
Nash has been an All-Star for his career in Columbus, that much isn't up for dispute. But he also has just one 70-point season in his career thus far and has never won a playoff game, that for a player that's making just shy of $8 million. Seems a little disproportionate. Still, you have to pay for goal-scoring and that's something Nash can do very well ... score.
However Nash is 28 years old. Statistics show time and time again that goal scorers usually peak in their mid-20s. Just going by the standard evolution of players, it's safe to say that Nash has likely hit his peak. That certainly doesn't mean he can't stay around his peak for a few more years, but history points toward a decline for Nash from this point on. That's important to consider.
So getting Dubinsky, Anisimov and a decent defensive prospect in Erixon (along with a draft pick) doesn't seem TOO awful to me in return for Nash.
You absolutely have to take into consideration a few other things here. First, Nash demanded a trade out of Columbus, so Howson didn't have much leverage in that regard. Further, Nash's list of teams that he would accept a trade to diminished Howson's strength in talks even more, especially when you consider that not every team on his reported list was reciprocating the interest in Nash.
Rick Nash traded
More NHL coverage
Make the argument all you want that the return is a bit underwhelming for Nash. After all, when the best player in a return is even up for debate, it's certainly questionable, I'll grant you that. You would like to see maybe a scorer in return who could help fill the Nash void. Still, I'll maintain on paper it's not a terribly lopsided trade.
But it doesn't look that way for Howson off the paper, not now. After months of posturing that he was waiting for the right trade to come along and asking for the moon and more in trades -- seriously, starting with Jeff Skinner from the Hurricanes? Asking for Chris Kreider, Derek Stepan and more from the Rangers? -- then this is beyond deflating. It's like driving over tire spikes on the freeway and popping all four of your tires at once.
In a way it was admirable of Howson to ask for so much in return. He was trying his best to maintain that he had some leverage in the deal considering Nash was signed for another six years and he didn't have to trade him until the deal was right. However all he was doing was setting himself up for failure in whatever deal he did unless he was somehow magically able to haul in that moon. Well guess what, he failed.
This trade is demoralizing to whatever shred of hope fans in Columbus might have had. After having dreams of Skinner, Stepan and Logan Couture thrown into their heads by Howson as being return prices, they are given some guys that the average Blue Jackets fan has to look up on Hockey-Reference.com.
To make it all worse, this is an offer that Howson could have accepted a long time ago. This was likely a deal that was on the table back in Februrary before the in-season trade deadline and Howson turned it down. Now the perception is that he lost big time as Sather didn't have to raise his offer and Howson appears to have come back to the Rangers with his tail tucked between his legs.
By no means will this trade help Howson erase the perception of him that he is the worst GM in hockey. The guy hardly ever makes a move these days that isn't met with a heavy dose of ridicule from media and fans alike. This is no exception mostly because Howson promised Jackets fans a treasure full of riches, something he could never possibly deliver.
For more hockey news, rumors and analysis, follow @EyeOnHockey and @StubitsCBS on Twitter and like us on Facebook.
The Lightning have Steven Stamkos to thank, and the Blues should be extra grateful for Brayden...

The Sabres will face the Rangers at Citi Field on New Year's Day in these sharp threads

SportsLine's Mike McClure, a DFS pro with more than $1M in winnings, gives optimal lineup...
Without the star power of the NHL, America is banking on big contributions from some AHL, KHL...

Lincoln Financial Field will play host to the annual outdoor game on Feb. 23, 2019

The Lightning stay on top as other teams begin to catch fire