By the Numbers: Why Colorado's hot start is causing irrational optimism
The Avalanche are off to an 8-1-0 start with Patrick Roy, creating a ton of optimism, optimism that's over the top when you look deeper as Andrew Hirsh did.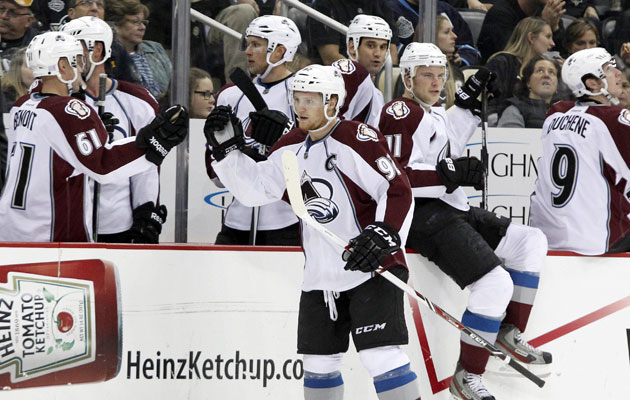 More NHL: Scores | Standings | League Leaders | Odds | Injuries | Power Rankings
By Andrew Hirsh (@andrewhirsh)
With the Colorado Avalanche off to a franchise-best 8-1-0 start, hockey fans in Denver have many reasons to be excited right now. Semyon Varlamov and Jean-Sebastien Giguere have been stellar in net, many of their young forwards have been scoring at impressive clips and Patrick Roy appears to have won over a group that finished with the second-worst record in the NHL last season.
However, the way this team has been winning is simply not sustainable. And if some considerable changes aren't made, the Avs will likely be in for a rude awakening in the not-so-distant future.
Succeeding in the NHL begins and ends with shot differential, and this is an area Colorado has had issues with in 2013-14. Its victory over Pittsburgh Monday night is a perfect example: while the Avs won 1-0, they were out-shot 34-14.
Sure, it was a gutsy, hard-fought triumph, but playing that way on a regular basis will result in more losses than wins.
Prior to Tuesday's action, Colorado sits 21st in the NHL in shots for (29.1/G), and 25th in shots against (33.8/G). On the other hand San Jose, which is No. 1 in the West and only one point ahead of the Avalanche, is first in the league in shots for (38.8) and second in shots against (23.9).
Which of the two do you think can maintain a good record?
Even more telling is Colorado's "advanced" stats, which paint a fairly distressing picture at the moment.
Colorado by the numbers
Stat
Avs' number
League rank
EV Corsi
45.60%
25
EV Fenwick
44.80%
27
EV Corsi Close
48.90%
17
EV Fenwick Close
47.20%
19
By analyzing Fenwick during "five-on-five close" situations -- which are even-strength scenarios when games are within one goal in the first two periods and tied in the third -- we can accurately predict which teams can win consistently and which will fall off. According to this study by Habs Eye on the Prize, having a Fenwick Close percentage above 50 correlates strongly with being able to make the playoffs.
As the chart above shows, the Avalanche's Fenwick Close percentage is currently a paltry 47.2. Only six teams have made the playoffs with marks that low in the past five years, and three were eight seeds.
Conversely, the top 10 teams in FC percentage in 2011-12 made the postseason, and nine of 10 did so last year. This statistic, more than any other we currently have at our disposal, does a good job predicting future events -- and right now, that's bad news for the Avalanche.
Nine games is a small sample size, but the way Colorado has been regularly out-shot has to be considered a legitimate concern. Given the fact that they had similar issues last year and didn't make many roster changes this summer, it's hard to see them improving much in terms of shot differential.
(While some may believe Nathan MacKinnon can eventually turn the tide, his possession numbers have been awful thus far.)
The following play is a good example of Colorado's problem in this area. The lowly Sabres, who have by far the worst shot differential in the league, get four shots off against the Avs in a single sequence, with the final one finding the back of the net:
This may be just one example, but it's not an isolated incident. Colorado has developed a habit of allowing opponents to set up shop in the offensive zone, and they did so multiple times against Buffalo.
Will the offense start to struggle?
It's easy to see Colorado's 3.11 goals per game figure taking a dip. Matt Duchene (six goals), PA Parenteau (three goals) and Jamie McGinn (three goals) have shooting percentages of 23.1, 18.8 and 21.4, respectively. Can they keep those numbers up through April? Sure. Will they? Extremely unlikely.
For the Avs to continue to score at a rate necessary to win, they'll need the likes of MacKinnon and Paul Stastny to pick up the slack when Duchene, Parenteau and McGinn fall off their current paces. Whether or not they do so remains to be seen.
Can their goalie tandem stand strong?
By far the biggest factor in Colorado's recent success is the staunch goaltending they've received from Varlamov and Giguere. The two have combined for a 1.33 goals against average and .961 save percentage, both good for tops in the league.
However, it would be naïve to think they can keep this up for the entirety of 2013-14. To provide some perspective: the last 10 Vezina Trophy winners posted a combined 0.925 save percentage in the years they won the award, so we can expect some tremendous regression in this department.
Varlamov may very well be in the Vezina conversation when it's all said and done; but even if that becomes the case, his numbers are going to drop. How far they drop could determine Colorado's fate this spring.
Bottom Line: The Avs could make the playoffs this season, but right now there's little reason to believe they're remotely as good as their record indicates. Truth is, if they don't mend their shooting woes, the honeymoon phase they've enjoyed over the last few weeks will end sooner rather than later.
Stats courtesy of ExtraSkater.com, hockeyanalysis.com and hockey-reference.com.
The league's highest-paid player and Hart Trophy winner says his Penguins counterpart is No....

Defense is better and motivation shouldn't be lacking, but the Red Wings are still too cap...

The 45-year-old free agent is taking things patiently as September approaches
The playoff drought might not end immediately, but something is brewing in restocked Buffa...

Former Lightning standout will be guarding the net in style in 2017-18

Devils are still in rebuilding mode, but they have reason for hope thanks to young additio...