Cal Clutterbuck suffers cut from skate, out 'extended' amount of time
Islanders forward Cal Clutterbuck is going to 'miss some extended time' after suffering a laceration from a skate on Tuesday night.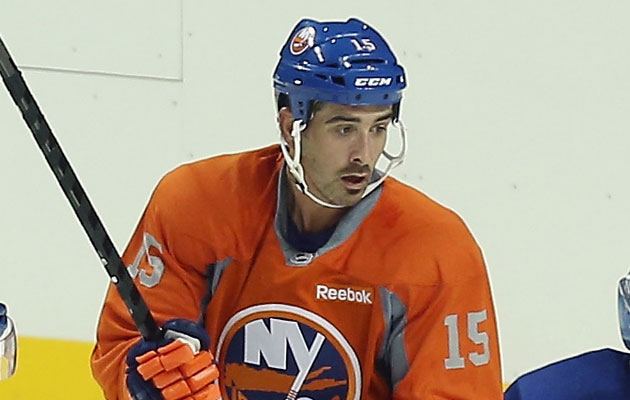 More NHL offseason: Rumors | Top 50 Free Agents | Buyout Tracker | Trades | Transactions
Over the summer the Islanders didn't do a ton in terms of bringing in new faces but they did add rough-and-tumble Cal Clutterbuck and his spectacular mustache.
Unfortunately, his debut could be delayed with the season just two weeks away. That's because of an injury he suffered Tuesday night in the Isles' exhibition game in Calgary.
Jack Capuano says Cal Clutterbuck suffered a skate laceration and "will miss some extended time." #Isles

— Arthur Staple (@StapeNewsday) September 18, 2013
It was suspected that Clutterbuck did indeed suffer a cut last night by Daniel Friedman of WFAN but it might be a little worse than it appeared. The injury likely came in the third period when Clutterbuck collided with Calgary's Paul Byron.
We have seen a few skate cut incidents in recent years, including Winnipeg's Zach Redmond suffering a near-fatal laceration in practice last season. Frankly it always amazes me it happens as infrequently as it does, those blades are basically knives on the bottom of their skates. With how often players fall and collide it seems like it would happen more often.
There's no real clear indication of how much time is an "extended" amount but it doesn't give the impression that Clutterbuck is going to be back by the start of the season in two weeks but you never know.
Clutterbuck arrived to New York as a restricted free agent, the return for Nino Niederreiter in a trade this summer and then signed a four-year, $11 million deal. Clutterbuck had four goals and six assists last season and he had career highs of 19 goals and 15 assists in 2010-11. He's another big-hitter that sould fit in well with a few thumpers the Islanders already employ, as soon as he's healthy.
The puck didn't go in the net but the skater did!

Another sign that Houston is a potential destination for an NHL relocation
The two teams combined for 111 penalty minutes and five ejections

The veteran Minnesota goaltender has recorded three consecutive shutouts

The historic start for the NHL's newest team has come largely from unprecedented balance in...