Cam Talbot to start second in a row but 'Henrik is definitely the No. 1'
Henrik Lundqvist will sit for a second straight game Monday as Cam Talbot starts again. But Alain Vigneault made it clear: 'Henrik is definitely the No. 1 goaltender.'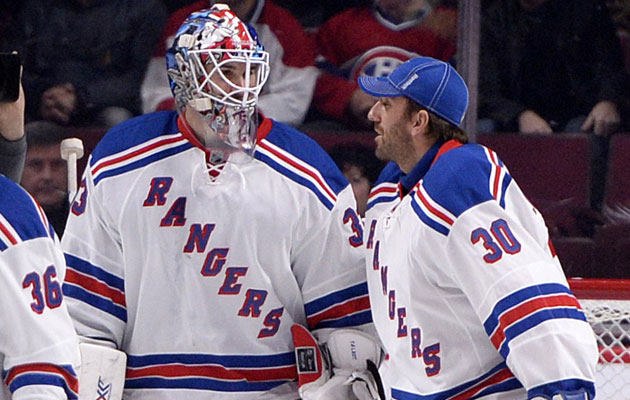 More NHL: Scores | Standings | League Leaders | Odds | Injuries | Power Rankings
Poor Alain Vigneault, goalie "controversies" seem to follow him everywhere he goes.
When the Rangers take the ice on Monday night against the Winnipeg Jets, they will be led onto the ice by Cam Talbot, the backup netminder who has been superb in his role since being called up from the AHL. That doesn't seem too weird until you consider that Talbot started the last Rangers' game, too; a 5-2 win over Vigneault's former team, Vancouver.
How strange is that? It's the first time since 2011 that Henrik Lundqvist rode the pine for consecutive games. Immediately the word controversy hit the lips of many watching the situation, but let's hold the phone.
"Cam is playing extremely well," Vigneault said. "Henrik is definitely the No. 1 goaltender on this team. ... For me it's about trying to win one game."
There have even been some suggestions that maybe this has to do with Lundqvist's pending free agency and negotiations with the Rangers. Lundqvist doesn't think so.
Lundqvist shuts down any discussion/tie-in not starting tonight and his contract status. Won't talk about it.

— Andrew Gross (@AGrossRecord) December 2, 2013
Fact of the matter is that Talbot has indeed been playing extremely well and has earned the right to get back-to-back starts. He is 6-1-0 this season with a .944 save percentage and 1.49 GAA, good in anybody's book. The Rangers have a second goalie they are comfortable enough with to occassionally play the hot hand if it's not Lundqvist's. This is a positive for the Rangers, not a negative.
For a few years the Rangers have talked about trying to reduce the number of games Lundqvist plays, Lundqvist has welcomed the same. They would ideally like to have him fresh for the postseason where his numbers haven't always been as good. Having Talbot around and playing so well that he's earning extra starts -- Lundqvist isn't losing them, he's playing well enough -- will help them get to that goal. I don't think many who are being truthful are under the impression that Lundqvist is in any danger of losing his net to Talbot.
But this is New York we're talking about and the man known as The King in Lundqvist. So when the answer to "Who is Alain Vigneault going to call?" is "Cam Talbot!" for two straight games, the buzz builds. However it will take more than two consecutive starts before we can even think about entertaining the idea of Lundqvist possibly being displaced.
The former Boston Bruin was the first black player to play in the NHL

Inclement weather led to the Charlotte Checkers and Bridgeport Sound Tigers playing in front...

The NHL chose the Detroit rocker as its All-Star Game entertainment and not everyone is th...
NHL fans from all over seem to agree on one thing: Hating Kid Rock

The team tweeted on Monday that Shaw would be re-evaluated in 7-10 days

The Montreal forward was hospitalized after taking a Zdeno Chara slap shot to the head