Canada blows out Austria, Jeff Carter scores natural hat trick
Follow our live blog as we chronicle Austria vs. Canada at the Olympics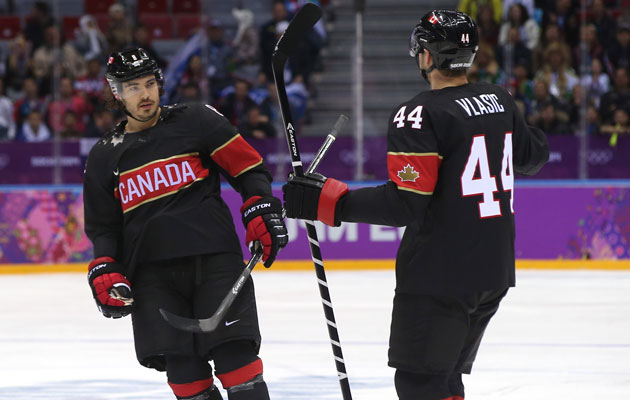 **Refresh the page for updates**
Canada 6, Austria 0 -- FINAL
1:30 -- P.K. Subban and Roberto Luongo are the only players without a shot on goal for Canada. 
4:00 -- Shots are 43-22 for Canada. Finland is leading 5-1 in the other game. Canada plays Finland at Noon on Sunday to win group B. 
7:30 -- This game is so boring right now that the American announcers are talking about indoor lacrosse. 
10:30 -- Canada is kicking Austria's butt. Can Canada add the extra point? That's the only question remaining at this point. And if you're wondering, goal differential is one of the tiebreakers and there isn't a cap on it so Canada should keep scoring. 
Problem solved. RT @mirtle: We have a goalie change for Austria looks like.

— Liam McHugh (@liam_mchugh) February 14, 2014
Olympic records: Most goals, one team, one game: 33 (Canada 33, Switzerland, 0 in 1924). So I'm saying there's no chance.

— Craig Morgan (@cmorganfoxaz) February 14, 2014
GOAL CANADA -- 3:12 -- Ryan Getzlaf just scored a short-handed goal. 
To everyone in Canada, you're welcome.

— LA Kings (@LAKings) February 14, 2014
PENALTY SHOT! Corry Perry is stopped. 
GOAL CANADA -- Jeff Carter scores his third straight goal. A natural hat-trick for the Los Angeles Kings forward. Is he on Dry Island at the Olympics? 
"Come on Duncan, I am right here!" pic.twitter.com/k6C6DFRLyf

— Brian Stubits (@StubitsCBS) February 14, 2014
8:38 -- Canada is outshooting Austria 21-14. Mike Babcock is still yelling at his players. My Canadian twitter friends aren't crying. It's Valentine's Day. So much love around here. Except not for those black jerseys. They're still awful. 
Finland is now leading Norway 4-0.
Louongo gets a "LOUUU" for catching a 40 mph flick from the blue line. So this game has reached that stage.

— Cörey Masisak (@cmasisak22) February 14, 2014
GOAL CANADA -- 15:51 -- Jeff Carter scores on a wrap-around after the goalie makes an oopsie trying to handle the puck behind the net. That's his second goal of the game. 
@seangentille Oh look, Ryan Getzlaf... pic.twitter.com/DJCxQ2nqFA

— The Roar 24 (@TheRoar_24) February 14, 2014
GOAL CANADA -- 17:41 -- Crosby passes it to Marleau who hits the post but Jeff Carter buries it shortly after the penalty on Carter expired. 
19:30 -- Austria will go on the power play to start the second period. 
DON BEAR CHERRY
Nice hat, Don. pic.twitter.com/XJ5FaNRwNv

— JP Kirby (@the506) February 14, 2014
Canada 2, Austria 0 -- End 1st Period 
You win, Senators.
Canada goes up 2-0 on Austria on a goal from Shea Weber. Possibly the biggest slap shot in international competition since Fulton Reed.

— Ottawa Senators (@Senators) February 14, 2014
Finland is leading Norway 3-0 after the first period in the other game. TEEMU SCORED A GOAL. 
I'd give Canada a B- for that period. Austria might be the weakest team at this tournament. Their power play looked awful and their offensive lines still aren't clicking. Luckily for Canada their defensemen can score. 
Austria had three or four good chances in that period. 
1:45 --  Austria's Michael Grabner with a good chance that hits the crossbar. Austria hasn't had very many chances but Luongo has made a few good saves. 
3:12 -- Austria goalie Bernhard Starkbaum has one of the best names in this tournament. Also, I feel bad for him. He's getting peppered by puck. He's stopped 11 out of 13 Canadian shots so far. I wouldn't be surprised if Canada ends up with 50 shots in this game. 
5:30 -- Canada's powerplay was pretty meh after Austria picked up a cheap penalty. Canada has scored five goals so far in the tournament. Four of them have been scored by defensemen. 
Confirmed, Shea Weber shoots the puck a billion miles an hour

— Kevin Gibson (@TSNResearch) February 14, 2014
GOAL CANADA -- 9:48 -- Shea Weber fires one past the Austrian goalie from the top of the circle after Ducks' forward Corey Perry dropped the pass to him. The rout is on. This is the team everyone expected to see versus Norway yesterday. Breathe easy, my Canadian friends. 
It's Shea Weber's second goal of the tournament. 
GOAL CANADA -- 14:36 -- Drew Doughty launches a clean faceoff win from John Tavares past the Austria goalie, who should have made the save. He wasn't screened and it snuck under his pad
15:00 -- Some good chances for both teams to start this one. Roberto Luongo came up with a big save. It's safe to say that Canada looks like a different team today than they did in the first period yesterday vs. Norway. 
17:00 -- Grapes is looking dapper as always 
As expected, Don Cherry busts out the violet suit jacket: pic.twitter.com/xeUCkr2ghB

— Josh Gold-Smith (@GoldAndOrSmith) February 14, 2014
20:00 -- These jerseys are confusing as heck. Canada is in black. Austria looks like Canada. Blame Nike. Roberto Luongo is starting in goal. Matt Duchene and P.K. Subban are playing today after being scratched in the first game for Canada. 
11:42 a.m. -- Aaaand Canada is on the ice in their black sweaters. We promise, that is the Canadian national team.
Canada wearing black sweaters against Austria. pic.twitter.com/4p4GjPYjXp

— Tim Wharnsby (@WharnsbyCBC) February 14, 2014
10:19 a.m. -- The Canada Olympic House got a visit from a certain President of Russia on Friday and he had a message for Canada, specifically its hockey team.
Very nice words from Mr. Putin just now at Canada House 'good luck to canada except in hockey'...haha #sochi2014 pic.twitter.com/3mEMWVdq8T

— Hayley Wickenheiser (@wick_22) February 14, 2014
9:16 a.m. -- The Canadians are making the trip (walk) to Bolshoy Ice Dome. P.K. Subban and John Tavares are looking dapper.
Players making their way to Bolshoy- @PKSubban1 & @91Tavares #cbcolympics pic.twitter.com/5WeMVEZyOR

— MoniKa Platek (@MonikaPlatek) February 14, 2014
8:12 a.m. -- In case you were wondering, yes Austria and Canada have a history against one another in the Olympics. No it hasn't been close to competitive.
Canada is 4-0-0 all-time at OLY vs Austria, out scoring them 48-3

— Kevin Gibson (@TSNResearch) February 14, 2014
3:15 a.m. -- As was expected, Canada announced a couple of lineup changes from the game against Norway. The three scratches in that game will all suit up against Austria, including goalie Mike Smith.
Lineup changes for CAN-AUT. Luongo starts. Smith to back him up. Duchene and Subban in for Sharp and Hamhuis.

— Team Canada Men (@HC_Men) February 14, 2014
________
Preview
By Andrew DeWitt, Editor
The Facts
Who: Canada vs. Austria
What: Second game of the Olympics for both teams in Group B
When: Noon eastern Friday on USA Network
Where: Bolshoy Ice Dome, Sochi, Russia
Three Questions 
1. What was wrong with Canada vs. Norway? 
It's obvious to anyone who watched the Canada-Norway game that Canada wasn't exactly on the same page in the first period and part of the second period. The collection of all-stars started putting it together in the second half of the game against Norway, but it's obvious in a tournament like this that how quickly a team can come together is a huge part of success. 
Austria should be another easy opponent for the Canadians and an easy 5-0 victory would be welcomed by the crazy Canada hockey fans. 
2. Who's the starting goalie? 
2010 Olympic gold medalist Roberto Luongo will get the start for Canada Friday after Montreal Canadiens goal Carey Price started on Thursday. That leaves the question of who will be the main guy to go up against Finland on Sunday and who will be the goalie in the bracket part of the tournament. 
3. Which Canadian Superstar will stand out? 
This is an all-star team and the question remains which line will become the best for coach Mike Babcock. Also, which player will stake his claim as the best player in a week and a half long tournament? 
Could it be Matt Duchene or P.K. Subban? Both are expected to play their first games after each being scratched for Thursday's game vs. Norway. 
Canada Player to watch
Jamie Benn, Dallas Stars
Benn has been an under-the-radar talent with the Dallas Stars in recent years scoring at least 50 points in each of the last two full seasons. He scored 33 points in the lockout shortened season last year.
Benn wasn't invited to the Hockey Canada team orientation this summer but he proved the critics wrong by making the team and scoring the game-winning goal in Thursday's opening 3-1 win vs. Norway.
Austria Player to Watch
Thomas Vanek, New York Islanders
Vanek is slated to become one of the top free agents this offseason and he's one of the few NHL players on Austria. Let's be honest: it was an accomplishment for the Austrians to qualify for the Olympic tournament and they know that. Shutting down Vanek will be the toughest task for Canada. 
The former Boston Bruin was the first black player to play in the NHL

Inclement weather led to the Charlotte Checkers and Bridgeport Sound Tigers playing in front...

The NHL chose the Detroit rocker as its All-Star Game entertainment and not everyone is th...
NHL fans from all over seem to agree on one thing: Hating Kid Rock

The team tweeted on Monday that Shaw would be re-evaluated in 7-10 days

The Montreal forward was hospitalized after taking a Zdeno Chara slap shot to the head