Canada continues dominance, blanks Sweden to win hockey gold
Canada completed the Olympic tournament in which they never trailed by blanking Sweden 3-0 to win a second straight gold medal.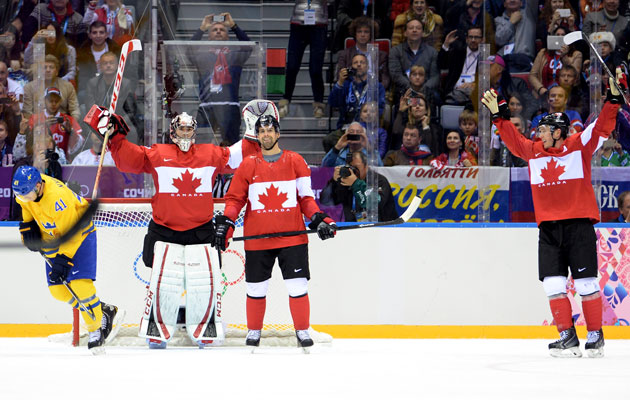 For the second time in as many Olympics, Canada has won hockey gold.
Jonathan Toews scored the game's first goal, Sidney Crosby and Chris Kunitz added the insurance tallies and Carey Price saved 24 shots as Team Canada blanked Sweden 3-0 to win the gold medal in Sochi on Sunday.
From start to finish in Sochi, Canada never trailed for one minute of action, dominating opponents from round-robin play on. However Canada took it to an even higher level in the last two games, shutting out the USA 1-0 in the semifinals and then finishing Sweden with the 3-0 win. In six games total in Sochi, Canada gave up three goals.
Sunday's gold-medal final played out pretty similar to that USA game a couple of days ago. The two teams played to a relative draw in the first 10 minutes of the game until Canada just wore down the opposition and got stronger as the game went along. While "nursing" a lead in the third period, Canada outshot Sweden 13-4. In other words, Sweden never stood a chance.
All game Canada did to Sweden what they've done to everybody else, simply control the puck. More often than not, the men in red were carrying the puck on their sticks and there were moments at even strength that you couldn't help but think Canada was on the power play.
No country stood a chance for that matter, Canada was too good. Gone are the days of disappointment away from North America and on the big ice, Canada looked as good as ever. That's no hyperbole either, even with a shortage of goals at times, they were barely challenged in this tournament outside of an overtime game against Finland in the opening round and a scare from a Latvian goalie who was standing on his head. Other than that, pure dominance.
The men's gold is added on to Team Canada's women winning gold, giving Canada a second straight gold-medal sweep in hockey. As if there were any doubt that should erase it as to which country is the world's premier hockey power.
Review the action with our in-game live blog below.
Postgame
P.K. Subban became an amateur filmmaker on the ice after the game. These are some happy Canadians.
Canada 3, Sweden 0 -- FINAL
Canada wins and it's awesome to see John Tavares get helped onto the ice to join the celebration.
That's john tavares on the ice to celebrate. pic.twitter.com/HXG8dQUA9k

— Rob Longley (@longleysunsport) February 23, 2014
1:30, 3rd Period -- Even in the closing minutes, Canada is getting great chances. Now the Canadian fans in the crowd are serenading Sweden with "Hey, Hey, Hey, Goodbye"
4:00, 3rd Period -- This is what Team Canada does to opponents. (Via @PeteBlackburn)
7:48, 3rd Period -- Penalty Killed
Hardly even a challenge for the Canadians at this point. They are on cruise control and are still making this look easy.
9:48, 3rd Period -- Power Play, Sweden
Corey Perry is going to the box for his two minutes of shame after tripping is called. Last gasp here for the Swedes?
10:56, 3rd Period -- GOAL, CANADA!
Say good night folks, Chris Kunitz puts this one to bed. Crosby forces a turnover again in the neutral zone and Kunitz is there to pick up the puck then beat Lundqvist to the top corner. Canada is ahead this period in shots 9-1. Again, they're winning. Crazy dominance.
14:50, 3rd Period -- Canada isn't going to sit back here, the best defense is a good offense. They're all over Sweden and Henrik Lundqvist right now. A third goal almost feels imminent.
16:46, 3rd Period -- Drew Doughty just hit a post and Sweden made Carey Price sweat for a second but really, this is just as important.
This game, in muppets pic.twitter.com/rm5GTv4aaX

— James Mirtle (@mirtle) February 23, 2014
19:33, 3rd Period -- Canada begins the period with an early odd-man rush that Henrik Lundqvist handles. He's certainly doing his part today, he's been fantastic.
20:00, 3rd Period -- Twenty minutes from gold.
Second Intermission
This is what passes for intermission entertainment in Sochi, dancing fans. (Via @PeteBlackburn)
Second Intermission
How dauting is a two-goal lead to this Canadian team? Very.
Sweden now needs to score as many goals in the third period as Canada has given up the entire tournament.

— Down Goes Brown (@DownGoesBrown) February 23, 2014
Canada 2, Sweden 0, Second Intermission
What a strong period for Canada, which is now just 20 minutes away from a second straight gold medal and a third in the last four Olympics. It's hard to find anything they aren't doing well today. Sweden is getting some chances here and there but they are mostly limited to one-and-done situations, Carey Price is swallowing every puck he sees. It's very hard to see a way Sweden gets back in this game, another complete performance from the gold-medal favorites so far. Shots were just 11-9 for Canada that period but again, it just doesn't seem to indicate how the balance of play was in that period.
0:40, 2nd Period -- Penalty Killed
Canada has looked so strong at even strength today but not as good on the power play, oddly enough. Sweden has done very well limiting the chances a man down.
2:40, 2nd Period -- Power Play, Canada
Patrick Berglund with an awful hit to the back of Chris Kunitz, shoving him into the dasher right in front of the Swedish bench that has Kunitz bleeding from the nose. It's just a minor, however.
4:17, 2nd Period -- GOAL, CANADA!
Finally, Sidney Crosby is rewarded for his excellent play in these Olympics. He forces a turnover from Jonathan Ericsson right at the Canadian blue line to break in free on Henrik Lundqvist and he beats the King going across the crease to the backhand. Great play all around from Crosby. Meanwhile, there is a real goal developing in Ericsson. (Via @PeteBlackburn)
4:41, 2nd Period -- Right on cue, there is one of the Swedish counterpunches. A rush goes from promising to disappointing back to promising when a pass is deflected in the slot by Ales Steen but it flutters a bit, giving Price a chance to recover and snatch it up.
6:13, 2nd Period -- Canada is coming in waves, massives waves like you'd see in Australia. In between Sweden is getting a few counterpunches but Canada is just continuing to assert itself. They're so strong (in multiple senses) everywhere on the ice.
7:55, 2nd Period -- Martin St. Louis is getting all of his work in with this gold-medal game. He generates a few excellent chances including a backhander in the slot that goes just wide in a tremendous pair of shifts for the Canadian offense. They are looking stronger than their power play. That was a solid two minutes of offensive-zone time. But in the meantime, everybody bow down to Henrik Lundqvist, that was an awesome sequence of goaltending.
12:14, 2nd Period -- Penalty Killed
Another strong PK for Sweden there, not giving up any shots in the two minutes. At the other end Sweden gets what's becoming a rare chance against Price. Close for Sweden but no cigar.
14:14, 2nd Period -- Power Play, Canada
The old Delay of Game call goes against Sweden. Jakob Silfverberg tries to knock the puck off the glass but instead sends it into the crowd from his defensive zone.
15:00, 2nd Period -- Mining for gold while playing for gold. Interesting concept.
PietrangeBLOWS pic.twitter.com/1Dn6pAMAH4

— The Royal Half (@theroyalhalf) February 23, 2014
15:38, 2nd Period -- Martin St. Louis is getting more playing time today and he's definitely being noticed. He nearly fans on a one-timer there that goes in if he catches it clean. It still nearly goes in though as Lundqvist never sees it as it goes between his pads. A quick whistle prevents any more danger for Lundqvist, who didn't seem to be aware of where the puck was.
18:10, 2nd Period -- Penalty Killed
Sweden gets a few promising attempts started but not much actually gets through to Price thanks to the Canadian penalty killers. Now that the penalty is over it's back to Canada controlling.
20:00, 2nd Period -- We're back on for the second with Sweden opening on the power play.
1st Intermission
One of the bigger mysteries of Sweden's recent games is continuing again today. Oliver Ekman-Larsson didn't get on the ice at all in the first period, he's keeping the bench awfully warm.
1st Intermission
Since he stuck around in Russia, Alex Ovechkin is taking in the gold-medal game today, enduring it with the help of an adult beverage.
BREAKING: Putin has not forced Alex Ovechkin into a gulag....yet pic.twitter.com/NKHeyvTEG3

— FullTilt Rangers (@NYR_FullTilt) February 23, 2014
Canada 1, Sweden 0, 1st Intermission
Sweden came out of the gates strong but much as we saw when Canada played the USA in the semis, the second half of the period was taken over by Canada with some great offensive pressure. After the first 20 minutes Canada has that one-goal lead and a 12-11 edge in shots, seemingly more in scoirng chances. The solace for Sweden is they will get fresh ice to start the second period with a power play
0:12, 1st Period -- Power Play, Sweden
Chris Kunitz doesn't keep his stick down and it catches Marcus Kruger in the face for the penalty that will carry over to the second period. This might be when they miss Nicklas Backstrom the most today.
3:05, 1st Period -- Penalty Killed
Pretty strong kill by the Swedes there as Canada didn't get any truly threatning looks on the man advantage.
5:05, 1st Period -- Power Play, Canada
Canada gets some good, sustained pressure in the offensive zone and it leads to a holding penalty from Jonathan Ericsson against Matt Duchene. Canada has been buzzing since the goal. Shots have been evened up to 9-9.
7:05, 1st Period -- GOAL, CANADA!
Jonathan Toews gets right in the grill of Henril Lundqvist and is there to tip in the pass from Jeff Carter, who was near the corner boards. Patrik Berglund has to do a better job of making life tough for Toews in that spot. (Via @MyRegularFace)
9:00, 1st Period -- The posts are equal-opportunity haters apparently. Patrice Bergeron gets a head of steam and shoots through the Alex Edler screen but hits the near-side post before bouncing into the crease and being taken out by Sweden. Bergeron has been fantastic to start this game. This is in no way a surprise.
9:25, 1st Period -- Sweden is forechecking very well, playing well in the zone and giving Canada the type of challenge they have yet to see in this tournament. Carey Price is being asked to do more in this first period than he has all tournament long.
12:49, 1st Period -- Sweden has definitely not come out scared, they're not afraid to push into the Canadian zone and it's reflectd in the shot totals so far, which favors Sweden 6-2. Though Canada has had a couple of excellent looks thanks to that Sidney Crosby line.
15:50, 1st Period -- Gustav Nyquist walks right through the Canadian D and ends up right in the crease. His close-in shot hits the post and bounces back behind Price, who finds it before it crosses the line. That was as close as it gets.
18:27, 1st Period -- The first golden chance (get it? ... I'll show myself out) comes from Patrice Bergeron right in front of the crease that nearly gets past Henrik Lundqvist. A few moments later Canada is right back on the Swedish doorstep. Lundqvist tested in opening moments.
20:00, 1st Period -- We are GO for Gold
7:08 a.m. -- It's too early for Don Cherry.
Don Cherry is ready for this one. pic.twitter.com/gvbR5NAhKs

— Josh Gold-Smith (@GoldAndOrSmith) February 23, 2014
6:50 a.m. -- And Backstrom isn't playing. He's centered Sweden's best line so far with Daniel Sedin and Loui Eriksson. Ouch.
6:43 a.m. -- Some big news from the morning skate, Sweden's Nicklas Backstrom isn't on the ice.Absolutely massive blow for Sweden if he's not playing today.
6:36 a.m. -- Fashionably late, Canada joins them.
Canada hits the Bolshoy Dome ice for pre-game warmups. pic.twitter.com/WxDPLgDHUt

— Rob Longley (@longleysunsport) February 23, 2014
6:32 a.m. -- Sweden in all their yellow glory, is on the ice.
6:11 a.m. -- An infographic look at Team Canada. There's a bit to soak in.
#Olympic cheat sheet: Canada's Men's Olympic Team roster and historical highlights http://t.co/fMH5Xoafwc #Sochi2014 pic.twitter.com/G2AQdcKW14

— Hockey Canada (@HockeyCanada) February 21, 2014
6:05 a.m. -- Breaking news: Canada loves ice hockey.
At the bar waiting for doors to open. Canadians everywhere downtown in jerseys. Unreal.

— Justin Bourne (@jtbourne) February 23, 2014
________
Preview
It wasn't long ago that Canada was having a national crisis -- by Canadian hockey standards -- when trying to identify its goaltending future. Remember the movement to limit the amount of foreign goaltenders in the Canadian junior ranks? That was in response to what was being seen as a decline in Canadian goaltending.
Those questions extended to the men's team at the Olympics as well. Naturally most comparisons were being made to the American team being constructed south of the border and every time one check mark was placed squarely on the American side of the ledger, in goal.
Indeed, if Canada had a weakness or a downfall, it would be in net.
It's funny how that conversation has been completely forgotten as Canada prepares to play for gold in Sochi. Carey Price has been all that the Canadians could have asked for and more, for now putting an end to the incessant questions about the future of Canadian goaltending. At just 26 years old, Price will be around for a long time for Canada -- assuming NHL players are.
Certainly it helps playing behind an incredibly talented squad that plays tremendous defense, but there's no room to complain about Price's .963 save percentage and 0.74 GAA in these Olympics. Canada's offense has not been the explosive force many foresaw, giving Price no margin for error. He hasn't erred, so far backing up Mike Babcock's decision to ride him in Sochi.
To underscore the value of what a top-flight goaltender can mean -- and looks like -- at the international level, Price will just have to look to the opposite crease to see Henrik Lundqvist for the Swedes. He has been lights out not only in this tournament but through the years for Sweden.
Perhaps the thing that has marked this tournament more than anything has been the play of defense and goaltending. Teams aren't scoring much, at least when the teams are on equal footing with the powers facing each other. That shines a brighter light on the goaltenders as there is little room for error. Lundqvist is comfortable in the spotlight both for his national team and his NHL squad. Given the scrutiny on his position in his country for a few years now, Carey Price likely is too.
Here's more on the gold-medal game that pits the winners of the past three Olympic gold medals and four of the past five against each other, a game that could very well come down to the defensemen ... and their offense beyond the goaltenders. A huge key for Sweden: Getting on the power play.
The Facts
Who: Canada vs. Sweden
What: Gold-medal game
When: 7 a.m ET Sunday on NBC
Where: Bolshoy Ice Dome, Sochi, Russia
Olympic Series History
Canada leads 12-3-1
Since 1984: 2-3-1
Gold Medals (Last)
Canada, eight (2010)
Sweden, two (2006)
Sweden Team Leaders
Points: Erik Karlsson -- 8
Goals: Erik Karlsson -- 4
Assists: Erik Karlsson, Daniel Sedin, Nicklas Backstrom -- 4
Canada Team Leaders
Points: Drew Doughty -- 6
Goals: Drew Doughty -- 4
Assists: Patrick Marleau -- 4
Preview
SOCHI, Russia (Reuters) -- A Canada vs. Sweden clash for the Olympic men's ice hockey gold medal may not deliver the show-stopping finish to the Sochi Winter Games the host Russians could have provided but Sunday's final might yet prove a worthy ending.
The pre-Olympic script had called for a more traditional and historic matchup to decide the last medal of the Games, with Russia meeting old rivals Canada or the United States in the finale.
But that possibility ended with Russia's shock quarter-final exit and unbeaten Sweden and defending champions Canada will contest the gold medal.
Although the Swedes and the Canadians cannot claim a classic rivalry, their ice hockey pedigrees are undisputable, producing some of the world's top talent.
The two countries are equally passionate about the sport and from Saskatoon to Stockholm people will stop on Sunday to gather around televisions and watch the drama unfold.
In Canada, where Prime Minister Stephen Harper has found time to write a hockey novel in between taking care of the country's business, bars will open their doors in the early hours as they bow to a national obsession.
"It's such an honor to have an opportunity to coach these teams, and you have to take your responsibility to your country and to hockey very seriously," Canadian coach Mike Babcock told reporters.
"Having said that, and people don't ever believe me, but you have to line up the moon and skies to win.
"People don't always believe that in Canada but it's the facts."
Victory on Sunday would give Canada a sweep of the ice hockey gold medals for a second consecutive Olympics.
Odds and Ends (via Bovada)
Canada -200 (1-2)
Sweden +165 (33-20)
Total Goals
Over/Under 4 1/2
Margin of Victory Sweden by 1 goal -- 5-2
Sweden by 2 goals -- 15-2
Sweden by 3 goals -- 10-1
Sweden by 4 goals -- 50-1
Sweden by 5 or more goals -- 85-1

Canada by 1 goal -- 2-1
Canada by 2 goals -- 9-2
Canada by 3 goals -- 5-1
Canada by 4 goals -- 15-1
Canada by 5 or more goals -- 30-1
CBS Sports HQ Daily Newsletter
Get the best highlights and stories - yeah, just the good stuff handpicked by our team to start your day.
Please check the opt-in box to acknowledge that you would like to subscribe.
Thanks for signing up!
Keep an eye on your inbox for the latest sports news.
Sorry!
There was an error processing your subscription.
Tavares had two goals and an assist in his first game in a Maple Leafs sweater

The vote comes just a day after the deadline to appeal an environmental review of the proj...

A new era in Detroit is approaching more quickly than anticipated
'NHL 19' doesn't look much different from its predecessor, but the true magic lies in what's...

It's been a bad day for Senators fans

Rask injured himself slicing food in his kitchen