Canada names 47 players on Olympic camp invite list
Canada has so many players to choose from for the Olympics that it just invited 47 players to Olympic camp and there are still snubs.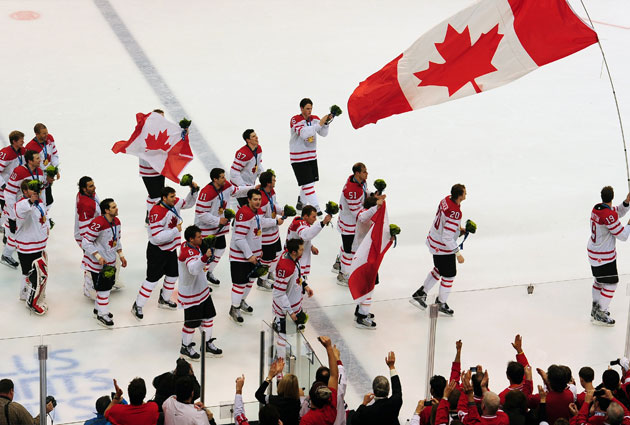 More NHL offseason: Rumors | Top 50 Free Agents | Buyout Tracker | Trades | Transactions
Only in Canada can the national organization invite 47 players to its Olympic camp, as Hockey Canada did on Monday, and there be controversial snubs.
Shortly after Russia announced the 35 players being invited to its Olympic camp, Canada followed it up by unveiling 47 names. That's right, 47 players who will have to be cut down to 25 for the final roster; 22 skaters and three goaltenders.
So here you go, the entire list in all its glory.
Goaltenders: Corey Crawford , Braden Holtby , Roberto Luongo , Carey Price , Mike Smith
Defensemen: Karl Alzner , Jay Bouwmeester , Dan Boyle , Drew Doughty , Mike Green , Dan Hamhuis , Travis Hamonic , Duncan Keith , Kris Letang , Marc Methot , Dion Phaneuf , Alex Pietrangelo , Brent Seabrook , Marc Staal , P.K. Subban , Marc-Edouard Vlasic , Shea Weber
Forwards: Patrice Bergeron , Jeff Carter , Logan Couture , Sidney Crosby , Matt Duchene , Jordan Eberle , Ryan Getzlaf , Claude Giroux , Taylor Hall , Chris Kunitz , Andrew Ladd , Milan Lucic , Brad Marchand , Rick Nash , James Neal , Corey Perry , Mike Richards , Patrick Sharp , Eric Staal , Jordan Staal , Martin St. Louis , Steven Stamkos , John Tavares , Joe Thornton , Jonathan Toews
Phew! You'd think with a list that deep there couldn't be any significant omissions but yes, there are, because this is Canada we're talking about and it's as deep a country in talent as there is in hockey.
Martin Brodeur is the most notable omission as he has been a mainstay in Canada's nets for so long. Other guys such as James Reimer, Cam Ward and even Marc-Andre Fleury were also likely in the conversation.
Then you get to forward and you have to wonder what Jamie Benn had to do to not make the list for the orientation camp. He along with Jason Spezza and Evander Kane could make one heck of a "left-out" line if it ever came to that.
Even with those names not on the list, Canada has a crazy amount of talent to pick from and I don't envy the coaching staff led by Mike Babcock and the executive staff headed by Steve Yzerman for trying to cut the list down to 25. Not to mention that a player from off this list could conceivably make the roster for the Games in February so all is not lost for Benn, Spezza and the rest, though the odds aren't on their side.
NHL players are still disappointed they won't be going to skate in PyeongChang

With Artemi Panarin in the mix and a Vezina winner headlining the defense, Columbus can be...

The league's crackdown on faceoff infractions and slashing penalties isn't without some cr...
Joffrey Lupul spent last season on long-term IR but seems to be saying he's healthy

Early playoff trouble has been evident, but the Wild tout an offense capable of making another...

Why walk with skate guards when you can rollerskate instead?