Canada strong but still has work to do after 3-1 win over Norway
Canada didn't blow out Norway as was expected, instead the defending gold medalists looked out of sync at times, but it's nothing a little more time won't fix.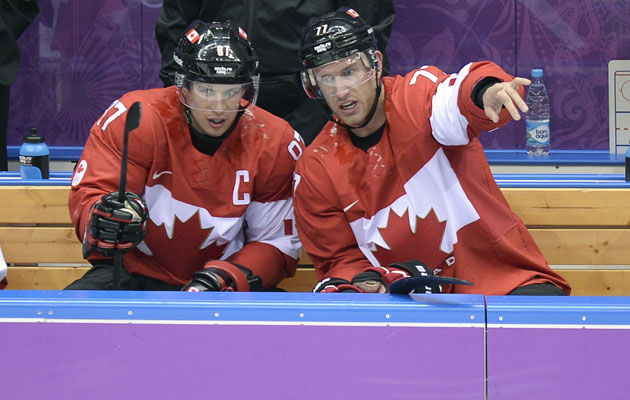 More NHL: Scores | Standings | League Leaders | Odds | Injuries | Power Rankings
Before Canada hit the ice to begin their defense of the gold medal in Sochi, the usual platitudes were coming from Camp Canada. They were going to take it one game at a time, Norway was going to be a real challenge and bring it to them.
And there was also what Mike Babcock had to say about his Canadian team prior to actually facing Norway.
"We're just gonna be a work in progress."
Apologies for the laughter, Mike, not many actually took you seriously. Canada is a machine, well-oiled at that. But as Canada showed in their 3-1 win over Norway on Thursday, he wasn't far off.
Especially in the opening period, Canada just didn't look in sync. There were numerous instances of offside plays, sloppy passing and other issues that normally wouldn't be issues for players as great as Canada's. There were more than a few instances in the game where this miscommunication was an issue and perhaps against a team more potent than Norway it would have been a bigger problem.
For example, take a look at this simple play in the neutral zone. Now it didn't hurt Canada at all but it serves to demonstrate the difficulties that can come with throwing together a group of guys who don't normally play together. Shea Weber was zigging while John Tavares was zagging.
Another instance of Canadian players just not being on the same page showed up in the opening seconds of the third period with Norway on the power play. Canadian goalie Carey Price came out of his to handle a puck rimming around the boards and then dropped off the puck for one of his defensemen to gobble up. Except either none of his teammates saw it coming or knew who should take it. Norway took it instead and a couple of seconds later they were scoring their only goal of the game.
You better believe that doesn't happen to Price back with the Canadiens. He and his defensemen would surely be more on the same page in that spot and the game ends with Price the owner of a shutout. It's a fixable issue, not a chronic issue.
Given the expectations that come with the Canadian team, there are going to be people who look at this opening game and express some concern. Norway is one of the weakest teams in this tournament and Canada didn't dominate them on the scoreboard the way that we'd expect. Remember 2010? Canada beat Norway in the first game 8-0. This game was not that.
Now none of this is to say that Canada is in trouble or that we should all re-evaluate their status as the gold-medal favorite. Absolutely not. The final score wasn't lopsided but after the first 20 minutes, the game was. The final shot total favored Canada 38-20. Take out the first period and that difference changes to 29-12.
It wasn't a perfect game by any stretch for Canada but it wasn't a poor effort either. Norwegian goalie Lars "Hulk" Haugen deserves a lot of credit. Without him playing as well as he did, the final score looks a lot better than just 3-1.
And really, it might not be the worst thing in the world that Canada actually had to work hard in the first game. Sleepwalking through the first round isn't always the best for the team moving forward, it's good to get tested some and be forced to truly play your best hockey. Babcock could appreciate that much.
"What I liked about tonight's game is it was hard," he said afterward. Don't take that as reaching for a silver lining either, that's legit.
The issues that plagued Canada against Norway are correctable issues, things that aren't completely unexpected in Game 1 of the Olympics and that should be gone perhaps as soon as Game 2. There is nothing to feel any sort of panic about, even if it wasn't the offensive explosion many expected to see. The defense was very good both offensively and defensively and at times it looked like Canada was simply playing keep away. The game was close but the game was hardly threatening, even when Norway cut the deficit to 2-1 with less than 20 minutes to play.
As Babcock said, this Canadian team would be a work in progress and he was right. With a little more work together, they can (and should) still show a lot of progress.
The 45-year-old free agent is taking things patiently as September approaches

The playoff drought might not end immediately, but something is brewing in restocked Buffa...

Former Lightning standout will be guarding the net in style in 2017-18
Devils are still in rebuilding mode, but they have reason for hope thanks to young additio...

Buffalo is in the midst of contract extension talks with Jack Eichel, and the payout could...

Los Angeles isn't rushing to sign the 45-year-old forward any time soon