Canes defenseman Joni Pitkanen to miss entire 2013-14 season
After breaking his heel last season, Hurricanes D Joni Pitkanen is going to miss the entire 2013-14 season. Tough start for Carolina.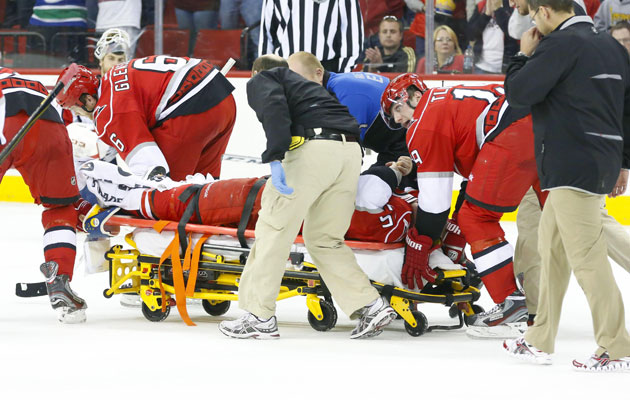 More NHL offseason: Rumors | Top 50 Free Agents | Buyout Tracker | Trades | Transactions
Not even a full day in to training camp and the Carolina Hurricanes already have some awful news. Defenseman Joni Pitkanen will miss the entire 2013-14 season.
Pitkanen suffered a broken heel bone on April 2 of last season against Washington and was out for the remainder of that season. Obviously it hasn't healed the way they hoped at all and as a result he's going to miss the entire 82-game campaign coming up, a massive blow to the Canes.
Now a shaky defense looks a lot shakier. Pitkanen is one of their top blue-liners so going without his services all year is a daunting prospect. If GMs were ever willing to throw around offer sheets, now would be the perfect time to send one to Cody Franson of Toronto to fill the void. Or perhaps more likely is a trade for another Toronto defenseman, John-Michael Liles or go the free-agent route with a guy like Ron Hainsey. Staying within the system is also an option.
Either way the Canes are going to have to do something.
Pitkanen has spent the past five seasons in Carolina but played only 55 games in the past two seasons. He is entering the final season of his contract that has a $4.5 million cap hit, and this is not exactly how one wants to go into a contract season.
By the way, here's the play that Pitkanen was injured on. This is why people want to see hybrid icing in the NHL.
The puck didn't go in the net but the skater did!

Another sign that Houston is a potential destination for an NHL relocation
The two teams combined for 111 penalty minutes and five ejections

The veteran Minnesota goaltender has recorded three consecutive shutouts

The historic start for the NHL's newest team has come largely from unprecedented balance in...