Canucks down four forwards as injuries mount up front
Jordan Schroeder, David Booth, Jannik Hansen and Dale Weise are all going to miss at least the next week as the injuries mount in Vancouver.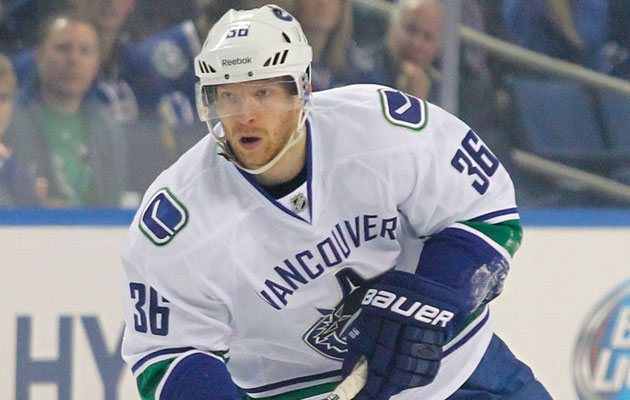 More NHL: Scores | Standings | League Leaders | Odds | Injuries | Power Rankings
The Vancouver Canucks just finished a seven-game road trip mostly through the Eastern Conference with a strong 5-1-1 record. However it was a little costly in terms of health.
On Monday coach John Tortorella updated the injury list and it took the Canucks a few tweets to get it all across.
Schroeder will be out for two months. Hansen is 3-4 weeks away.

— Vancouver Canucks (@VanCanucks) October 28, 2013
Booth will be out for 1-2 weeks.

— Vancouver Canucks (@VanCanucks) October 28, 2013
Weise out for 3-4 weeks.

— Vancouver Canucks (@VanCanucks) October 28, 2013
Gee guys, is that all? For those who need the help that would be Jordan Schroeder, Jannik Hansen, David Booth and Dale Weise.
While the list doesn't include the big names like the Sedins, Ryan Kesler, or any of the defenseman and goalies, that's a lot of forward depth that the Canucks are going to be without for a while here. Those four players have combined for 37 games already this season. Just because they aren't the big scorers doesn't mean their spots won't be tough to fill.
In the meantime, the Canucks might need to look for an addition to their training staff.
Defense is better and motivation shouldn't be lacking, but the Red Wings are still too cap...

The 45-year-old free agent is taking things patiently as September approaches

The playoff drought might not end immediately, but something is brewing in restocked Buffa...
Former Lightning standout will be guarding the net in style in 2017-18

Devils are still in rebuilding mode, but they have reason for hope thanks to young additio...

Buffalo is in the midst of contract extension talks with Jack Eichel, and the payout could...