Canucks sit Henrik Sedin, Torts doesn't want him in Olympics
Henrik Sedin is going back to the injured list, the Canucks shutting him down for the next two games. If John Tortorella could, he's sit him for the Olympics too.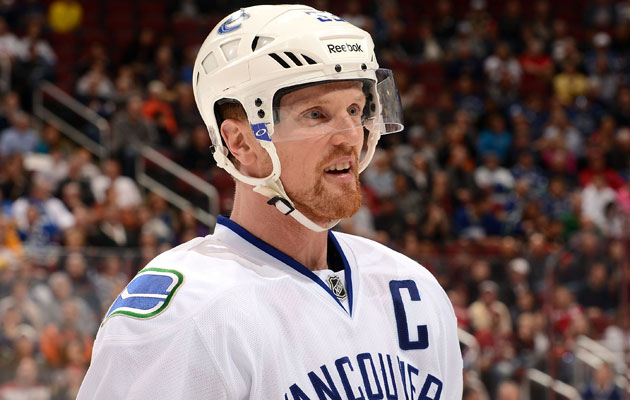 More NHL: Scores | Standings | League Leaders | Odds | Injuries | Power Rankings
If you've seen a Vancouver Canucks game lately, you have undoubtedly noticed the obvious struggles of Henrik Sedin. He has been laboring all over the ice, clearly still dealing with the injury that forced him to end his ironman streak a few weeks ago.
Well coach John Tortorella has seen it too, and so he's shutting down Henrik for the final two games before the Olympic break kicks in.
"He wants to play, but he's not as effective as we need him to be right now," Tortorella said. Considering he has gone pointless in the two games since returning from injury and the Canucks have one goal in those two losses, it's hard to disagree.
The next question immediately becomes: will Henrik join twin brother Daniel Sedin and play for Team Sweden at the Olympics starting next week? If Tortorella had his way, Henrik wouldn't.
Torts on Henrik+Olympics: "Do I want him to go? Absolutely not. But...that is his call. He's going to have to work that out."

— Iain MacIntyre (@imacVanSun) February 6, 2014
The Sedins have been a huge part of the Swedish team in recent years, and you know that Henrik wants to go to Sochi with the rest of his countrymen and compete for gold. It's hard to envision he won't push it the way he was doing for Vancouver the last two games.
But according to Darren Dreger, there is a chance that Henrik actually could pass on the Olympics at this point. Hard to imagine but certainly possible.
If Henrik is out for the Olympics, Sweden will have to make its second roster replacement in the last week. They recently named Gustav Nyquist to replace Johan Franzen. Losing one of the Sedins would be a much tougher replacement.
NHL fans from all over seem to agree on one thing: Hating Kid Rock

The team tweeted on Monday that Shaw would be re-evaluated in 7-10 days

The Montreal forward was hospitalized after taking a Zdeno Chara slap shot to the head
Tampa Bay is still No. 1 and Vegas is still up there, but a few others are finally catching...

Army filed an opposition to the use of 'Golden Knights' on the last day that it was permitted...

The NBC rinkside reporter is hoping to return in time for the 2018 Olympics