Canucks starter Cory Schneider pulled for Roberto Luongo
Corey Schneider's first game as the new starting goalie for the Vancouver Canucks did not go very well.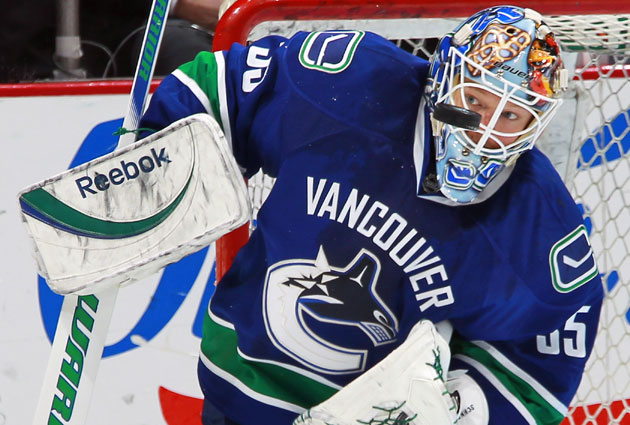 Cory Schneider had a hard time keeping his eyes on the puck Saturday. (Getty Images)
You just can't script stuff like this.
It's almost too perfect.
One of the biggest storylines in the NHL this offseason was the goaltending situation in Vancouver: the emergence of Cory Schneider as the new No. 1, the uncertainty of Roberto Luongo's future and where he might play in 2013 (would the Canucks keep him or trade him?) and the constant rumors that went along with that saga.
Vancouver opened its season Saturday night against the Anaheim Ducks with Schneider in the crease and Luongo on the bench, and it couldn't possibly have gone much worse for the new starter.
Or the Canucks.
Schneider was benched midway through the second period after giving up five goals on 14 shots -- including a three-minute stretch where he allowed three goals in the second period. He made way for Luongo to come off the bench to a standing ovation from the Canucks faithful, the same people who seemed to be finished with him, booed him in the playoffs, and were pretty much resigned to the fact that he's not long for their team.
For more fun, just consider this from Canucks blogger Thomas Drance:
True story: the last time the Ducks played at Rogers Arena was on Luongo's birthday. Anaheim lit him up and Lu was booed and hooked.

— Thomas Drance (@ThomasDrance) January 20, 2013
The Canucks, man. Nothing ever makes sense with that team.
For more hockey news, rumors and analysis, follow @EyeOnHockey and @agretz on Twitter and like us on Facebook.
NHL players are still disappointed they won't be going to skate in PyeongChang

With Artemi Panarin in the mix and a Vezina winner headlining the defense, Columbus can be...

The league's crackdown on faceoff infractions and slashing penalties isn't without some cr...
Joffrey Lupul spent last season on long-term IR but seems to be saying he's healthy

Early playoff trouble has been evident, but the Wild tout an offense capable of making another...

Why walk with skate guards when you can rollerskate instead?