Capitals get key plays from key players to even up Rangers in Game 4
The Washington Capitals took Game 4 from the Rangers 3-2 thanks to goals from Alex Ovechkin, Nicklas Backstrom and Mike Green. Just how they designed it.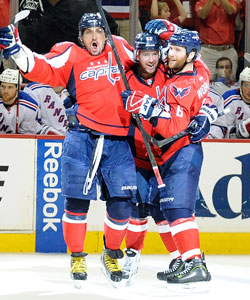 Ovechkin and Wideman (right) mob Green after his goal. (Getty Images)
WASHINGTON -- The core four: It sounds more like the next Marvel Comics move than a hockey branding.
But that's what the Washington Capitals have and this is exactly what they envisioned. Granted, it was supposed to come the last couple of seasons too, but this is the plan.
In the process of evening up their second-round series with the New York Rangers at two games apiece with a 3-2 win on Saturday, the Caps received goals from Alex Ovechkin, Nicklas Backstrom and Mike Green. That's three of the core four around which they're built (with Alexander Semin the fourth).
During the hay day of the Capitals' run-and-gun game that carried them to great regular season after great regular season, those four were the engines. They were all putting up monster numbers and starring night in, night out.
Of course the bug-a-boo was always the playoffs. They could never perform at the same level at the same time, it always seemed. The biggest guys were missing in the biggest games, or at least compared to their regular-season levels.
So this Game 4, this was the realization of how things were supposed to be.
"We needed to step up," Green, who scored the winner on the power play with under seven minutes to go, said. "It's important that we got Ovi's goal and my goal. The guys who need to start scoring. Alex is one of them, myself and Nicky. So it was good."
It was very good. They each had moments in the game to remind you of their vintage form.
Holding true to the pattern this postseason, Ovechkin played less than 17 minutes (15:09) and the Caps prevailed. Helping the cause was a slap shot high glove side from the slot in the opening period, Ovechkin doing what he does best and scoring.
Backstrom was all over the ice offensively, creating chances for himself and his team multiple times on the afternoon, slicing through the defense like a knife through butter.
Green made his name on slapping home pucks on the power play. He found himself with so much time and space before his winner that he could have performed a triple lutz before firing. He blasted an absolute rocket past Henrik Lundqvist to blow the roof of Verizon Center.
From there it was up to the Caps to do what they do best these days: block shots.
"Everybody has their roles," Caps coach Dale Hunter said. "You see the guys at the end blocking shots. But the big guns scored some big goals for us and the foot soldiers blocked shots and played good defense."
Look at that, Hunter sounding like a marketing exec. The big guns with big goals.
But ask any player in hockey and they will tell you the importance of the best players making the best plays. Rosters are designed around players like Ovechkin, Backstrom and Green scoring goals, then you fill in the rest around them. So this really is how they drew it up.
"It's very important for all the guys to play good but especially the guys we count on to score goals, make saves or whatever their job is," Caps defenseman Karl Alzner said. "Guys have been playing well, that's an extremely tough team to play against.
"You see just the way they're handling the puck, passing the puck. They show a ton of confidence. They always have confidence but they take it to that next level. Watching Nicky skate up the ice and stick-handling through people is amazing. Some people don't realize how tough that actually is."
Don't think this was an example of the guys being in the right place at the right time. They were making plays happen on this day, particularly Backstrom. His second goal was a beauty of a shot but the play just before it was equally impressive, the way he just leveled Artem Anisimov while preparing to play the puck was ... well it was just awesome.
The other return to excellence in Game 4 was the Capitals' power play. It had been placed on the side of milk cartons in the D.C. Metro area. The Caps were bemoaning its disapperance before Game 4 and were obviously intent on finding it. They did.
There were only two opportunities on Saturday afternoon, but they were both dominant. The first ended up being fruitless but only because of some excellent saves from Lundqvist, including a seemingly sure goal for Ovechkin. The second one yielded the Green blast and game-winner.
"That's going to be the difference, special teams," Green said. "We're doing a good job at it but we can be better."
Sure, special teams are a major difference in any series, let alone this one. But the real difference on Saturday? Washington's old difference-makers were at it again, just as they planned.
If they have a few more games maybe they really will be seen as superheroes around these parts.
For more hockey news, rumors and analysis, follow @EyeOnHockey and @BrianStubitsNHL on Twitter and like us on Facebook.
NHL players are still disappointed they won't be going to skate in PyeongChang

With Artemi Panarin in the mix and a Vezina winner headlining the defense, Columbus can be...

The league's crackdown on faceoff infractions and slashing penalties isn't without some cr...
Joffrey Lupul spent last season on long-term IR but seems to be saying he's healthy

Early playoff trouble has been evident, but the Wild tout an offense capable of making another...

Why walk with skate guards when you can rollerskate instead?