Caps announce signing of Mikhail Grabovski for one year, $3 million
Mikhail Grabovski is indeed a Washington Capital as the team announced the one-year deal on Friday. Their problem at 2C is fixed.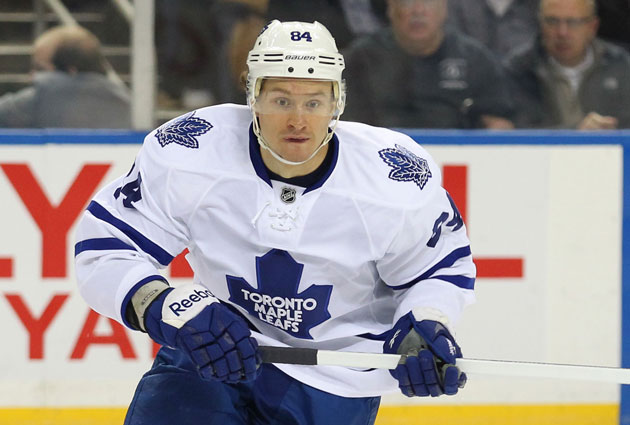 More NHL offseason: Rumors | Top 50 Free Agents | Buyout Tracker | Trades | Transactions
Mikhail Grabovski is indeed the newest member of the Washington Capitals. On Friday the team announced he has signed a one-year, $3 million contract to head to DC.
Just like that, the Capitals have their second center spot filled and what was seen as a minor weakness before now looks like a strength with Grabovski joining the mix. When he's not being stuck on the checking lines as he was last season in Toronto, Grabovski is usually good for around 50 points and is a very strong two-way centerman, able to play both ends of the ice.
"My pitch to him was not a hard sell," coach Adam Oates told Mike Vogel of Dump and Chase. "I kind of wanted to find out what happened in Toronto. I told him he was a good player in a unique situation because the league never had this buyout clause before. While emotionally it's a tough thing, you're in a unique position and you can consider any team that wants you. I gave him some information as to why he should consider ours.
"He fits into our puzzle. I talked to him about what a puzzle means to me, his skills set and where he'd fit."
It was a fit that seemed too good to happen for both sides but this one actually came to fruition. There was some doubt that the Capitals would seek to sign Grabovski even with the fit seeming so ideal and the fact that they did have a little cap freedom. GM George McPhee said earlier this summer that he thought his team was done and he liked where they were at.
But if you can get better at a reasonable rate you should do it, right? Right.
Now Grabovski will make the $3 million from the Capitals and an additional $1.8 million from the Maple Leafs from his buyout, all without a long-term commitment to Washington if it ends up not being a good fit for him. This could very well do down as one of the better signings of the offseason and the Caps look that much more dangerous now than they did a couple days ago.
The former Boston Bruin was the first black player to play in the NHL

Inclement weather led to the Charlotte Checkers and Bridgeport Sound Tigers playing in front...

The NHL chose the Detroit rocker as its All-Star Game entertainment and not everyone is th...
NHL fans from all over seem to agree on one thing: Hating Kid Rock

The team tweeted on Monday that Shaw would be re-evaluated in 7-10 days

The Montreal forward was hospitalized after taking a Zdeno Chara slap shot to the head