Caps GM McPhee points to penalties, goaltending for team's struggles
Washington Capitals general manager George McPhee pointed to penalties and goaltending for his team's struggles.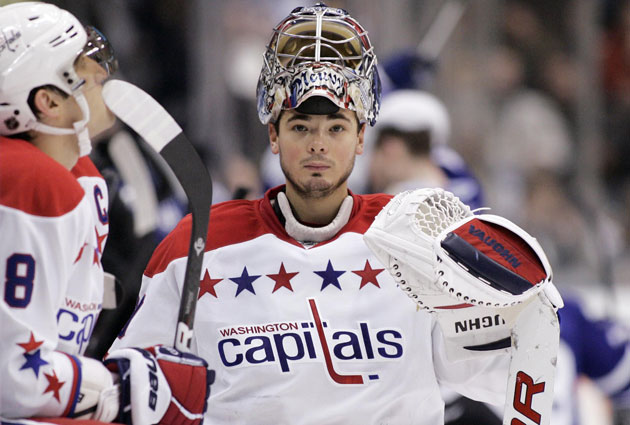 Goaltending has been a big problem in Washington this season. But it's not the only problem. (Getty Images)
More NHL: Scores | Standings | Odds | Fight-O-Meter | League Leaders | Rumors
After their latest defeat, a 5-2 dismantling at the hands of the Penguins on Thursday night, Washington Capitals general manager George McPhee addressed the Washington media on Friday and offered a state-of-the-team address to discuss their dismal 2-8-1 start.

He said he's not going to do anything to blow the team up or risk the long-term outlook to salvage the short term. He also shared some thoughts on why the team has been so bad to start the season.
The two main areas of his concern: Too many penalties and not enough quality goaltending.
"I really like the coaches," said McPhee, "I love what they're doing, and I like the way that we're playing in terms of our system. We don't spend a lot of time in our zone, we protect our defensemen, we're consistently out-chancing the other team and we're getting more attacks than we've had, so we're doing a lot of things well. But the penalties and lack of timely saves -- the goaltenders have to be better -- are hurting the club right now."
He's not wrong.
Let's start with the penalties. Entering Saturday's game against Florida, the Capitals have been shorthanded 51 times, more than every team in the league except Montreal and Dallas. But what makes the number of penalties even worse is the fact that Washington has one of the worst penalty-kill units in the league, not only in terms of the number of goals that it's allowing but also the number of shots (a league-high 85 shots against while on the PK).
The struggles in net just add to the problems.
Both issues were on display during Thursday's second-period meltdown against the Penguins. They allowed three power-play goals, and first-year coach Adam Oates went through both of his goaltenders, pulling Michal Neuvirth after he allowed a weak shot through the five hole to give Pittsburgh a 2-1 lead. At the time, I thought the decision to pull Neuvirth was a bit of a knee-jerk reaction and a panic move. But when looking at the replays of the two goals, it's not hard to see why he made the move. Both were shots Neuvirth needed to stop. They were momentum killers. And for a team that's struggling to score goals like Washington is, your goalie has to make a big save or two for you.
And Neuvirth did not do that (of course, neither did Braden Holtby once he went in).
But are those the only problems the Capitals are facing? I'm not so sure, because it's not like the guys in front of the goalies are tearing things up during 5-on-5 play, either. I'm not going to challenge McPhee's comment on the scoring chances and attacks too much because I'm sure he and his staff have that information tracked far better than I do, but there are ways to get an idea as to how they're playing, what they're giving up, and when they're giving it up.
Through 11 games, they've been outscored 25-15 during 5-on-5 play, which is not good. They have a narrow 244-234 edge when it comes to shots on goal during those situations, and that is a positive sign. But how much of that is due to strong play, and how much of it is due to the fact that they've spent so much time playing from behind this season? We know that teams take far more shots when they're trailing, especially as that deficit increases.
Take Thursday's game, for example: After two periods, the Capitals were being outshot 16-13 during 5-on-5 play before flipping the ice in the third period -- when they were down by four goals and the game was all but decided. Something similar happened in an earlier game against Montreal. They outshot the Canadiens 7-2 in the third period of a game that they trailed 4-0.
Behindthenet.ca tracks Fenwick percentages (shots on goal plus shots that miss the net) based on the score, and the Capitals are lagging near the bottom of the league when the game is still within reach. When the score is "close," they are attempting just 47.5 percent of the shots, which is 21st in the league. When the score is tied, they're attempting 48 percent, which is 18th. Better, but still not great. That certainly challenges -- at least a little bit -- McPhee's claim that they're not spending a lot of time in their own end.
Neuvirth and Holtby should improve as the season goes on if for no other reason than there is nowhere to go but up. They're only stopping 89 percent of the 5-on-5 shots that they've faced this season, and few goaltending duos are that bad over the course of a full season. Since 2007, only four teams finished a full season with a mark below .900. This duo should be better than that.
The problem for the Capitals is once they get things settled in net and get their young goalies playing back up to their ability, it might be too late to make a difference in the playoff race and salvage the 2013 season.
For more hockey news, rumors and analysis, follow @EyeOnHockey and @Agretz on Twitter and like us on Facebook. Also, subscribe to our YouTube Channel.
Vladislav Yeryomenko was the Teddy Bear Toss goal scorer for the Calgary Hitmen

The Golden Knights are finally getting their No. 1 goalie back after a 25-game absence

Washington has won four straight, and the Kings are also on a tear right behind the Lightn...
The NHL says it's only interested in expanding to Seattle, but here's a look at all the moving...

The NHL says it is only looking toward Seattle for the next expansion team

The 33-year-old defenseman hopes to help find a cure for serious head injuries in athletes