Caps GM on Ovechkin's criticism of officials: 'Alex wasn't wrong'
Officiating is still a hot topic in Washington after the Caps were ousted. Caps GM George McPhee backed some of Alex Ovechkin's criticism.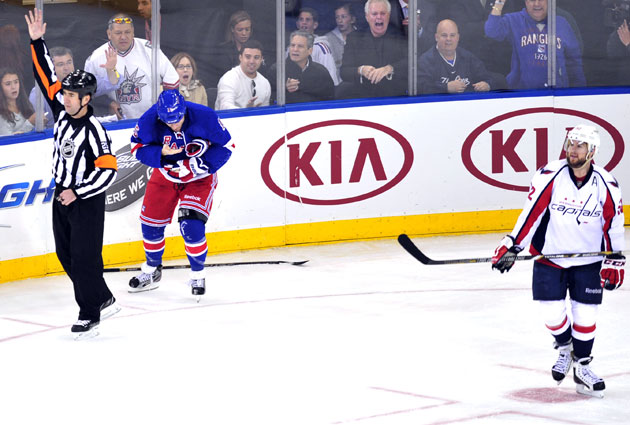 More NHL Playoffs: Scores | TV Schedule | Expert Picks | Odds | Mock Draft | Rumors
Here we are, two days after they were eliminated and just after cleaning out their lockers, the Washington Capitals are still talking about the officiating in their first-round series loss to the New York Rangers. Specifically, how they didn't like it.
When Game 7 was over and the Capitals were left licking their wounds from a 5-0 beatdown from the Rangers, Alex Ovechkin mentioned in an interview with Slava Malamud of Sport-Express (in Russian) that he thought the officiaitng was a bit fishy.
"Not saying there was a phone call, but they wanted Game 7," Ovechkin said Monday night. "For ratings. You know, lockout, escrow, league must make profit."
He started the conversation, and now it won't die. Not yet.
Ovechkin was asked about those comments again since Monday but declined to say anymore. Capitals general manager George McPhee did say more, though.
"I don't think there's a league conspiracy, but it sure didn't feel right," McPhee said on Wednesday. "Alex wasn't wrong."
In other words, McPhee didn't think there was anything nefarious about the officiating; it was just bad. He continued (from the Washington Post).
"We didn't get many power plays during the series, I don't know why. We had to kill too many penalties, I don't know why. I didn't think that part of the game from the league standpoint was all that good. I didn't like the refereeing. But if you complain about it during the series, and you're accused of trying to gain an edge. If you complain about it after a series is over, then it's whining and sour grapes."
He is right on that account. There's just never any winning when complaining about the officials. Still, the Caps were offended by it enough to talk about it now.
So, where is this all coming from? Well, in the seven-game series, the Rangers seemed to get the benefit of the doubt of a lot more calls. In total, the Rangers had 25 power-play opportunities to Washington's 16. Considering the power play is the Capitals' biggest weapon, that was a major factor in the series. It did seem that everything borderline went against the Caps.
It became such a focus as the series wore on that the Capitals were openly talking about it, particularly after Game 6, when New York had five power plays and the Capitals had none. It was that focus on the referees that helped the Rangers. At least that's what John Tortorella said.
Torts: "We've got everybody and their brother whining out there in Washington about what happened in that series ... "

— Pat Leonard (@NYDNRangers) May 15, 2013
Torts cont'd: "... and I think that's a big reason they lose that series." (in context of being pleased w/ #NYR's mindset)

— Pat Leonard (@NYDNRangers) May 15, 2013
It obviously does little good to complain now; it's not as if the NHL is going to go back and change the results. The Capitals know that, too. They're just frustrated, and officiating always makes for an easy target.
Was the officiating in the series good? Probably not, but I don't think it was any worse than all of the other series.
Inclement weather led to the Charlotte Checkers and Bridgeport Sound Tigers playing in front...

The NHL chose the Detroit rocker as its All-Star Game entertainment and not everyone is th...

NHL fans from all over seem to agree on one thing: Hating Kid Rock
The team tweeted on Monday that Shaw would be re-evaluated in 7-10 days

The Montreal forward was hospitalized after taking a Zdeno Chara slap shot to the head

Tampa Bay is still No. 1 and Vegas is still up there, but a few others are finally catching...