Caps handle Semin's return, Canes as they start to find their stride
The Washington Capitals handled the return of former teammate Alex Semin and his Hurricanes just fine. They are starting to show that perhaps things really aren't so bad post-Semin after all.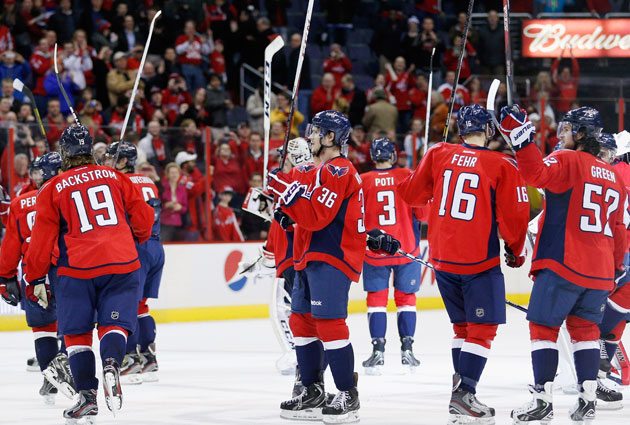 More NHL: Scores | Standings | Odds | Fight-O-Meter | League Leaders | Rumors
WASHINGTON -- Judging from the boos on Tuesday and comments from current Capital forward Troy Brouwer, Alexander Semin isn't necessarily missed in Washington these days.
The part that drew the most attention when Brouwer spoke earlier this week was regarding the fact that Semin wasn't the best guy in the world to play with. Specifically he said you never knew when he was going to show up and how difficult it can be to play with somebody like that.
It's a narrative almost as old as Semin's NHL career, he plays when he wants, yadda yadda.
Part of that narrative was also that he didn't play defense and in no way could he be a penalty killer. Then right on cue in the opening minutes of the game there was Semin, on the PK, with a clear 2-on-0 with Eric Staal. Instead of tic-tac-toeing their way to a short-handed score, Staal seemed to just hand it off to Semin and have his moment in his old building. He was stopped by Braden Holtby, turning the boos into raucous cheers.
"That was a pretty class move that Eric had there," Hurricanes coach Kirk Muller said. "Has the breakaway and lays it up to [Semin] to give him the opportunity to be the hero early on in the game. But [Holtby] made the save. That could have been the difference in the game."
It seemed a bit odd, if you ask me. The Hurricanes could have had a key early goal working a 2-on-0 breakaway but Staal deferred. A nice gesture perhaps, but probably not the right one.
Either way, it looked as though Semin certainly came to play against his old team, but that was the best chance the Hurricanes would have all game. The Capitals would come away with a 3-0 victory, keeping the Hurricanes winless in divisional play.
That wasn't all that Brouwer said earlier this week, though. He also said that the Capitals felt like they were better without him anyway, no sweat off their backs that he was now in Carolina.
If you were like me, you laughed a little. The Capitals have been downright awful this season, sitting last in the conference with Buffalo when Brouwer made his comments. However they might be coming to life.
You can forgive the Caps for being a bit slow out of the gate. With Adam Oates now behind the bench, it is the third coach the Caps have had in a little over a year's time frame and they were just coming off a relationship with Dale Hunter that resulted in slow, defensive style back to a more balanced look that they have under Oates.
"It's getting there," Oates said of his team playing his system. "I think the guys are realizing that when they play as a unit, do the right things, there's always going to be support for each other and you're in a way better position to make the next play. Those are things we're trying to accomplish.
"It's just not clockwork yet, it's not automatic. Guys are still making decisions from before, whatever team they played on or whatever system it was. It's still just not automatic all the time. We have parts where it looks automatic and then we shoot ourselves in the foot a little bit. "
In other words, a transition period was entered and they aren't quite out of it yet, but the light is there at the end of the tunnel.
It has been rough and perhaps in other divisions they would be buried with how slow they have started, but in the Southeast everybody has life. Case in point, the Caps just dominated the team that had the title of division leader coming into the night. Somehow, Washington is just four points back in the division race.
The point is, it's not too late.
Here the Caps are, now winners of five of their last seven games. The last two have been in very impressive fashion, taking down the Devils and Hurricanes by a combined score of 8-1.
The scoring punch that was lacking early in the absence of Semin has been picked up in a major way by the power play, which is once again as lethal as any in the league. No really, it's the East's best power play after hitting on one of four chances Tuesday night, upping their percentage to 28.6 on the season. Whether it's Oates and his special-teams prowess or the presence of a play-maker like Mike Ribeiro, the Caps have been excellent with the man up.
"In the beginning we lost the games because we didn't score on the power play but now we're winning because we're scoring," Nicklas Backstrom said. "Special teams are real important right now."
It wasn't just the special teams, though. The Capitals were running the Hurricanes out of Washington like a disgraced politician. It could have been so much worse if it weren't for a tremendous game from Cam Ward in the Hurricanes net. He had one of the best saves you'll see all season to deny a sure goal.
Finally, the Capitals are starting to look comfortable in their own skin.
"I think it's going great," said defenseman John Carlson, who scored his third goal of the season. "The best aspect of the whole scenario was that from Day 1 everyone stuck to it. When we were losing games and playing bad, guys didn't come in the room questioning anything. We stayed as a team and did the right things. Clearly it took a little bit longer than any of us would like but in the end hopefully it works out for the better."
We still need to see a little more -- Oates estimates the team is 60-70 percent the way there -- but it is starting to look a lot better, indeed.
It's probably still tough to say that the Caps are better off without Semin, I wouldn't go that far, but they're starting to show that life after Semin might not be all that bad.
For more hockey news, rumors and analysis, follow @EyeOnHockey and @StubitsCBS on Twitter, subscribe to our YouTube account and like us on Facebook.
NBC will reportedly be devoid of NHL game broadcasts between Feb. 7-26

The Winnipeg winger suggests Trump is going after 'the principles the U.S. was founded on'

League gets excited about exhibition matches in Beijing and Shanghai
NHL players are still disappointed they won't be going to skate in PyeongChang

With Artemi Panarin in the mix and a Vezina winner headlining the defense, Columbus can be...

The league's crackdown on faceoff infractions and slashing penalties isn't without some cr...