Carey Price to start first game for Canada, Roberto Luongo second
Canada will stick to its plan to start different goalies in the first two games. Carey Price gets the nod against Norway, Roberto Luongo will face Austria.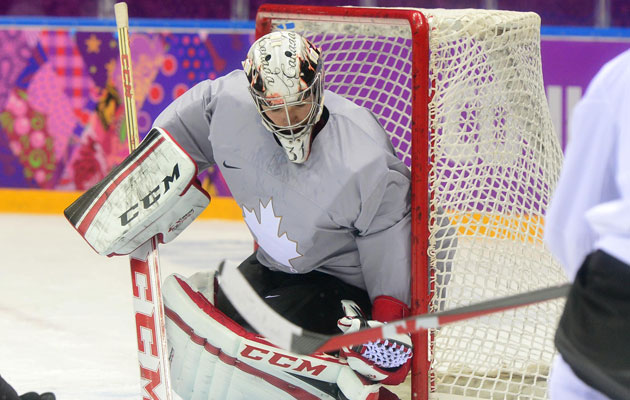 More NHL: Scores | Standings | League Leaders | Odds | Injuries | Power Rankings
Sticking true to his word, Canada coach Mike Babcock will split his goalie starts in the first two games. Carey Price will open against Norway on Thursday and 2010 goalie Roberto Luongo will face Austria on Saturday.
This has been the plan for Canada for a while, to give each of the top two goalies a chance to show which should be the man. It's a luxury that was afforded Canada in part because of the strength -- or lack thereof -- of their first two opponents in the pool play.
In other words, don't read into Price getting the first start as a sign he'll get the rest of the starts.
"I was going to play one of them in (each of) the first two games," Babcock said. "If I had put Luongo in, you'd be asking me the same question."
Really, the question as to which goalie the Canadians are going to hope to ride to gold will be answered in the third game when they will face their toughest test in the opening round against Finland.
Price has certainly made a good case for himself this season in Montreal. He has played in 48 games and has an impressive .925 save percentage. He has bailed out the Canadiens numerous times and for the most part, has been their best player this season. Luongo has had a nice rebound season in Vancouver after the No. 1 job was fully returned to him but he and the Canucks struggled coming into the break (most of that blame goes to the skaters, not Luongo). He has a .917 save percentage in 42 games.
Mike Smith is the third goalie and is unlikely to work his way into the conversation beyond that unless things go really wrong for Canada in a hurry.
The decision would likely be met by anger from some fans, but it could also make sense

Toronto shoots to the No. 1 spot, just ahead of the Chicago Blackhawks

The Penguins' standout is at it again
Gary Bettman all but reverses course from his September comments on anthem demonstrations

The 'Washington Post' says many teams have stopped booking stays at Trump-owned properties

New Jersey has the long-term promise; Vegas is nothing like an expansion pushover