Carey Price's lost dogs returned on Monday thanks in part to tweet
Carey Price has one less thing to worry about. He lost his dogs on Sunday night but thanks in part to a tweet he sent, he got them back on Monday morning.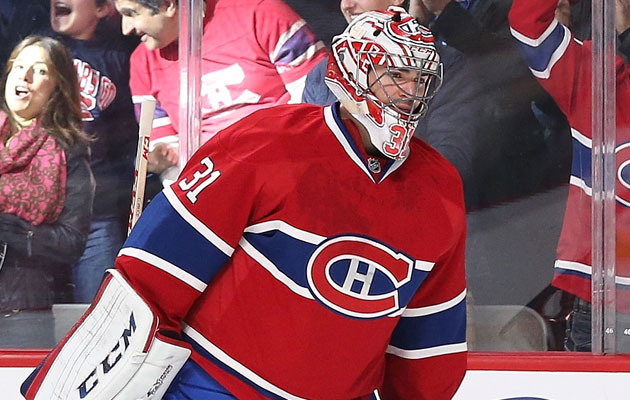 More NHL Playoffs: Schedule, TV listings | Expert Picks | Bracket | Scores | Odds
Twitter gives professional athletes a unique way to interact with fans and just have some fun. Carey Price found a different use for the social media site this week.
As if Price didn't have enough to worry about with the Montreal Canadiens battling the Boston Bruins in the second round of the playoffs, Price and his wife lost their two labradors on Sunday night/Monday morning. So at the suggestion of his wife Price posted on Twitter that the dogs running wild around the Montreal suburbs are his.
If anyone finds two labs running around candiac they're mine

— Carey Price (@CP0031) May 5, 2014
Quickly the news spread, so quick to the point it was being disucssed on the radio early Monday morning. John Mastromonaco was listening to the radio and then saw a jogger with two dogs in tow that didn't actually seem to be with him. Sure enough, they weren't and after taking a look at the dog tags, he knew he had the Prices' dogs.
He called the Prices and not long after he was at their door with the dogs, Carey answering the door a bit too early for a hockey player. From the Canadian Press:
She directed him to the couple's home where Price answered the door and gave him an autographed stick.

"He just said thank you very much, I appreciate it, here's a stick," said Mastromonaco, a Habs fan. "I said thank you very much [to Price] and said good luck on Tuesday."

Price said he had just woken up when the dogs were returned.

"We didn't chat a lot," he said. "I was kind of groggy.

"I was still trying to sleep. I probably didn't go to sleep until about two. I woke up, I was like ugh. Threw my bathrobe on. I was probably quite the sight to see."
Well now that his dogs are back home, Price can actually relax and get some sleep before Tuesday's Game 3 in Montreal because he's going to need it. Certainly it's a good thing the Habs and Bruins had a two-day break in between cities as Tuukka Rask had a rather eventful night as well as his girlfriend gave birth.
Sign up now, and your name can be under the Golden Knights' skates, too!

Pittsburgh coach Mike Sullivan says the team also respects players' right to protest

Some familiar faces are back, but a cap-strapped summer left Chicago a little shakier than...
The Pittsburgh Penguins will put politics aside and visit the White House out of 'respect'...

NBC will reportedly be devoid of NHL game broadcasts between Feb. 7-26

The Winnipeg winger suggests Trump is going after 'the principles the U.S. was founded on'