CBSSports.com College Hockey Power 10: Week 10
Every week here at Eye on Hockey, we'll provide the CBSSports.com College Hockey Power 10, highlighting the top teams across college hockey. And with the NHL locked out, what else are you going to watch to get your hockey fix?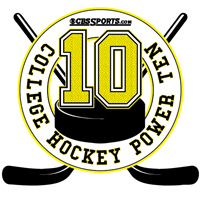 Every week here at Eye on Hockey, we'll provide the CBSSports.com College Hockey Power 10, highlighting the top teams across college hockey. And with the NHL locked out, what else are you going to watch to get your hockey fix?
The CBSSports.com College Hockey Power 10 is a collaboration between Eye on Hockey blogger Chris Peters and CBS Sports Network Hockey analyst Dave Starman.
It's essentially the halfway point of the college hockey season, and things appear as wide open as ever heading into winter break. As the weeks go by, the picture at the top becomes less clear as it seems just about any week, anyone can beat anyone. That can make for some exciting weeks ahead as more teams try to establish themselves as top-tier squads.
While the picture at the top is less clear, it still starts with Boston College, which remains No. 1 for the eighth consecutive week on the Power 10. The Eagles are on the cusp of making history for their coach. Jerry York's next victory will be his 925th and make him college hockey's career leader. Meanwhile, UNH is stuck at No. 2 after a tough loss to Boston University, which has been rising up the Power 10 the last few weeks and cracks the top five for the first time.
Notre Dame hops up to No. 3 after claiming its 13th victory of the season, which leads the country. Quinnipiac is also climbing the charts, moving up to No. 8 after stretching its unbeaten streak to 10 games. Making its Power 10 debut this week is Dartmouth, one of the huge surprises of the season. With a 7-2-2 record, the Big Green has been turning heads weekly after being picked to finish 10th in the ECAC in a preseason poll.
It looks like Friday night is turning out to be a great night for college hockey on TV, including a big game on CBS Sports Network.
Friday on CBS Sports Network – Western Michigan at Michigan – 7:30 p.m. ET
Friday evening's CCHA tilt between Michigan and No. 7 Western Michigan is an awfully intriguing matchup. One team is a traditional power struggling through its worst first half in recent memory, the other a program on the rise to the top tier of college hockey.
Michigan has been scuffling this year, mired in a 5-8-2 season and finding itself in the bottom half of the CCHA. Meanwhile, the Broncos are surging in Kalamazoo under second-year coach Andy Murray, finding themselves in the hunt for a CCHA title again.
Michigan's struggles have been a bit confounding. With a litany of pro prospects and a legendary coach in Red Berenson, this has been an unusually poor showing for one of the elite programs in college hockey history. Having lost five of its last seven, things are spiraling a bit for Michigan.
Goaltending has been an issue all year, but now the scoring has gone dry as well. Senior A.J. Treais has been a bright spot, however, leading the team with 10 goals and 15 points. Junior defenseman Mac Bennett, a Montreal prospect, has picked up the scoring pace from the blue line as well, with 12 points. It's clear the Wolverines are sorely missing Jon Merrill, a Devils draft pick who has been out all year with a fractured vertebrae. His return is still in doubt.
Western Michigan, on the other hand, has some NHL prospects as well, but not to the degree of a program like Michigan. The Broncos have been finding success due in larger part to incredible defensive play this year.
Western has really struggled offensively throughout the year, but its fantastic defensive corps has been protecting leads effectively. Goaltender Frank Slubowski has also been a major factor this year with a 2.05 goals-against average. Senior winger Dane Walters leads the team with 12 points while Predators prospect Chase Balisy is second with 11. Each have scored six goals this year.
Western also possesses one of the most sought-after college free agents on the market this year in Danny DeKeyser. The junior defenseman turned down a multitude of NHL offers last season to return for one more go-round in college. He'll be one of the guys to keep an eye on Friday night.
Ben Holden and Dave Starman will have the call live from historic Yost Arena, so be sure to tune in.
Friday, Dec. 14
Alabama-Huntsville at Wisconsin – 8 p.m.
Saturday, Dec. 15
Ferris State at Michigan State – 5:05 p.m.
Robert Morris at Penn State – 7:30 p.m.
Miami at Ohio State – 8:05 p.m.
This week's College Hockey TV Schedule (all times ET):
Thursday, Dec. 13
Alabama-Huntsville at Wisconsin – 8 p.m. (Fox College Sports)
Friday, Dec. 14
Miami at Ohio State – 7 p.m. (Big Ten Network)
Western Michigan at Michigan – 7:30 p.m. (CBS Sports Network)
Alabama-Huntsville at Wisconsin – 8 p.m. (Fox College Sports)
CBSSports.com College Hockey Power 10

1. Boston College (11-2-1) – Last Week: 1
The Eagles lost a late lead in a 3-3 tie to Providence College, which is probably not how BC was hoping to go into the winter break. That said, no other teams have really established themselves enough to knock off BC from the top spot. The Eagles are off until Dec. 29.
2. New Hampshire (11-2-2) – Last Week: 2
After beating BU twice previously this season, the Wildcats finally got clipped by the Terriers. Hobey hopeful Kevin Goumas was able to stretch his point streak to 10 games in the loss, though. UNH has a few weeks off before returning to action at Dartmouth on Dec. 30.
3. Notre Dame (13-4-0) – Last Week: 4
The Irish are on a five-game winning streak and are up to a nation-leading 13 victories. Things are starting to click offensively for Notre Dame with junior standout T.J. Tynan finally getting hot, which is bad news for the rest of the country. ND meets Bowling Green on Saturday before a long break.
4. Boston University (10-5-0) – Last Week: 6
After knocking off two different No. 1 ranked teams in a six-day span, the Terriers are heating up. BU has won five of its last seven and seems to take a step forward every week. Freshman goaltender Matt O'Connor has been a pleasant surprise with a .931 save percentage and 2.22 GAA in 11 games.
5. Minnesota (11-3-3) – Last Week: 5
The Gophers have been a bit confusing to watch this year. Minnesota probably should have swept Colorado College last weekend but blew a three-goal lead in the third on Saturday for its third tie of the year. This team has immense talent but some nights can be its own worst enemy.
6. Miami (10-3-3) – Last Week: 3
A stumble against Lake Superior State on Saturday night halted an eight-game unbeaten streak for the RedHawks, allowing some of these other teams to climb ahead. A big series at rival Ohio State awaits Miami this weekend. Should be a good one.
7. Western Michigan (10-3-1) – Last Week: 8
The Broncos are one of the most intriguing teams in the country. Despite outscoring conference opponents by just one goal, WMU has a 7-2-1 CCHA record. Coach Andy Murray has this team bought in on his defensive philosophies, and it's paying off in a big way so far.
8. Quinnipiac (12-3-2) – Last Week: 10
A weekend sweep of Princeton improved the Bobcats' record to 8-0-0 in ECAC play and stretched their unbeaten streak to 10. Senior standout Jeremy Langlois has been the offensive catalyst for QU with 10 goals and 18 points.
9. North Dakota (8-5-3) – Last Week: 9
UND is certainly better than their record and probably this ranking, but the way other teams are playing right now keeps this squad at No. 9. A tie and win at home against backsliding Denver last weekend was a solid result, and it seems as though UND is turning its Saturday struggles around.
10. Dartmouth (7-2-2) – Last Week: NR
Who saw this coming? No one, that's who. The Big Green is making believers out of the rest of the country with its surprise start. One of its two losses came against BC, so that's pretty forgiveable. Sophomore forward Tyler Sikura has been a revelation with 17 points in 11 games. 
Dropped Out: Denver (9-5-2)
On the Cusp: Denver (9-5-2) Cornell (6-3-2), Nebraska-Omaha (10-5-1), Niagara (10-2-3), Yale (6-3-2)
The Pittsburgh Penguins will put politics aside and visit the White House out of 'respect'...

NBC will reportedly be devoid of NHL game broadcasts between Feb. 7-26

The Winnipeg winger suggests Trump is going after 'the principles the U.S. was founded on'
League gets excited about exhibition matches in Beijing and Shanghai

NHL players are still disappointed they won't be going to skate in PyeongChang

With Artemi Panarin in the mix and a Vezina winner headlining the defense, Columbus can be...