CBSSports.com College Hockey Power 10: Week 7
Every week here at Eye on Hockey, we'll provide the CBSSports.com College Hockey Power 10, highlighting the top teams across college hockey. And with the NHL locked out, what else are you going to watch to get your hockey fix?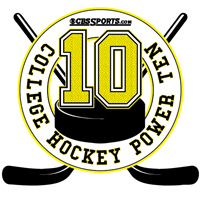 Every week here at Eye on Hockey, we'll provide the CBSSports.com College Hockey Power 10, highlighting the top teams across college hockey. And with the NHL locked out, what else are you going to watch to get your hockey fix?
The CBSSports.com College Hockey Power 10 is a collaboration between Eye on Hockey blogger Chris Peters and CBS Sports Network Hockey analyst Dave Starman.
Though most of America will be fighting off a turkey-induced coma, many top college hockey teams will be in action this weekend. The holiday season brings some of the best hockey of the regular season with a lot of big nonconference games across the map.
Boston College remains as the top team after running its winning streak to nine games, but Denver has kept up every step of the way as both teams have national-best 9-1-0 records. The fastest-rising team this season has been New Hampshire. The Wildcats have been awfully stingy defensively this year, and it's translating to wins. UNH comes in at No. 4 this week. Meanwhile, Cornell -- at one point, a top-five team on the Power 10 -- has fallen all the way out of the rankings after a five-game winless streak. As a result, St. Cloud State makes its Power 10 debut this week. The Huskies have been holding their own in the WCHA this season and can be an explosive team offensively.
One of the teams to keep an eye on in the coming weeks is Quinnipiac. which has been one one of the hottest teams in the country. Currently riding a five-game winning streak, the Bobcats now possess a sparkling 8-3-0 record. Nebraska Omaha is another hot team making some noise in the always-tough WCHA. Either of those two squads could find themselves in the Power 10 soon.
This weekend should provide some very entertaining games as well as a few series that will have a direct impact on the Power 10. Denver welcomes a pair of Eastern-based foes to Magness Arena, including red-hot UNH on Saturday. Michigan and Cornell both will look to get back on track, as the two former Power 10 teams will bring hockey back to Madison Square Garden this weekend. The big series of the week however comes in South Bend, Ind., as Notre Dame opens its doors to North Dakota.
This week's College Hockey TV Schedule (all times ET):
Friday
Minnesota at Vermont -- 7 p.m. (Fox College Sports)
Colgate at Merrimack -- 7:30 p.m. (Fox College Sports)
Saturday
Minnesota at Vermont -- 7 p.m. (Fox College Sports)
Michigan vs. Cornell at Madison Square Garden -- 8 p.m. (MSG)
CBSSports.com College Hockey Power 10

1. Boston College (9-1-0) – Last Week: 1
The Eagles had only one game last week, but it was an interesting one. After going down 3-0 within the first six minutes of the second period, BC rattled off four straight goals to earn the win against Merrimack. The Eagles always seem to find a way and have now won nine straight.
2. Denver (9-1-0) – Last Week: 3
With a sweep of archrival Colorado College in the opening series of the Gold Pan, Denver continued its stunning run. The Pioneers have scored five or more goals in seven of their 10 games this season and show no signs of slowing. A huge test awaits Saturday when Denver welcomes UNH.
3. Minnesota (7-2-2) – Last Week: 2
A tough rivalry series with Wisconsin last weekend gave the Gophers all they could handle, but Minnesota skated away with a tie and a win. This team still hasn't played to its full potential yet, which should put the rest of the nation on alert. As soon as this team puts it all together, it could be scary good.
4. New Hampshire (8-1-1) – Last Week: 6
Last week, goaltender Casey DeSmith completed a historic run for the Wildcats, earning three straight shutouts and not allowing a goal in 204:40 of action. With terrific defense and strong goaltending, UNH looks more and more like it belongs with the nation's elite teams.
5. Notre Dame (8-3-0) – Last Week: 7
It's never easy to head on the road for a pair of games at Michigan's Yost Ice Arena. It's even harder to come out with a sweep, but that's what the Irish did in convincing fashion. The offense can still be a bit inconsistent, but Notre Dame is finding ways to win regularly.
6. Miami (7-2-2) – Last Week: 4
Despite a win and a tie last week, the RedHawks got leap-frogged by a pair of very hot teams. Miami is getting more balanced scoring, but the top line continues to be a catalyst. It's led by freshman Riley Barber, who has posted a team-best 15 points. That's tops among first-year players.
7. North Dakota (5-3-2) – Last Week: 5
UND continues battling consistency issues but might have turned the corner a bit last weekend with a hard-fought series with Minnesota Duluth. Senior Danny Kristo has been on fire this season. Once this team finds a way to start stringing wins together, UND will only get stronger. The talent is there.
8. Union (6-2-1) – Last Week: 9
The Dutchmen were idle last week but have a potentially tough series against first-year program Penn State at home this weekend. The Nittany Lions should be amped up to play their first highly-ranked opponent, so Union better be ready for a battle.
9. Western Michigan (6-3-1) – Last Week: 10
After losing the first game against the University of Alaska, WMU scored three third-period goals to earn the split on the road Saturday. It's always a tough road trip to Alaska, but the Broncos need to find more scoring. Western hasn't put up more than three goals in a game all year.
10. St. Cloud State (6-4-0) – Last Week: NR
With one of the tougher early-season schedules in the country, the Huskies have been hanging with a lot of the top teams. SCSU has a potentially explosive offense led by juniors Nic Dowd and Drew LeBlanc. With a tough road series at Minnesota Duluth, the Huskies have a lot to prove this week.
Dropped Out: Cornell (3-3-2)
On the Cusp: Boston University (6-4-0), Harvard (6-3-1), Dartmouth (5-1-2), Nebraska Omaha (7-5-0), Quinnipiac (8-3-1)
The Pittsburgh Penguins will put politics aside and visit the White House out of 'respect'...

NBC will reportedly be devoid of NHL game broadcasts between Feb. 7-26

The Winnipeg winger suggests Trump is going after 'the principles the U.S. was founded on'
League gets excited about exhibition matches in Beijing and Shanghai

NHL players are still disappointed they won't be going to skate in PyeongChang

With Artemi Panarin in the mix and a Vezina winner headlining the defense, Columbus can be...