CBSSports.com Hobey Baker Award Watch: Week 10
Every week this season, Eye on Hockey will be tracking the best players in college hockey as they compete for the ultimate individual prize, the Hobey Baker Memorial Award.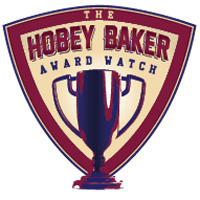 Every week this season, Eye on Hockey will be tracking the best players in college hockey as they compete for the ultimate individual prize, the Hobey Baker Memorial Award.
The Hobey Baker Watch is a collaboration between Eye on Hockey blogger Chris Peters and CBS Sports Network Hockey Analyst Dave Starman.
The smell of No. 2 pencil shavings is filling the air at college campuses everywhere during finals week. The end of the semester signifies the halfway point for the college hockey season as well. As the games grow in importance over the coming months, Hobey Baker candidates rise and fall with regularity. Candidacies are solidified in the second half, so things should really start picking up.
The race is already red hot with more players putting themselves in the hunt by the week. The No. 1 spot will remain unchanged here, however, as Johnny Gaudreau stays on top for the third consecutive week. The Boston College sophomore is headed for a long layoff as he prepares for the World Junior Championship, where he is expected to be a key player for Team USA.
That could leave the door wide open for a flurry of other players to break into the conversation. UNH's Kevin Goumas has continued his incredible season for the Wildcats and moved up the No. 2 spot. Bentley's Brett Gensler keeps his name on the list at No. 3 as the nation's scoring leader with 26 points.
New to the Hobey Watch this week is Nebraska-Omaha's Ryan Walters. The junior forward has been on an incredible scoring tear and has the Mavericks contending within the WCHA. He nudges off Kyle Flanagan, who might not be gone for long. Flanagan is still second in the country with 25 points, but he'll have to continually fend off candidates from the bigger conferences to stay in the hunt.
Among the others to watch this week is Niagara's incredible junior goaltender, Carsen Chubak, who is putting up ridiculous numbers. Chubak has helped the Purple Eagles to a surprising 10-2-4 record with a 1.25 goals-against average, .959 save percentage and five shutouts, all national bests. Also keep an eye on Colorado College's Rylan Schwartz. The senior forward is tied for third nationally with 24 points, including 10 goals.
1. Johnny Gaudreau – Boston College
 
Position: Forward
Class: Sophomore
Ht: 5-7 Wt: 150
Season Stats: 14 GP, 11g-12a—23pts
Comment:  The sophomore forward potted a goal and added an assist in BC's 3-3 tie at Providence, the Eagles' lone game last week. His 11 goals this year has him tied for second nationally. He has been the picture of consistency this year for the No.1 team in the country and is certainly one of the most exciting players in college hockey. His stint with the U.S. National Junior Team will cost him at least three games at BC, which shouldn't hurt him too badly in the Hobey race. While his play at the World Juniors won't directly affect his candidacy, a good performance there might at least help him build a little more hype, as if he needs anymore.
2. Kevin Goumas – New Hampshire
 
 
Position: Forward
Class: Junior
Ht: 5-10 Wt: 160
Season Stats: 15 GP, 8g-16a—24pts
Comment:  The junior extended his 10-game point streak in UNH's loss to Boston University. The Wildcats have lost their No. 1 ranking in the polls, but they're still clearly one of the nation's best teams and Goumas is driving the bus offensively. His 16 assists tie him for the national lead, and he's by far the most consistent producer for the No. 2-ranked Wildcats. The race between Boston College and UNH in Hockey East could mirror the race between Gaudreau and Goumas for Hobey all year. It should be incredibly fun to follow.
3. Brett Gensler – Bentley
Position: Forward
Class: Junior
Ht: 5-10 Wt: 160
Season Stats: 13 GP, 10g-16a—26pts
Comment: Gensler just keeps putting up points. No matter how many times you think he'll fall of his pace, he doesn't. A four-point weekend against Atlantic Hockey power Air Force is a nice way to pad the stats, but Bentley's record (6-8-1) isn't matching Gensler's production. That could become a problem when it comes time for voters to make their decision. That said, it's hard to toss Gensler to the side when he's leading the nation with 26 points. He's tied for fifth and first nationally for goals and assists, respectively. It's a remarkable rate of production that becomes more remarkable by the week. It has been an impressive run for Gensler, and he appears to be far from finished.
4. Ryan Walters – Nebraska Omaha
Position: Forward
Class: Junior
Ht: 6-0 Wt: 190
Season Stats: 16 GP, 8g-16a—24pts
Comment: With the litany of top players in the WCHA, Walters might be a bit of an unknown on the national level. If he keeps playing like he has of late, that's sure to change. Though his eight-game point streak was snapped Saturday, he made sure to go out on a high note with four points on Friday. Walters had at least two points in every game, and the Mavericks won seven of the eight during his streak. He's tied for third nationally with 24 points, and UNO is ranked in both major polls. It's anyone's guess as to Walters' ability to keep up his solid 1.50 points-per-game pace. If he can while also helping the Mavericks into WCHA contention, he's going to have a pretty solid resume for college hockey's top prize.
Others to watch:
Kyle Flanagan – F – Sr. – St. Lawrence
Carsen Chubak – G – Jr. -- Niagara
Rylan Schwartz – F - -Sr. Colorado College
Corban Knight – F – Sr. – North Dakota
Erik Haula – F – Jr. -- Minnesota
Vegas isn't being quiet about its hot start to the NHL preseason

The blue-liners are set for another big push, but Edmonton's rise is hard to ignore in the...

Meanwhile, the Devils' Brian Boyle isn't sweating his recent cancer diagnosis
Limited-time Warriors-colored jerseys are apparently on the way in January

The 32-year-old forward tells the media he expects to be back on the ice for the Devils op...

It seems it's all as wild as it sounds, with Canadian actor Zack Ward heading a 'West Coast...