CBSSports.com Hobey Baker Award Watch: Week 11
Every week this season, Eye on Hockey will be tracking the best players in college hockey as they compete for the ultimate individual prize, the Hobey Baker Memorial Award. Here is the first installment of 2013.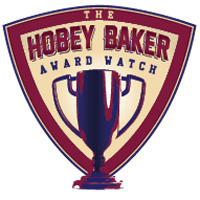 Every week this season, Eye on Hockey will be tracking the best players in college hockey as they compete for the ultimate individual prize, the Hobey Baker Memorial Award.
The Hobey Baker Watch is a collaboration between Eye on Hockey blogger Chris Peters and CBS Sports Network Hockey Analyst Dave Starman.
After a few weeks off for the holidays, the calendar has turned to 2013 and the Hobey Baker Award Watch is back on Eye on Hockey.
There weren't a lot of college games while we were away, but there have been enough changes to the increasingly more difficult to predict Hobey race to lead to some movement on our leaderboard.
Boston College sophomore Johnny Gaudreau remains our No. 1, but after taking over the national scoring lead, Nebraska-Omaha's Ryan Walters is creeping ever closer.
There's a pair of new faces in this week's Hobey Watch as well, with North Dakota's red-hot Corban Knight getting the nod at No. 3 and Niagara University goaltender Carsen Chubak, perhaps the biggest surprise of the entire college hockey season so far, coming in at No. 4.
This group will have to beware of the previous candidates we've highlighted this year like Bentley's Brett Gensler, UNH's Kevin Goumas and St. Lawrence's Kyle Flanagan and Greg Carey. All are still very much alive in this race.
Also coming on of late: St. Cloud State's Drew LeBlanc, who is tied with Walters for the national point lead with 28. Erik Haula is also likely to jump into this race as he's been leading the way offensively for new national No. 1 Minnesota. Also, don't be surprised if Haula's highly-touted teammate Nick Bjugstad jumps back into this mix.
1. Johnny Gaudreau – Boston College
 
Position: Forward
Class: Sophomore
Ht: 5-7 Wt: 150
Season Stats: 14 GP, 11g-12a—23pts
Comment:  Currently away from Boston College while representing the United States at the World Junior Championship, Gaudreau won't have a chance to pad his stats for another week to help aid his Hobey candidacy. That said, what happened to BC at Minnesota on Sunday gave a glimpse of what can happen when he's out of the lineup. Gaudreau likely wouldn't have been able to single-handedly prevent an 8-1 loss to the Gophers, but the Eagles are much more dangerous with him in the lineup than without. As a side note, Gaudreau has scored seven goals in the last three games in helping the U.S. make it to the gold-medal game at the World Juniors.
2. Ryan Walters – Nebraska Omaha
 
 
Position: Forward
Class: Junior
Ht: 6-0 Wt: 188
Season Stats: 20 GP, 12g-16a—28pts
Comment:  With goals in each of his last four games, Walters launched himself back into the Hobey conversation as he took over the national scoring lead. His team, however is headed in the wrong direction after seven straight wins earlier in the year. Having lost five of its last seven, UNO's offense has been sputtering, but not Walters'. The Mavericks need to right the ship a little bit and Walters will have to be a big part of making that happen. The stats are certainly going to give Walters a chance, but making an impact on his team's record will carry more weight with Hobey voters. It's still remarkable that Walters is having the season he's had. In 18 fewer games than the junior played in last year, he's already surpassed his career highs in each offensive category.
3. Corban Knight – North Dakota
 
 
Position: Forward
Class: Senior
Ht: 6-2 Wt: 200
Season Stats:17 GP, 8g-15a—23pts
Comment: Knight went into the holiday break on fire, leading North Dakota on a five-game unbeaten streak before an extended rest. Currently on 13-game point and five-game goal-scoring streaks, Knight is surging as a senior. The Florida Panthers prospect is often overshadowed by linemate Danny Kristo, but it's hard to ignore the impact Knight has on UND's success. Though UND started a little sluggishly, Knight has been a consistent presence offensively with points in all but two games this season. North Dakota is poised for a big second half if Knight, Kristo and linemate Mark MacMillan keep up their ridiculous production. As good as his linemates are, Knight is the straw that stirs the drink.
4. Carsen Chubak -- Niagara
Position: Goaltender
Class: Junior
Ht: 5-11 Wt: 170
Season Stats: 16 GP, 10-2-4, 1.36 GAA, .957 SV%
Comment: Chubak has pretty much come out of nowhere. He spent almost all of last season rehabbing an injury and saw only 39:55 of action for the Purple Eagles. As a junior, he's posted staggering numbers as Niagara has been turning heads across college hockey with its 10-3-4 start, including an Atlantic Hockey-best 9-0-1 conference record. Chubak has collected a nation-leading five shutouts to go with his ridiculous 1.36 GAA and .957 save percentage. Though he is a long shot coming out of Atlantic Hockey, much like Brett Gensler at Bentley, these numbers are jaw-dropping. If Chubak can help lead the Purple Eagles to an Atlantic Hockey title and a national tournament berth, he'll garner some consideration for sure.
Others to watch:
Brett Gensler – F – Jr. – Bentley
Kevin Goumas – F – Jr. – New Hampshire
Kyle Flanagan – F – Sr. – St. Lawrence
Drew LeBlanc – F – Jr. – St. Cloud State
Erik Haula – F - -Jr. -- Minnesota
NBC will reportedly be devoid of NHL game broadcasts between Feb. 7-26

The Winnipeg winger suggests Trump is going after 'the principles the U.S. was founded on'

League gets excited about exhibition matches in Beijing and Shanghai
NHL players are still disappointed they won't be going to skate in PyeongChang

With Artemi Panarin in the mix and a Vezina winner headlining the defense, Columbus can be...

The league's crackdown on faceoff infractions and slashing penalties isn't without some cr...