CBSSports.com Hobey Baker Award Watch: Week 12
Every week this season, Eye on Hockey is tracking the best players in college hockey as they compete for the ultimate individual prize, the Hobey Baker Memorial Award.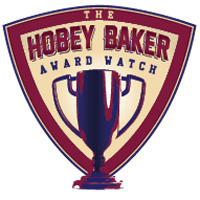 Every week this season, Eye on Hockey will be tracking the best players in college hockey as they compete for the ultimate individual prize, the Hobey Baker Memorial Award.
The Hobey Baker Watch is a collaboration between Eye on Hockey blogger Chris Peters and CBS Sports Network Hockey Analyst Dave Starman.
There is a new No. 1 on the Hobey Watch this week as Ryan Walters of Nebraska Omaha supplants Johnny Gaudreau at the top spot. Walters posted five points last weekend against Colorado College and now leads the country with 33 points, including a national high 13 goals.
The Hobey Watch also has a very WCHA feel this week. Though the conference as a whole has had a middling season in the standings, there have been multiple individuals performing at a high level. There are three WCHA players on this week's list including Walters, North Dakota's Corban Knight and St. Cloud State's Drew LeBlanc. In addition to the trio in our top four, there's also Danny Kristo, also of UND, as well as currently-injured Erik Haula and Nick Bjugstad, both from Minnesota, who each still have a shot at figuring into the Hobey race in a prominent way.
The lone non-WCHA player on the list this week is Gaudreau, who spent the last two weeks with the U.S. National Junior Team, which won gold at the World Junior Championship. Gaudreau's WJC performance won't count for his Hobey chances, but he continues to wow the hockey world with his immense skill and should remain a factor in this race all year.
As a side note, the Hobey Baker Memorial Award first phase of fan voting is underway on the award's official site. You can vote for your favorite candidates here.
1. Ryan Walters -- Nebraska Omaha
 
 
Position: Forward
Class: Junior
Ht: 6-0 Wt: 188
Season Stats: 22 GP, 13g-20a -- 33 points
Comment:  Friday night, Walters posted a goal and three assists for his 10th multipoint game of the season. He closed out the weekend with an assist Saturday to extend his current point streak to six games. Most importantly, UNO earned an important WCHA home sweep of Colorado College to move into sole possession of first place in the WCHA. When Walters is producing his team is winning and that's a big factor in the decision process. Walters is averaging 1.50 points-per-game and is now the national leader in goals and points. Without Walters and his production there's no telling where the Mavericks would be right now.
2. Johnny Gaudreau -- Boston College
 
Position: Forward
Class: Sophomore
Ht: 5-7 Wt: 150
Season Stats: 14 GP, 11g-12a -- 23 points
Comment:  Gaudreau missed three games for Boston College while away on national team duty, but he's still the team's scoring leader. The Eagles also only won one game in his absence, while losing and tying the other two. BC missed their top scorer, but he couldn't be coming back at a better time with a big home-and-home series against New Hampshire coming up this weekend. Gaudreau was Team USA's leading goal scorer at the World Juniors with seven, showing his offense didn't miss a beat with a new team. The world got a glimpse of what college hockey fans already knew while Gaudreau was lighting the lamp in some of Team USA's biggest games. He's an exciting player on any stage.
3. Corban Knight -- North Dakota
 
 
Position: Forward
Class: Senior
Ht: 6-2 Wt: 200
Season Stats: 19 GP, 10g-19a -- 29 points
Comment: There might not be a hotter player in college hockey right now than Corban Knight. If you blinked, you might have missed him climbing into the top three in national scoring. Knight has 12 points in his last four games and extended his point streak to a stunning 15 games. He's also had multipoint games in each of his last five. That's the definition of "on fire." UND is also surging right along with the Florida Panthers prospect. Unbeaten in its last seven, North Dakota has overcome a somewhat slow start and it's been Knight leading the way. The senior is on a pace that will shatter his previous personal best and is creeping ever closer to Hobey frontrunner territory.
4. Drew LeBlanc -- St. Cloud State
Position: Forward
Class: Senior
Ht: 6-0 Wt: 195
Season Stats: 22 GP, 6g-24a -- 30 points
Comment: The nation's assist leader is also the heart and soul of St. Cloud State. The Huskies have been making a lot of noise this year in conference, trailing Nebraska Omaha by a single point in the WCHA standings and LeBlanc has been leading the way. In the midst of an 11-game point streak, LeBlanc will have to keep the momentum going. SCSU dives head first into the meat of its WCHA schedule with games against Denver, North Dakota and Minnesota all coming up over the next month. LeBlanc's 30 points have him second in the country currently, so that kind of production will keep him in the mix. The Hobey voters will lean toward players who have more balanced production in terms of goals and assists, but if SCSU can finish the WCHA slate on a high note, LeBlanc's candidacy will only get stronger.
Others to watch:
Brett Gensler -- F -- Jr. -- Bentley
Kevin Goumas -- F -- Jr. -- New Hampshire
Kyle Flanagan -- F -- Sr. -- St. Lawrence
Carsen Chubak -- G -- Jr. -- Niagara
Erik Haula -- F -- Jr. -- Minnesota
Inclement weather led to the Charlotte Checkers and Bridgeport Sound Tigers playing in front...

The NHL chose the Detroit rocker as its All-Star Game entertainment and not everyone is th...

NHL fans from all over seem to agree on one thing: Hating Kid Rock
The team tweeted on Monday that Shaw would be re-evaluated in 7-10 days

The Montreal forward was hospitalized after taking a Zdeno Chara slap shot to the head

Tampa Bay is still No. 1 and Vegas is still up there, but a few others are finally catching...