CBSSports.com Hobey Baker Award Watch -- Week 3
Every week this season, Eye on Hockey will be tracking the best players in college hockey as they compete for the ultimate individual prize, the Hobey Baker Memorial Award.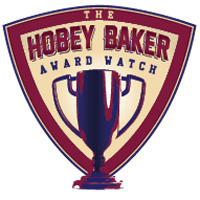 Every week this season, Eye on Hockey will be tracking the best players in college hockey as they compete for the ultimate individual prize, the Hobey Baker Memorial Award.
The Hobey Baker Watch is a collaboration between Eye on Hockey blogger Chris Peters and CBS Sports Network hockey analyst Dave Starman.
Another wacky week of college hockey is in the books with more surprising results and standout performances. October hockey can be so unpredictable and that's certainly been the case thus far. Teams are still getting familiar with each other and players are just getting their legs under them. However, some of the nation's top talents are already making a major impact.
The newest addition to the Hobey Watch this week is Boston College sophomore sensation Johnny Gaudreau. He replaces Mark Zengerle who was idle last weekend, so it's probably safe to expect Zengerle to be back on the watch in the near future. Gaudreau was simply too explosive in a bounce-back weekend for the defending national champs to leave off.
There's also a shakeup at the top for the first time with Kyle Flanagan bumping Nick Bjugstad down from the No. 1 spot. Though Bjugstad has been his normal solid self, Flanagan is putting up some eye-popping numbers. Additionally, watch out for Flanagan's St. Lawrence teammate Greg Carey, who didn't make our main list but is one of our "Others to watch" as he ranks second in the nation behind Flanagan with 10 points.
It's only two weeks into the season, but things are getting awfully hot already in the race for college hockey's ultimate prize
Here's who made the cut this week:
1. Kyle Flanagan -- St. Lawrence
 

Position: Forward
Class: Senior
Ht: 5-9 Wt: 179
Season Stats: 4 GP, 5g-6a—11pts


Comment: The senior standout for St. Lawrence is on a tear to start the season. Flanagan leads the nation with five goals and a staggering 11 points through four games. It's not like SLU is taking on cupcakes either. The Saints split the season opener with then No. 7 Western Michigan and convincingly swept Maine with a combined score of 10-1. Don't expect Flanagan to keep up a 2.75 points-per-game pace, but don't expect him to go away anytime soon either. The Saints are idle this weekend, to the delight of goalies everywhere.
2. Nick Bjugstad -- Minnesota
 

Position: Forward
Class: Junior
Ht: 6-4 Wt: 204
Season Stats: 4 GP, 3g-1a—4pts


Comment:  Though he managed just one point – his third goal of the season -- over the weekend in which Minnesota grabbed a split with Michigan Tech, Bjugstad still proved he is one of the more dangerous players in college hockey. The scary thing is that Bjugstad is still developing into his vast potential. Expect the big man to get better as the season progresses. The Gophers might have stumbled last weekend, but are still looking like a team that can be an offensive juggernaut this season and it's all centered around Bjugstad.
3. Brett Gensler -- Bentley
 

Position: Forward
Class: Junior
Ht: 5-10 Wt: 160
Season Stats: 2 GP, 2g-4a—6pts


Comment: With a rare opportunity to prove himself against one of the big boys of college hockey, Gensler did well in a 6-3 loss to Michigan last Friday. With a goal and an assist, Gensler pushed his total to six points and showed he's not just a product of weaker competition. Atlantic Hockey players will always have trouble shaking the stigma of playing in the mid-major of college hockey, but Gensler's skill set should help him buck the trend. The Falcons will meet Alabama-Huntsville Friday before a tough nonconference tilt against Harvard. Gensler will certainly be put to the test again.
4. Johnny Gaudreau -- Boston College
 

Position: Forward
Class: Sophomore
Ht: 5-7 Wt: 150
Season Stats: 3 GP, 2g-3a—5pts


Comment: The first sophomore to make the top four, Gaudreau will need a very productive season to prove he belongs in the Hobey discussion. He's already making an impact with five points in three games, including the overtime game-winning goal in BC's dramatic comeback victory over UMass last Friday. After posting a point-per-game as a freshman, Gaudreau has a track record of success. A year older and wiser could lead to an even bigger production rate this season. The Calgary Flames draft pick might have the best puck skills in all of college hockey, too. He'll be exciting to watch throughout his sophomore campaign.
Others to watch:
Mark Zengerle -- F -- Jr. -- Wisconsin
Alex Guptill -- F -- So. -- Michigan
Greg Carey -- F -- Jr. -- St. Lawrence
Pat Mullane -- F -- Sr. -- Boston College
Danny DeKeyser -- D -- Jr. -- Western Michigan
The city has already received approval from the NHL to file for an expansion team

Bovada says the two nicknames are favored to be used, with Rainiers coming in third place

Here's everything you need to know to watch the NHL's marquee midseason event
The expansion Golden Knights officially moved into first place in the NHL on Sunday

The former Boston Bruin was the first black player to play in the NHL

Inclement weather led to the Charlotte Checkers and Bridgeport Sound Tigers playing in front...