CBSSports.com Hobey Baker Award Watch: Week 9
Every week this season, Eye on Hockey will be tracking the best players in college hockey as they compete for the ultimate individual prize, the Hobey Baker Memorial Award.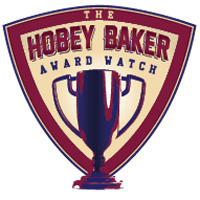 Every week this season, Eye on Hockey will be tracking the best players in college hockey as they compete for the ultimate individual prize, the Hobey Baker Memorial Award.
The Hobey Baker Watch is a collaboration between Eye on Hockey blogger Chris Peters and CBS Sports Network Hockey Analyst Dave Starman.
As the end of the first semester nears at many schools, the hockey only intensifies as does the race for the Hobey Baker Memorial Award. There's still a long way to go, but the first nine weeks of the season have been head-spinning to say the least.
The blistering scoring pace that has been set so far this year has created an awfully crowded Hobey field that seems to get fuller by the week. Seven players have 20 points or more, while 30-plus have at least 15 points. The skill level may be at an all-time high this year, laying waste to the typically strong defense and goaltending in the college game.
The nation's leading scorer is No. 2 on our Hobey Watch as Kyle Flanagan has taken a few steps ahead of the pack. Meanwhile, Kevin Goumas makes his Hobey watch debut as he has keyed the UNH Wildcats to a No. 1 ranking and sits second in the national scoring hunt.
Boston College's Johnny Gaudreau is still No. 1, but Flanagan and Goumas are bearing down on the sophomore. Also, Brett Gensler, Bentley's scoring sensation, has maintained his incredible production rate, but as the field gets more crowded, his chances dwindle. He sticks at No. 4, but there's a host of players from bigger conferences who are looking to push the Atlantic Hockey star out of the conversation.
Of the others to watch, Nebraska Omaha's Ryan Walters is in the midst of a seven-game streak during which he's put up two or more points per game. The junior now has 20 points on the year and has the Mavericks making some noise in the WCHA. Additionally, keep a close watch on Niagara's Giancarlo Iuorio. He didn't make our list this week, but the senior is the nation's leader in goals scored with 12.
1. Johnny Gaudreau -- Boston College
 
Position: Forward
Class: Sophomore
Ht: 5-7 Wt: 150
Season Stats: 13 GP, 10g-11a—21pts
Comment:  Only two points in a weekend where the Eagles ended up splitting with rival Boston University wasn't one of Gaudreau's highlights this season, but he's still the best player on one of the nation's top teams. If you were able to see BC-BU on Friday, you probably caught Gaudreau's nifty little assist off the skate. His creativity is what keeps him firmly in the Hobey mix as a sophomore. He just has a knack when it comes to creating offense. Gaudreau has one more game before he'll join up with Team USA for the World Junior Championship, where he's expected to play a key role. He'll miss at least three games while on national team duty, leaving the door open for new candidates to take over the top of the Hobey Watch. 
2. Kyle Flanagan -- St. Lawrence
 
 
Position: Forward
Class: Senior
Ht: 5-9 Wt: 179
Season Stats: 15 GP, 9g-16a—25pts
Comment:  Four points last weekend, all assists, allowed Flanagan to reclaim the national scoring lead with a two-point cushion. SLU is clinging to an above-.500 record, but barely. Flanagan's status as the national scoring leader will earn him major points, but if the Saints can't make an honest push within their own conference, it's going to be an uphill battle to Hobey for Flangan. St. Lawrence is 10th in the 12-team ECAC with a 1-4-2 record. Whether you think it's right or wrong to downgrade a player because of his team, the voters will. His 16 assists are tied with No. 3 Kevin Goumas for best in the country.
3. Kevin Goumas -- New Hampshire
 
 
Position: Forward
Class: Junior
Ht: 5-10 Wt: 160
Season Stats: 14 GP, 7g-16a—23pts
Comment: The Wildcats are No. 1 in both major national polls and Goumas is a big reason for it. He leads UNH and is second in the nation with 23 points. His next closest teammate is 10 points behind him. That's a major impact on one of the nation's best clubs. He's tied for the national best with 16 assists, but he's also scored some huge goals this season, including the natural hat trick that tied, took the lead and iced the game in a comeback win over then-No. 2 Denver on the road. That's the kind of game voters will remember. Goumas has simply been on fire and the noise he is making is unavoidable. If he keeps up this incredible pace, he'll be on this list a long, long time.
4. Brett Gensler -- Bentley
Position: Forward
Class: Junior
Ht: 5-10 Wt: 160
Season Stats: 13 GP, 8g-14a—22pts
Comment: Gensler's Hobey chances are beginning to slip as Bentley falls below .500. He's as long a shot as ever, but Gensler is still one of the nation's most consistent point producers. Gensler has been held off the score sheet only three times this season. He has been maintaining the high-scoring pace that will give him at least the chance to stay in the discussion. As more players from bigger conferences emerge, Gensler is at risk of falling out of the conversation, but not just yet.
Others to watch:
Danny Kristo -- F -- Sr. -- North Dakota
Nick Shore -- F -- Jr. -- Denver
Greg Carey -- F -- Jr. -- St. Lawrence
Ryan Walters -- F -- Jr. -- Nebraska-Omaha
Austin Czarnik -- F -- So. -- Miami
Buffalo is in the midst of contract extension talks with Jack Eichel, and the payout could...

Los Angeles isn't rushing to sign the 45-year-old forward any time soon

The University of Denver star and Hobey Baker Award winner is drawing interest
Intrigue is high in Arizona after a wild offseason, but expectations should still be tempe...

Players are set to give personalized messages for Adidas' former hockey equipment brand

The 40-year-old center is returning to the Wild after a successful run in Pittsburgh