Chicago Blackhawks trade rumors, trade deadline outlook
The Chicago Blackhawks will be buyers, but what do you get for the team that seems to already have everything?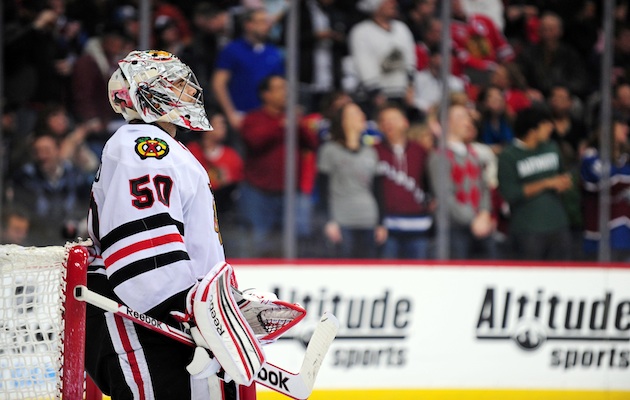 More NHL: Scores | Standings | Odds | Fight-O-Meter | League Leaders | Rumors
With the 2013 NHL trade deadline at 3 p.m. ET April 3, Eye on Hockey will examine

whether each team is a buyer or seller at the deadline, and who teams should look to sell or receive.
Buyers or sellers
You can be sure that if the team with the best record in the league makes a significant move before the trade deadline, it's going to be an addition to their NHL roster.
They're buyers.
The only question is, what do you get for the team that seems to already have everything?
Rumors
How about some rumors we're no longer hearing?
Goaltenders. Specifically, Roberto Luongo. Remember when that was a big thing in the offseason? Or how about last season when those silly Patrick Kane-for-Ryan Miller rumors were being kicked around? Nonsense. We can thank the play of Corey Crawford and Ray Emery (third-best team save percentage in the NHL this season as of Tuesday) for ending all of that talk and wild specuation.
Every year goaltending seems to be the hottest topic of discussion around the Blackhawks, but not this season.
As far as what it is being talked about, the most recent name to be connected to the Blackhawks is Calgary Flames forward Jarome Iginla, as it was reported last week that Chicago could be one of the teams on his list that he would be willing to accept a trade to. Adding Iginla to a lineup that already has Marian Hossa, Kane and Patrick Sharp (once he returns to the lineup) on its wings would be exciting and make an already great team even better, but I'm not sure it fits their biggest need at the moment.
Potential targets
If the Blackhawks do anything significant, another center might make a lot more sense than a winger like Iginla.
Once you get past Jonathan Toews, the Blackhawks have Dave Bolland and Marcus Kruger playing the most minutes down the middle, and they could probably use a little more offensive punch from the position. Bolland is a really good defensive center who gets the toughest assignments on the team, and he has a lot of value to the Blackhawks because of that, but he doesn't provide much offense or playmaking ability.
If the Washington Capitals decide they want to deal Mike Ribeiro, he might be an interesting fit to give Chicago a little more skill down the middle. The same could be said for Dallas and Derek Roy if the Stars decide to move him.
On defense the Blackhawks have a really strong top-four with Duncan Keith, Brent Seabrook, Johnny Oduya and Niklas Hjalmarsson, while Nick Leddy has been good on their third-pairing. Still, another depth defenseman couldn't hurt.
Early playoff trouble has been evident, but the Wild tout an offense capable of making another...

Why walk with skate guards when you can rollerskate instead?

This will not leave your memory any time soon
Vegas isn't being quiet about its hot start to the NHL preseason

The blue-liners are set for another big push, but Edmonton's rise is hard to ignore in the...

Meanwhile, the Devils' Brian Boyle isn't sweating his recent cancer diagnosis