Chicago named 11th, Boston 18th in (flawed) fan base study
An Emroy University study set out to produce a better NHL fan base ranking, one that has Boston 18th, six spots behind Florida.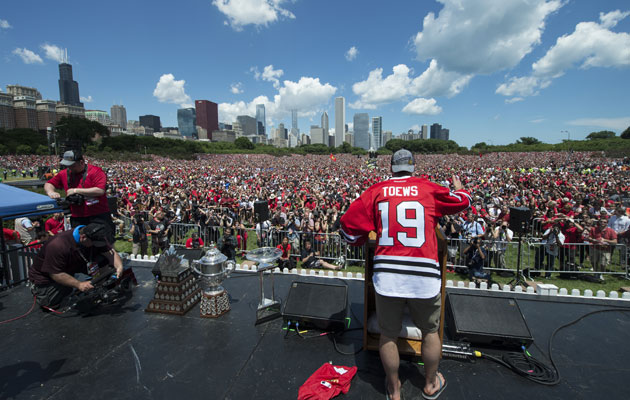 More NHL offseason: Rumors | Top 50 Free Agents | Buyout Tracker | Trades | Transactions
Atlanta's Emory University is renowned as a great place of higher education. In the most recent U.S. News Rankings, Emory was ranked No. 20 in American universities. In other words people who both teach and study at Emory are generally very intelligent people.
But when it comes to a study on best hockey fan bases, perhaps they're too smart. Trying to fix a flawed ranking system that often values bandwagoners, a study at Emory put together its own system where things such as bad winning records and cheap payrolls are also put into consideration. Consider it a bit of a test on hardcore fans.
Here's some of the description of the parameters in this study.
What we do in our rankings is to use a wide variety of data and some statistical modeling to get around these issues. We use something called a revenue premium approach to assess a team's fan equity (value of the fan base). The basic procedure begins with a statistical model that predicts a team's box office revenues based on market potential (population and median income), team quality (winning rates) and other factors (such as team payroll). We then compare the predictions from this model with each team's approximate box office revenues to determine which teams over and under perform. More details on the approach are available here. In today's post, we rank NHL fan bases using the above approach. Later in the week, we will present results that rank teams based on social media equity (rather than the economic value of the fan base).
Sounds scientific and pretty precises, doesn't it? Well perhaps its too smart for its own good.
The list starts of well enough with the top six representing some excellent fan bases: Toronto, Edmonton, Montreal, Pittsburgh, the Rangers and Philadelphia. OK, fair enough there. Just take a look where it starts to go from there, however.
1. Toronto Maple Leafs
2. Edmonton Oilers
3. Montreal Canadiens
4. Pittsburgh Penguins
5. New York Rangers
6. Philadelphia Flyers
7. New York Islanders
8. Vancouver Canucks
9. Minnesota Wild
10. Nashville Predators
11. Chicago Blackhawks
12. Florida Panthers
13. St. Louis Blues
14. Detroit Red Wings
15. Buffalo Sabres
16. Carolina Hurricanes
17. Tampa Bay Lightning
18. Boston Bruins
19. Los Angeles Kings
20. Washington Capitals
21. New Jersey Devils
22. Columbus Blue Jackets
23. Colorado Avalanche
24. Calgary Flames
25. San Jose Sharks
26. Anaheim Ducks
27. Arizona Coyotes
28. Ottawa Senators
29. Dallas Stars
* Winnipeg Jets not included due to their recent relocation
A couple of things pop out at you there, don't they? Like, oh, I don't know, having the Predators at 10 and the Panthers (the Panthers!!!) at 12, six spots ahead of the Bruins and just one behind the Blackhawks. I don't think any hockey fan in their right mind would ever suggest that Florida has a better fan base than in Boston, even Florida fans wouldn't dare suggest such a thing.
While trying to correct some flaws of other ranking systems, this introduces its own with the bias toward losing teams, not to mention perhaps inflated attendance numbers and the like. Let's just say it's not a perfect list and that doesn't even mention a few other teams that seem a bit low on the totem pole like the Sharks and Senators.
Sometimes its not bad to leave flaws in a study that show a bias toward common sense.
The 45-year-old free agent is taking things patiently as September approaches

The playoff drought might not end immediately, but something is brewing in restocked Buffa...

Former Lightning standout will be guarding the net in style in 2017-18
Devils are still in rebuilding mode, but they have reason for hope thanks to young additio...

Buffalo is in the midst of contract extension talks with Jack Eichel, and the payout could...

Los Angeles isn't rushing to sign the 45-year-old forward any time soon