Claude Giroux remains goalless this season but he's hardly alone
Flyers captain Claude Giroux doesn't have a goal yet this season, underscoring Philly's woes. However he's not alone in the stars without goals department at all.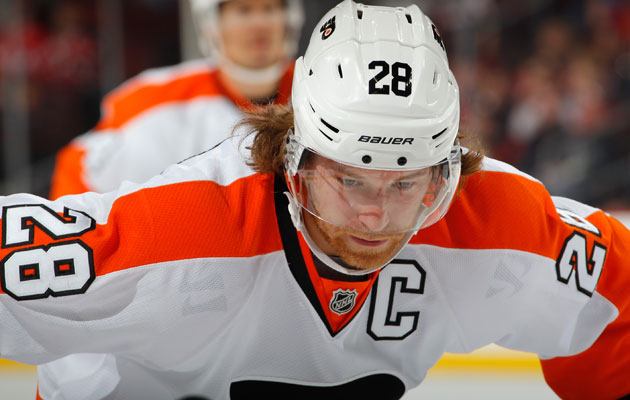 More NHL: Scores | Standings | League Leaders | Odds | Injuries | Power Rankings
One of the many wonderful things about this magical machine known as the Internet, you can ask just about any question and an answer can be provided for you. Say you wanted to know about what led to the first World War? You can find it. Pretend you need to know the latest information about the best televisions on the market. It's out there.
Or let's say you were curious about Flyers center Claude Giroux and if he has scored a goal this season in 14 games.
Nope.

— Did Giroux Score? (@GirouxScoreYet) November 6, 2013
Oh, OK then.
Indeed, Giroux is part of the goalless wonders of the NHL this season as the calendar has already flipped to November. In the case of the Flyers that means 14 games have come and gone and as of yet the star centerman who had 28 goals in his most recent full season has yet to find the back of the net.
This fact helps explain why the Flyers have jumped out of the starting block like the tortoise rather than the hare. Of course it's not as though Giroux has been completely unproductive -- he has racked up seven assists -- but for a team that's last in the league with 1.57 goals per game, it's going to be hard to ignore this simple fact that as of yet, Giroux hasn't scored. It wasn't until the Flyers' last game in Carolina that Scott Hartnell scored his first goal for the Flyers.
Simply put, their top players haven't been at their best or anywhere close to it. Part of it is just simply poor luck, but sometimes those are the breaks in this business.
That's a fact that a few guys more than Giroux know all too well this season, guys who are accustomed to lighting the lamp but so far haven't. While it has been tough, at some point, luck will inevitably flip and it's likely Giroux and the gang will pick up some goals in bunches, or at least more than the big fat collective zero they have. Just look back to last season when Phil Kessel couldn't score through the first few weeks of the schedule; he eventually netted 20 goals in 48 games.
Now let's take a look at these poor, snake-bitten players with some over/under predictions.
Claude Giroux, Flyers
We'll just put Giroux back up here to underscore the point his season has been rough. This is a guy who was once referred to as the best player in the world by his now former coach.
Giroux has recorded 29 shots on net so far, slightly more than two per game. If he's able to keep that pace up and can somehow start scoring at his career average of 11.5 percent, Giroux would finish with around 15 goals or so, thus we'll put an over/under at 15.5. Hardly his career high or even up to par for somebody who is hopeful of making the Canadian Olympic team, but it would obviously be an improvement from here. I'll pick the over here, but not comfortably.
This goalless wonder list is mostly dominated by defensemen for pretty obvious reasons. However that doesn't mean all of the defensemen on the list aren't guys who don't normally score. Take Big Buff as example No. 1. He has far more shots than any player in the league without a goal with 56 on net. All 56 so far have been stopped. Especially with how hard he is able to put the puck on net, that's somewhat astonishing.
Making Byfuglien's goalless start stand out just a bit more is that he has already played 17 games with the Jets' front-heavy schedule. His numbers don't look all that different from the past; Byfuglien is averaging 3.29 shots per game, which is just about where he was the past two seasons when he had eight goals in 43 games and 12 goals in 66 games.
He has never had a high shooting percentage since moving to the blue line, sitting in the 5.5 percent range the past few years. So we'll set an over/under on Byfuglien goals at 11.5 from here on out, assuming he can play a full 82 games. I'd be inclined to take the over.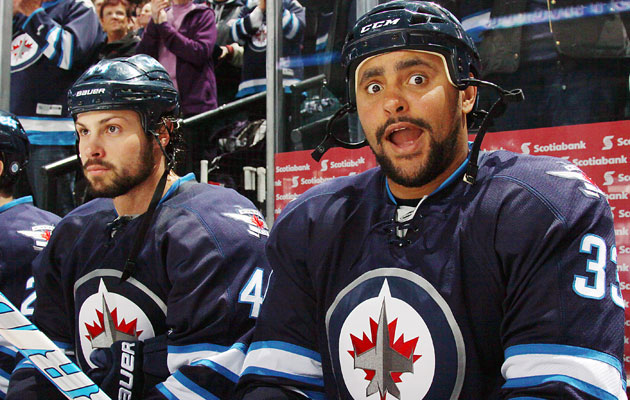 While Keith doesn't have a goal in 47 shots this season, this isn't new territory for him. Keith is a two-way player who has always picked up most of his points on helpers. Considering in the last full season he had just four goals in 74 games, having zero in 16 isn't so bad. Still, he has the second-most shots for the guys without goals so far. The over/under would be about 3.5.
Zach Bogosian, Jets
Just like Byfuglien, here's another American defenseman for the Jets who keeps firing away but can't find the back of the net. Bogosian has fired 40 shots, obviously all of them stopped. While he's certainly not the next Bobby Orr, Bogosian is capable of scoring some. He had five goals in only 33 games last season.
An over/under goal total for Bogo could be set at 7.5, on which I'd like the under.
For years now Green has been one of the most productive offensive defensemen in the game, when he's been healthy. A lot of people still remember his 2008-09 season when Green scored a ridiculous 31 goals from his defensive position. Last season in 35 games he showed some of the old scoring touch with 12 goals.
This season, though, he has a big fat zilch in 15 games and with 37 shots. It hasn't been all bad as he has racked up nine assists, six on that lethal Capitals power play where Alex Ovechkin makes his money. But still, Green is a guy we've grown accustomed to seeing score from the point on the power play and so far it hasn't happened.
Still, if Green were to pick up his career shooting average the rest of the season, an over/under total could be set at 14.5. On this one I'm going to lean toward the under in fear of Green's health holding him back as much as anything else.
Kopecky had a career year last season and apparently he's paying the luck gods for their generosity this go-round. Kopecky has 37 shots on net without a goal, the most by any forward in the NHL. This comes after he had 15 goals in 47 games last season, giving some hope that he had found a new level in his game. More likely the 16.3 shooting percentage, double his career average, had something to do with it.
Still, just because Kopecky has never been a huge scorer, he's been consistently good to be in double digits and the Panthers were counting on a little bit of production from him this season that has yet to come. Making the lack of goals a little tougher to swallow is that he is exceeding his career average of shots per game by almost one whole shot and it's not paying off.
So using his current shots per game average and career shooting percentage, an over/under total on Kopecky could be set at 13.5. With how things go for the Panthers, I'd like the under.
Other defensemen
Frankly, the list of defensemen who haven't scored is long and rather prestigious. Here are a few of the notables:
Matt Irwin, 37 shots
Kevin Bieksa, 32 shots
Christian Ehrhoff, 32 shots
Ryan Suter, 31 shots
Jay Bouwmeester, 30 shots
Kevin Shattenkirk, 25 shots
Johnny Boychuk, 24 shots
Justin Faulk, 23 shots
Kimmo Timmonen, 23 shots
Other forwards
Dave Moss, 35 shots
Patrick Dwyer, 29 shots
Trevor Lewis, 20 shots
Sean Couturier, 19 shots
Taylor Pyatt, 19 shots
David Desharnais, 17 shots
Alex Burrows, 16 shots (in just 5 games though)
Saturday's showdown will serve as a rematch of one of the NHL's first-ever regular season...

Stacia Robitaille says Donald Trump told her in an elevator that she was coming home with...

Vladislav Yeryomenko was the Teddy Bear Toss goal scorer for the Calgary Hitmen
The Golden Knights are finally getting their No. 1 goalie back after a 25-game absence

Washington has won four straight, and the Kings are also on a tear right behind the Lightn...

The NHL says it's only interested in expanding to Seattle, but here's a look at all the moving...