Cody Franson, Christian Ehrhoff top strong list of free agents still available
Even though it's the middle of July there are still some pretty intriguing free agent options left on the open market.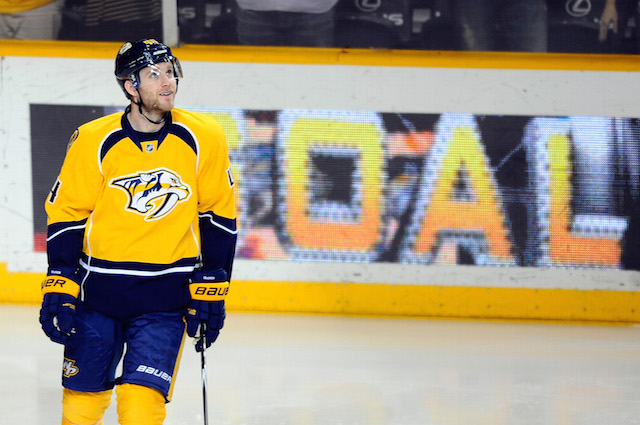 When the free agent signing period starts to reach the middle of July the list of intriguing options for teams is usually a very short one.
The best players that hit open the market have already been signed, most of the major trades have already taken place, and teams are left hoping that some bounceback candidate or undervalued player that slipped through the cracks can come in and make an impact for a cheap price. And even then it doesn't usually work out all that well. Just consider that last summer no player signed after July 15 recorded more than 30 points during the 2014-15 season, and only two (Lee Stempniak and Danniel Winnik) topped more than 20 points. 
But for as thin as this year's free agent class was at the start, there are still a handful of players floating around that might be able to make a larger impact that you might expect for getting signed so late in the summer.
We already saw Johnny Oduya land a two-year deal with the Dallas Stars this past week, and he should be a fine addition to a team that needs some help on the blue line. There are still a couple of defensemen sitting out there without a new team that could prove to be a strong addition to a roster for the 2015-16 season. 
Let's start with Cody Franson.
At the start of the signing period there seemed to be the potential for somebody to get desperate for a top-pairing defenseman and make a big splash with Franson, paying him like a No. 1 or No. 2 when he's probably more of a No. 3 or 4. But with pretty much every NHL team taking a more reasonable approach to free agency than in years past, Franson finds himself still available after more than two weeks on the open market. He's quickly gone from being a player that might get overpaid, to one that is almost certainly going to be underpaid for what he can potentially provide. 
So why is he still available?
Two thoughts come to mind.
The first is that Franson may have set too high of an asking price for himself at the start of free agency (perhaps Matt Niskanen money?) and scared potential teams away. He wouldn't be the only player that misread the market this summer. The other possibility is that teams are horribly overreacting to what they saw most recently from him when he struggled in Nashville following the trade from Toronto and are placing more emphasis on that, as opposed to his entire body of work in the NHL. Surely there is a team out there that can find some kind of use for a right-handed defenseman that averages more than 35 points per 82 games and has been one of the most productive blue liners in the league in recent years. 
Franson isn't the only potentially useful player still available right now. Here are four more. 
Christian Ehrhoff: Like Franson, Ehrhoff is another defenseman that can play top-four minutes that probably should have been picked up by now. 
After the Buffalo Sabres used a compliance buyout on him last summer, Ehrhoff ended up signing a one-year contract with the Pittsburgh Penguins. He was looking to play for a contender and perhaps play his way into another long-term deal this summer. At this point he's likely looking at another one-year contract.
Injuries limited him to just 49 games this past season in Pittsburgh, but when healthy he was a nice addition to their top-four. He still has a booming slap shot and even though his point totals dropped quite a bit with the Penguins, a lot of that can be attributed to a significantly reduced role on the power play (only two minutes of power play ice-time per game, usually as part of the second power play unit) compared to what he was used to seeing earlier in his career with Vancouver and Buffalo (more than three-and-a-half minutes per game, usually on the top power play unit).
His even-strength scoring rate (0.80 points per 60 minutes) was perfectly in line with the rest of his career.
It's easy for defenders like Ehrhoff -- and Franson -- to get overlooked because they don't put up Erik Karlsson-like point totals or play an overly physical game, and those are the two things that always stand out first for defenders. But they do provide a mobile presence to the blue line that can chip in some offense and help keep the play moving in the right direction. It wouldn't be a shock to see him -- and Franson -- get picked up and make a bigger impact than a lot of the defensemen that have already been signed to longer, more expensive contracts this summer. 
Alexander Semin: Semin is obviously the big name still available when it comes to scoring options and it's going to be fascinating to see which team rolls the dice here. He is coming off of a brutal season in Carolina that resulted in a rather expensive buyout and he has always been a player that draws some intense criticism for his play (and playing style). The last time he was a free agent, when he was four years younger and coming off of a 21-goal, 54-point season, he had to wait until July 26 to get a one-year, $7 million contract with the Hurricanes after being absolutely crushed on national television on the first day of that year's signing period.
After a promising debut season with the Hurricanes, one that probably made him a steal on that contract, the team committed to him with the long-term deal that they eventually bought out this summer.
He is still an extremely talented forward, and for as much criticism as his defensive play gets (because he often times doesn't look engaged and isn't in any way physical) his teams always seem to perform better defensively, both in terms of goals against and shots against, when he is on the ice versus when he is off of it. He's not going to be a 35-or 40-goal scorer again, but given the right role on the right team he's not going to be as bad as he was last season, either.
Eric Fehr: Fehr isn't the most talented player in the world, but he gets plenty of production out of what talent he does have.
He was a 30-point scorer for the Capitals this past season while playing third-line minutes and receiving almost no power play time. Perhaps even more impressive is the fact that according to War-On-Ice only Alex Ovechkin was responsible for more individual scoring chances during 5-on-5 play this past season for the Capitals than.
Good defensive play and offensive production that exceeds the role he is usually asked to play in. How has nobody picked this guy up yet? 
Brad Boyes: Another reasonably productive player that could be picked up for dirt cheap. He's not going to give you first-line production, but at this point you're probably looking at a minimal, short-term commitment on a contract for 15 goals and maybe 20-25 assists. That is a useful depth player in today's NHL whether you're a contending team (who is going to get second-or third-line production for next to nothing against the salary cap) or for a rebuilding team that is going to get a few months of quality play and an asset that can be flipped at the deadline for future assets in the form of draft picks or a prospect. 
CBS Sports HQ Daily Newsletter
Get the best highlights and stories - yeah, just the good stuff handpicked by our team to start your day.
Please check the opt-in box to acknowledge that you would like to subscribe.
Thanks for signing up!
Keep an eye on your inbox for the latest sports news.
Sorry!
There was an error processing your subscription.
Sekera, 32, missed half of last season while recovering from a torn ACL

Ellis, 27, taking a team-friendly deal helps the Predators to keep their impressive top-four...

The team will wear the jersey on a limited basis in 2019-2020
Larkin is poised to take the reigns from Henrik Zetterberg in the not-too-distant future

Imagining what each NHL team would look like if it morphed into another company

Mikita, who has a statue outside the United Center, still holds numerous Blackhawks record...