Comparing Braden Holtby's fast start to other young goaltenders
Braden Holtby has had a fast start to his career, but how likely is he to maintain his early numbers? Not very.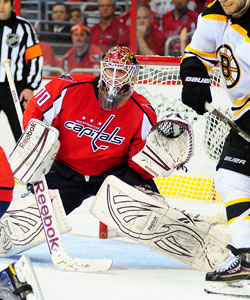 Braden Holtby to maintain his early career numbers. (Getty Images)
Thanks to a pair of late-season injuries to Tomas Vokoun and Michal Neuvirth, the Washington Capitals were forced to start their 2012 playoff run against the defending Stanley Cup champion Boston Bruins with rookie Braden Holtby occupying the crease.

Potential disaster, right? Well, not exactly. All things considered it actually turned out quite well for the Capitals. Holtby, getting his first postseason experience at the NHL level, played well enough to help the Capitals not only upset the Bruins in the Eastern Conference quarterfinals, but to also take the No. 1 seed New York Rangers to a seventh game in the second round, losing a one-goal decision at Madison Square Garden.

Holtby finished the postseason with an incredible .935 save percentage in 14 games, a mark that was actually an improvement over what he had done in his first 21 regular-season games (.929) in the NHL. Numbers like that for a goalie that young (keep in mind, he doesn't turn 23 until September, and he's still one of the youngest goalies in the league) has to have Capitals fans feeling pretty excited. But things are probably going to get worse for Holtby in the very near future. The only question is, how much worse?

Don't take that the wrong way, because that's not to say he doesn't have a promising future in the NHL. Because he absolutely does. He's still a very good young goalie, and along with Neuvirth gives the Capitals the potential for a very solid duo in the coming years. They both have a lot of talent and both have shown an ability to play at a reasonably high level in the NHL.

When it comes to Holtby, he's just not likely to maintain a .929 save percentage. Why? Well, it's very simple: Nobody does that. Especially young goalies that have put up those numbers in their first real taste of NHL action.

Since the start of the 2005-06 season the league has seen a lot of outstanding goalies come into the league (Henrik Lundqvist, Jonathan Quick, Tuukka Rask, Jonas Hiller, Pekka Rinne, Cory Schneider, Antti Niemi, Carey Price), and almost none of them have started their career as well as Holtby has in Washington.
The ones that did were never able to continue playing at that level.

The table below shows the notable goaltenders to enter the league over the past seven years and the save percentages they posted in their first 20 regular-season games. As you can see, Holtby stacks up with all of them. Except for, of all people, Steve Mason of the Columbus Blue Jackets. Yes, at one time in the not-too-distant past Mason looked to be one of the best up-and-coming goalies in the league. What a difference four years can make.
I want to pay special attention to the first six names (not counting Holtby) on that list because they're the only ones that posted a save percentage north of .920 to start their careers. What I really I want to point out is that nearly every one of them saw an almost instant drop in their production once they reached this point in their careers and were not able to maintain such a high number. Some saw a larger drop than others, and two of them (Rask and Hiller) even managed to rebound for a brief period of time after the initial fall, but they all go in the same direction.

The chart below helps to illustrate that, and shows the top six goalies and their cumulative save percentage throughout their career following where they were at game No. 20.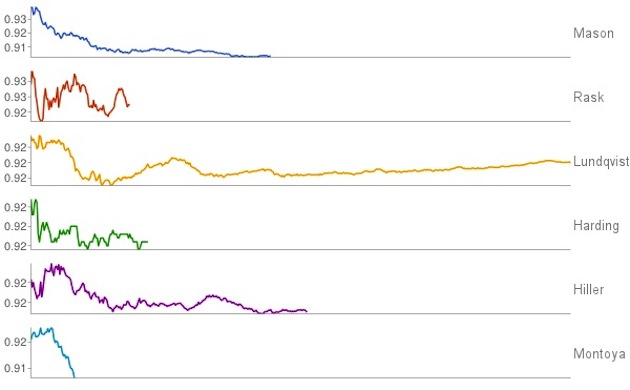 As you can see it's almost instantly downhill for everybody. Regression toward the mean sure can be brutal in some cases. And i don't mean to pile on Mason here, but it's clear that his career hit its peak just 20 games in (five of his first 20 starts resulted in a shutout).

Since the start of the '05-06 season there have only been 13 instances where a goalie that qualified for the league lead finished a season with a save percentage of .929 or higher (three of them went to members of the Bruins: one for Rask and two for Tim Thomas).
Basically it comes down to this: Unless you believe Holtby is the best goalie to enter the NHL over the past seven years (and given the names on that list that's probably not the case) his numbers are going to come down very shortly.

It's not because he isn't good. It simply because he isn't this good. Nobody is.
For more hockey news, rumors and analysis, follow @EyeOnHockey and @agretz on Twitter and like us on Facebook.
Washington has won four straight, and the Kings are also on a tear right behind the Lightn...

The NHL says it's only interested in expanding to Seattle, but here's a look at all the moving...

The NHL says it is only looking toward Seattle for the next expansion team
The 33-year-old defenseman hopes to help find a cure for serious head injuries in athletes

Chicago becomes the latest NHL club to earn an evaluation of $1 billion or more

The city council has approved a $600 million redevelopment project for KeyArena