Conn Smythe Trophy race: Three clear leaders atop pack for now
The Conn Smythe Trophy given to the Stanley Cup playoffs MVP has three pretty clear leaders right now, the question is who is atop the list.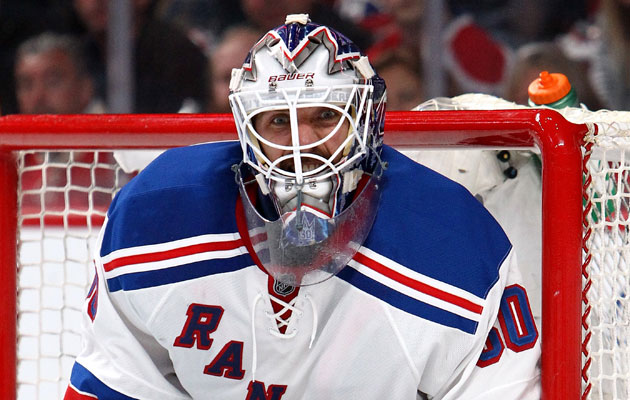 More NHL Playoffs: Schedule, TV listings | Expert Picks | Bracket | Scores | Odds
When it comes to the Stanley Cup playoffs, really the only race that matters is the race to 16 wins. The one and only team that gets there will be crowned champion of the NHL and hoist the Stanley Cup.
But that doesn't mean the other race this time of year means nothing. That, of course, would be for the Conn Smythe Trophy, given out to the playoffs MVP. Like the battle for the Cup, the field keeps getting smaller and smaller as the teams get whittled down. Odds are the Conn Smythe winner will be a Stanley Cup winner too but that's not always the case. However you better make sure your team reaches the Final at least.
With more than two rounds in the books now and the playoffs getting down to the final four teams, here is a look-in at the Conn Smythe race, with the top five from Brian Stubits and Chris Peters.
Stubits
1. Henrik Lundqvist, New York Rangers: Let's just make this argument simple: Nobody has meant as much to his team in these playoffs as Lundqvist has to the Rangers. He has been on top of his game and was particularly great in the second round against the high-powered Penguins, giving up just three goals in the final three games, all must-win games for the Rangers.
So far Lundqvist has played more games (17) than any goalie and has not-so-coincidentally faced more shots (477) than any goaltender in these playoffs. And yet Lundqvist is tied with Tuukka Rask for the lowest goals-against average at a very paltry 1.99. His .931 save percentage is also the best in these playoffs for goalies with at least five starts. There have been times where the Rangers required him to win them games and he obliged, as he has for years now.
If the Rangers win the Cup, it's hard to make an argument that any Ranger not named Lundqvist should win the honor, unless things drastically change for the final couple of weeks.
2. Anze Kopitar, Los Angeles Kings: If he hasn't already, Kopitar should finally get his due as one of the very best players in the NHL based on the postseason that he's having. Not only is he playing terrific defensively, routinely drawing the tough assignments for the Kings and going head to head with Jonathan Toews right now in the West finals, but he's the leading scorer in the postseason with 20 points, four more than anybody else.
That's a pretty sizeable lead -- over a pair of his LA teammates -- at this point. His 20 points are seven more than any player from any of the three other teams left (Marian Hossa has 13 points for Chicago). He has also been huge in the faceoff circle for the Kings, contributing to their possession game by winning 55.1 percent of draws. Basically, Kopitar does everything for the Kings and as a result, it's very difficult to see them making that incredible comeback on the Sharks in Round 1 without him.
3. Jonathan Toews, Chicago Blackhawks: His play this postseason, particularly in the first round, ignited a debate (even if there are few supporters on his side) that Toews is the best player in the NHL now over Sidney Crosby. We're not inclined to go with that bold of a statement but there is no denying that Toews has been huge for the Blackhawks, and more noticeable than he was last postseason when was relatively quiet.
The platitudes for Kopitar's all-around game hold true for Toews; there is a reason why these two will be Selke finalists for years to come in this league. Toews is averaging 21:38 of ice time per game, a pretty monster load for a forward, and they are never easy minutes.
Most notably for Toews are his six goals and five assists in 14 games. Even bigger -- and probably the biggest reason why the Crosby comparison started -- is that four of those goals have been game-winners. He has been clutch.
4. P.K. Subban, Montreal Canadiens: Right now there is really only one choice for the Canadiens unless Dustin Tokarski has the run of his life and plays like he did in Game 3 for another three weeks. Subban was so good in the first two rounds, particularly against Boston.
Subban leads the Canadiens in points with four goals and eight assists. Three of those four goals have come on the power play, where he unleashes his massive shot from the point through traffic. Subban is recognized more as an offensive defenseman but his defensive game is sound too, evidenced by the Canadiens playing better when he's on the ice in terms of shots for/against than when he's not.
Further, Subban has been a monster in the minutes department, one of only eight players this postseason averaging more than 26:30 per game. One of the few lessons we've learned from these playoffs (if we didn't already know this) is that you have to have a cornerstone defenseman to win in this league. Subban is just that for the Habs.
5. Marian Gaborik, Kings: I'm going to go off the radar perhaps a little bit here as Corey Crawford and some of Gaborik's LA teammates (Drew Doughty, Jeff Carter) could also be here but we'll put Gaborik in at No. 5 right now.
There's not a lot of explanation that needs to go into this one: Gaborik is doing his job and scoring goals. The Kings needed an influx of scoring and they have gotten just that from Gaborik, who has an NHL-high nine goals in this postseason to go with six assists. His calling card game came against Anaheim in Game 1 when he scored in the final seconds of regulation to tie it and then in overtime to win it. If he keeps scoring and the Kings keep winning, it puts him in a good spot.
Remember, this is an award voted on by the media and if there's one thing media members like, it's flashy numbers and goals. Gaborik could potentially have both of those, even if he is averaging just 16:40 of ice time per game.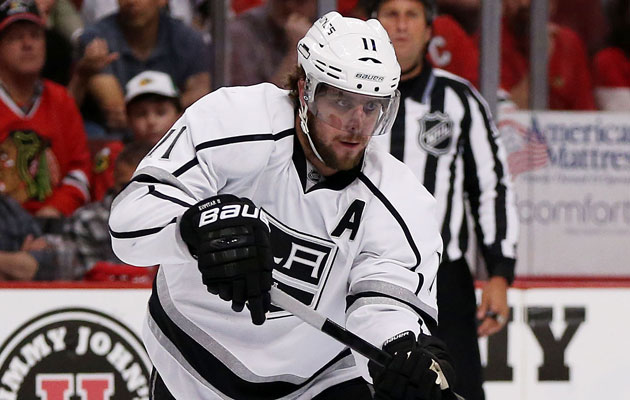 Peters
1. Anze Kopitar, Los Angeles Kings: Everyone tends to ask the same questions when debating who should be the MVP. The first for me is obvious: Was this person the best player? In MVP debates, however, the best player doesn't necessarily win the award because the second question is important as well: Did this player significantly contribute to his team's success and would they have been able to win without said player?
To me, there isn't a question that Anze Kopitar is the best in both categories. He is the leading scorer in the Stanley Cup playoffs with his 20 points -- five goals and a staggering 15 assists. He does this while dealing with Los Angeles' toughest minutes of any forward, averaging nearly 20 a night while drawing top lines of other teams due to his elite defensive capabilities. Without Kopitar, the Kings are unlikely to win either of their first two series and without him going head-to-head with Jonathan Toews, the Kings are in a lot tougher spot against Chicago.
He has been this postseason's best player and at least this postseason is the player least dispensable to his own team.
2. Henrik Lundqvist, New York Rangers: The King has earned his title over a brilliant NHL career, but he has his team on a path to be crowned along with him this postseason. The Rangers lead the Eastern Conference finals 2-1 and Lundqvist is a big reason why they're even here to begin with.
He leads all goaltenders this postseason with a .931 save percentage, which includes a sparkling .938 mark at even strength this postseason. He also has a postseason-best 1.99 goals-against average. This is particularly important because no goaltender this postseason has seen more shots than Lundqvist.
He has often been his team's best player when the team wasn't at its best in front of him and helped the Rangers dispatch rival Philadelphia and division champion Pittsburgh to win the Pennsylvania state championship.
3. Jonathan Toews, Chicago Blackhawks: The two-time Cup champion and 2010 Conn Smythe winner could add to his trophy case this postseason if the Hawks are to repeat. The captain has been his team's best player throughout the postseason, bringing his very best to the most important games and remaining very good in the rest.
He has 11 points, but like Kopitar, is drawing the toughest defensive assignments for his team most often, unless his team is really pressing for a goal and you might find him double-shifting. He has six tallies this postseason including four game-winners to lead all players in these playoffs.
Not only that, but Toews has a relative Corsi-for percentage of +7.6 percent, the best mark of any players remaining this postseason aside from teammate Bryan Bickell, who does not play the minutes Toews does. This is one measure, but even the eye test would tell you Chicago is unequivocally better with him on the ice.
4. Corey Crawford, Chicago Blackhawks: Toews has some competition from his own teammate should the Blackhawks win the Cup again. Crawford has been extremely solid, save for that third-period stinker in Game 2 against the Kings. So we'll give him that one.
Of the remaining goaltenders, Crawford trails only Lundqvist in save percentage at .926. He's also second with a goals-against average of 2.11.
The big question about any goalie in terms of winning the Smythe is going to be did he "steal" any games for them. Crawford did that for the Blackhawks, like Games 5 and 6 against Minnesota. He has been really solid in those clinching games with Game 6 against St. Louis also strong.
If that last performance against the Kings knocks him off the rails, his candidacy goes south, but as of today, he's still in.
5. P.K. Subban, Montreal Canadiens: A lukewarm showing in the Eastern Conference finals has Subban tumbling down the charts, but it's hard to ignore his entire body of work. He's still among the best performers this postseason. He leads all D with 12 points including four goals and has been a horse for the Canadiens logging nearly 27 minutes a night. Subban can be a weapon on the power play and he forces teams to be aware of him at all times no matter the situation. His speed, physicality and booming shot have all made an impact this postseason.
Though he's trailing off and didn't have his best defensive games, you look at the nine shots he had in Game 2 against the Rangers and know he is still doing what he can to make a difference for his team. There's a chance he could eventually be supplanted by Drew Doughty, who would be my No. 6 on this list if we did more players, but Subban still is having a postseason worth remembering.
Other guys I could see in the mix: Doughty, Marian Hossa, Justin Williams, Ryan McDonagh, Jeff Carter and Martin St. Louis.
Vladislav Yeryomenko was the Teddy Bear Toss goal scorer for the Calgary Hitmen

The Golden Knights are finally getting their No. 1 goalie back after a 25-game absence

Washington has won four straight, and the Kings are also on a tear right behind the Lightn...
The NHL says it's only interested in expanding to Seattle, but here's a look at all the moving...

The NHL says it is only looking toward Seattle for the next expansion team

The 33-year-old defenseman hopes to help find a cure for serious head injuries in athletes