Corey Crawford leaves game in first period with apparent injury
Blackhawks goaltender Corey Crawford appeared to suffer an injury in Sunday's game, having to be helped off the ice.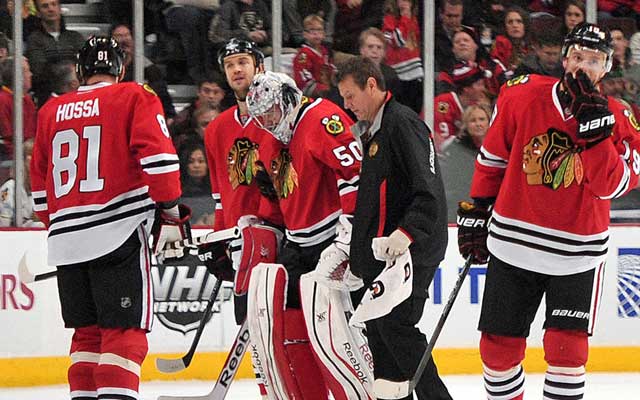 More NHL: Scores | Standings | League Leaders | Odds | Injuries | Power Rankings
Chicago Blackhawks goaltender Corey Crawford had to leave the Blackhawks' game against the Florida Panthers in the first period on Sunday night after suffering an apparent leg injury.
The injury came right as Crawford made a save with a little more than six minutes remaining in the first period with the Blackhawks ahead 2-0. He went down to the ice to make a save with the pad and couldn't get back up.
Crawford was eventually helped off the ice and immediately went down the tunnel when he reached the bench. He was moving gingerly as he made his way down the bench and was cleary in a plenty of discomfort.
Rookie goaltender Antti Raanta came in to replace Crawford.
Crawford doesn't get the most respect among goalies in the league but it's tough to argue he hasn't been all that the Blackhawks have asked of him. His numbers haven't been strong this season with a .906 save percentage and 2.49 goals against average but he still plays almost every game for the Hawks and played well enough to win the Conn Smythe Trophy last postseason, an award that Patrick Kane won but said he thought belonged to Crawford..
Crawford is also a major contender for one of the spots in net for the Canadian Olympic team so there will be a few organizations keeping a close eye on Crawford after leaving due to injury.
Vegas isn't being quiet about its hot start to the NHL preseason

The blue-liners are set for another big push, but Edmonton's rise is hard to ignore in the...

Meanwhile, the Devils' Brian Boyle isn't sweating his recent cancer diagnosis
Limited-time Warriors-colored jerseys are apparently on the way in January

The 32-year-old forward tells the media he expects to be back on the ice for the Devils op...

It seems it's all as wild as it sounds, with Canadian actor Zack Ward heading a 'West Coast...