Corey Crawford signs six-year extension with Blackhawks
Corey Crawford is coming off a career year in Chicago and is now being rewarded. The Blackhawks signed the goalie to a six-year extension.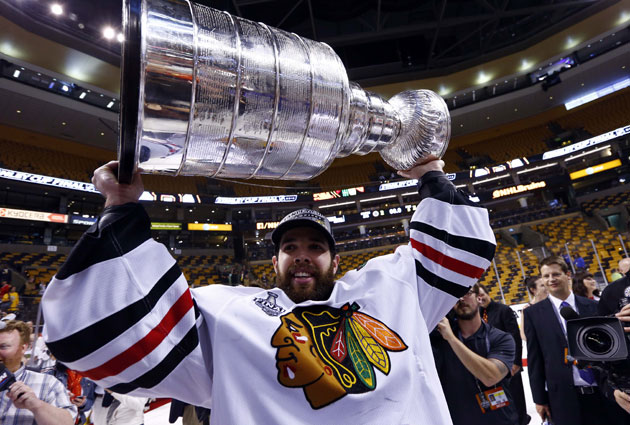 More NHL offseason: Rumors | Top 50 Free Agents | Buyout Tracker | Trades | Transactions
Corey Crawford has had himself a nice year. The Blackhawks goalie put to rest criticism of him as Chicago's weak link, backstopped the Hawks to the Stanley Cup and earned an invitation to Hockey Canada's Olympic Orientation Camp.
Now you can add six-year contract extension to the list.
The Blackhawks announced on Monday that they have signed Crawford to an extension that will keep him in Chicago through the 2019-20 season. As for the cost? Renaud Lavoie reports that the new deal will pay $36 million over those six seasons, or $6 million annually against the salary cap. That price has since been confirmed by numerous other outlets.
To make things all the better for Crawford, the extension comes on his day with the Stanley Cup. Many players will drink some adult beverages out of the Cup on their day, Crawford now has double the reason to celebrate. Talk about a great day.
"I want to be in Chicago for my whole career," Crawford said Monday on a conference call. "This is amazing to be able to do this and get this deal done."
Now, to no longer ignore the elephant in the room. Crawford was just given $6 million per season with a pretty short track record and one that's not all that great. It's not bad either, but it doesn't exactly scream $6 million per season, does it?
Yes, this past season at 28 Crawford had his best season, posting a .926 save percentage and 1.94 goals against average, numbers he was able to actually improve on in the postseason. However it was just two seasons ago that Crawford had a .903 save percentage to go with a 2.72 GAA, leaving many to wonder if he was the answer in net for Chicago. Clearly GM Stan Bowman thinks he got a resounding yes with this past season.
Still, that's a lot of money to give to a goalie who only has three full NHL seasons under his belt and a .913 save percentage to show for it. Yes, he's coming off a great season but goalies are notoriously fickle save the elite few and with Crawford hitting 30 in the middle of the first season on the six-year extension, there is undoubtedly risk.
Consider now that with the $6 million annually, Crawford has one of the higher cap hits in the league, greater than Jonathan Quick, Jimmy Howard, Kari Lehtonen, Sergei Bobrovsky and Roberto Luongo, just to name a few. He's being paid the big bucks while it's fair to wonder if he's really worth it.
You also have to take into account the Blackhawks' cap situation. This was a team that had to be partially dismantled after the last Cup because of cap concerns. Now when you look ahead to the 2014-15 season, the Blackhawks have nearly $56 million already committed and only 13 players under contract and a few big free agents who need to be re-signed next summer.
Now the cap is going to go up as we all know but you're probably looking at a situation where the Hawks will have somewhere around $14 million to sign seven players to fill out the roster. It can be done, but the Hawks will be dealing with the cap pressure for a long time. I guess for them that beats the pressure of finding a goalie for the long haul.
"We don't [know] where the cap will be in two or three years, the one thing we do know is we're going to have a great goaltender," Bowman said on Monday. "We need to have a great goaltender, and that's why this was an easy decision to us."
Speaking of the long haul, giving goaltenders long-term contract extensions is always a dangerous game, you never know exactly what to expect. You can certainly forgive those with reservations over this one for Crawford as his thus-far short career hasn't exactly been the model of consistency.
Then again, the Blackhawks don't want to have to go through more uncertainty at the position they think they have solved. You'll recall following their last Stanley Cup in 2010 that they had to say good bye to Antti Niemi because of salary cap constraints. They didn't want to let that happen again, thus the long-term deal with Crawford to keep that certainty around.
I don't want to make it sound like Crawford can't put up numbers similar to the ones he had this past season because he certainly could. Nor do I want to make it sound like Crawford is a bad goalie that has no place in the NHL or anything like that. Neither of those is the case. Crawford is a good goalie who did a very serviceable job -- at worst -- for the Blackhawks this past season. He's not the kind of goalie you can realistically count on to win you games or be a shutdown guy, something his new salary would indicate. But in Chicago you don't need a goalie that can do those things, the team is so good in front of him.
Regardless of the uncertainty that lies ahead in terms of his play, there is certainty on where he will play and obviously that's something the Blackhawks are happy with, even if it's coming at quite the cost, and risk.
Saturday's showdown will serve as a rematch of one of the NHL's first-ever regular season...

Stacia Robitaille says Donald Trump told her in an elevator that she was coming home with...

Vladislav Yeryomenko was the Teddy Bear Toss goal scorer for the Calgary Hitmen
The Golden Knights are finally getting their No. 1 goalie back after a 25-game absence

Washington has won four straight, and the Kings are also on a tear right behind the Lightn...

The NHL says it's only interested in expanding to Seattle, but here's a look at all the moving...