Corey Crawford's glove is getting too much attention
Corey Crawford's glove hand has been the topic of discussion since the end of Wednesday night's Game 4 of the Stanley Cup Final, but is it being overblown?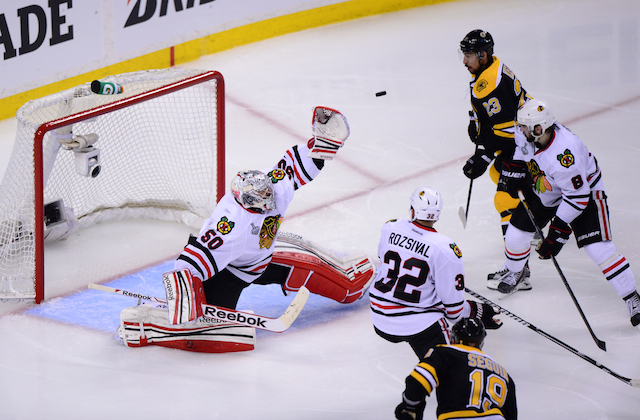 More NHL Playoffs: Scores | TV Schedule | Expert Picks | Odds | Mock Draft | Rumors
The main topic of conversation in the TD Garden media room after Chicago's chaotic 6-5 overtime win in Game 4 of the Stanley Cup Final on Wednesday night seemed to focus on one thing: Corey Crawford's glove hand.
Even after the Blackhawks found a way to win the game and tie the series 2-2 as it shifts back to Chicago for Game 5 on Saturday night, the only thing that anybody wanted to talk about was how the Bruins found a hole in Crawford's game and exposed it.
Shoot high. Shoot glove side.
That probably shouldn't be much of a surprise given the fact the Bruins scored all five of their goals by beating Crawford glove side. They have made a habit out of beating him there throughout the series.
That conversation spilled over into the postgame media sessions, with Crawford himself being asked about the Bruins targetting that side of that net. It's still taking place on Friday before Game 5.
"Well, 99 percent of the shots are going glove side, I don't know what you would say," Crawford said after Wednesday's game. "I can't start thinking about that. That's when you get in trouble, when you start thinking everything is going to go glove. I'm just going to play the way I've been playing and stick with that."
On Thursday, Blackhawks coach Joel Quenneville was asked if he has considered making a goaltending switch "given where the goals seemed to be going in on Corey."
"No, not at all," Quenneville said. "No, we're very comfortable with Corey. Corey has been rock solid all year for us, and when he's got the ball, he's been outstanding, and he's the biggest reason why we're here today."
It's absurd to ask a coach if he's considering a goalie switch in a Stanley Cup Final tied 2-2, when his starter has a .931 save percentage and his backup has appeared in one game since April 15. But let's just stop and ask if there's really anything to this glove-hand storyline.
It's true to some degree that Boston seems to be shooting glove side in the series, though, Crawford's 99-percent estimate might be exagerrated just a little bit. It's also true that they've scored most of their goals by beating Crawford on his glove side, including all of them in Game 4.
But is that really exploiting a weakness? Or are we simply overreacting to a small sample size and what was perhaps Crawford's worst game of the postseason?
The answer to the former is probably no, and the answer to the latter is a resounding yes.
This postseason, Crawford has given 43 goals. The breakdown as to where those goals have been scored after going back and watching all 43 of them:
Glove side: 18
Blocker side: 17
Five-hole: 4
Middle of the net : 4
Interesting, yes? And doesn't really fit the narrative, now does it?
Before the Stanley Cup Final, and especially in the second and third rounds against Detroit and Los Angeles, Crawford actually gave up far more goals blocker side than glove side. By a wide margin.
Naturally, all of the talk then focussed on his blocker and how that was his weakness.
Boston apparently didn't get the scouting report.
The main point to take away from this is that most goals in today's game get scored in the top corners of the net. This is true in every professional league and at every level. Today's goalies do a fantastic job taking away the bottom part of the net and don't allow anything to get in along the ice. Few goals are going to get through the middle unless the goalie is pulled out of position or has a serious problem protecting his five-hole.
That leaves two corners for shooters to aim for: Glove side and blocker side.
This shouldn't be a shocking revelation, but it apparently is.
Take Tuukka Rask at the other end of the ice as an example. He has given up 10 goals in the Stanley Cup Final, and eight of them have gone in over his glove (four) or blocker (four).
Again, this is true for every goalie. Of course, some goalies are better than others with their glove or their blocker. It's also true that Crawford's glove might not be among the best in the league. That's probably not up for debate.
It's also not up for debate that the key to beating any goalie in the NHL right now is to aim for one of those two spots.
Crawford is no different.
Coming into the postseason Crawford was my biggest question mark when it came to the Blackhawks. But he has been great for them in the playoffs overall, and it seems more than a little silly to suddenly think that a guy who has stopped more than 93 percent of the shots that he has faced this postseason has been solved.
If you want to beat any goalie in the NHL, you're going to have to shoot high. And aim glove side. Or blocker side. Or any portion of the net that isn't occupied by the goalie's torso.
What a novel idea.
The 33-year-old veteran was diagnosed with Guillain-Barré syndrome

The NHL says it is 'completely satisfied' with its investigation into what Shaw said in the...

It may not be the most effective stickhandling training method, but it's certainly the most...
Steven Stamkos and Tampa Bay are soaring above all, while Montreal continues to dig its own...

Rage is all the rage in Montreal

Buffalo's 20-year-old phenom pulls off the highlight of the night against Vancouver