Coyotes could explore giving Mike Smith long-term contract extension
The Phoenix Coyotes might explore a contract extension for Mike Smith this summer. But what would be a fair price?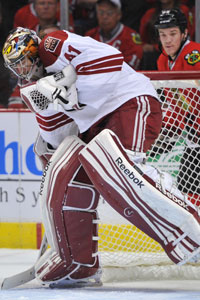 The Phoenix
Coyotes
' decision to enter the season with
Mike Smith
as their starting goalie seemed like a questionable one at the time. The biggest concern was how they could possibly remain competitive in the Western Conference with Smith -- pretty much a career backup -- replacing Ilya Bryzgalov, the player that was given most of the credit for their success over the previous two seasons.
Smith not only proved to be an excellent replacement and one of the best free-agent signings of the summer, he was one of the best goalies in the
NHL
this year. He carried that performance over to the postseason and was also perhaps the sole reason Phoenix made it as far as it did in the playoffs (check out the Coyotes possession metrics this postseason -- terrible), reaching the Western Conference Final for the first time in franchise history.
He still has one year remaining on the two-year contract he signed before the season, and he's set to
make $2.2 million
in 2012-13. According to Sarah McLellan of the
Arizona Republic
, Coyotes general manager Don Maloney could
explore locking Smith up to a long-term contract this summer once he deals with their top priority
, the potential unrestricted free agency of captain
Shane Doan
.
A potential contract extension for Smith at this point seems like it could be a tricky (if not risky) move for the Coyotes.
There is no denying his importance to this team this season, but it all comes down to whether he's capable of repeating that performance. Or, at the very least, staying in that same ballpark, because it seems reasonable to expect some sort of regression next season.
Let's take a quick look at his career performance year by year.
(The blue line represents Smith's even strength save percentage, the red line is his total save percentage, and the yellow line is the league average save percentage).
Smith has had seasons where he has flashed brilliance and seasons where he has been well below the league average (including the two before this season).
It wouldn't be completely unheard of for a goalie at Smith's age and at this point in his career to suddenly blossom into a top goalie (check out how old guys like Tim Thomas and Niklas Backstrom were when they became starters). But are the Coyotes confident that Smith is one of those players? And how much are they willing to pay to find out?
In the end, it comes down to the term that Smith would potentially be looking for. The St. Louis Blues, for example, received a similar unexpected performance from Brian Elliott this season after picking him up for nothing on the free-agent market and
rewarded him with a very reasonable two-year extension worth nearly $2 million per year
.
Here's the other thing to consider: Goalie is an extremely volatile position. Players emerge out of nowhere all the time, and it's a constant source of frustration for general managers when it comes to projecting future performance and long-term value.
The Coyotes' management and coaching staff, from general manager Don Maloney all the way down to Dave Tippett and goalie coach Sean Burke, has done an outstanding job in recent years when it comes to finding and developing goalies at the NHL level.
Maloney picked Bryzgalov up for nothing off the waiver wire in 2007 and watched him develop into a No. 1 goalie. When he became too rich for their budget this past summer, they turned the page and moved on to Smith, an afterthought in the free-agent market (and a guy that was available on waivers the year before) and ended up with one of the biggest bargains in the NHL.
Isn't it possible that they're capable of doing it yet again and unearthing the next Ilya Bryzgalov or Mike Smith when the time comes?
Photo: Getty ImagesFor more hockey news, rumors and analysis, follow @EyeOnHockey and @agretz on Twitter and like us on Facebook.
Los Angeles isn't rushing to sign the 45-year-old forward any time soon

The University of Denver star and Hobey Baker Award winner is drawing interest

Intrigue is high in Arizona after a wild offseason, but expectations should still be tempe...
Players are set to give personalized messages for Adidas' former hockey equipment brand

The 40-year-old center is returning to the Wild after a successful run in Pittsburgh

Edmonton locks up its 21-year-old RFA a month after McDavid's historic extension