Coyotes put Mike Smith contract talks on hold until ownership is settled
The unsettled ownership situation in Phoenix has resulted in the Coyotes putting contract talks with goalie Mike Smith on hold for the time being. What can the Coyotes expect from him next season?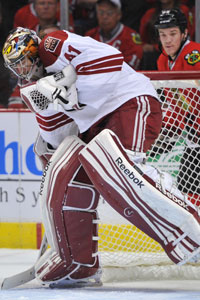 All of the focus on the Phoenix Coyotes this offseason, from a hockey standpoint anyway, has been on the future of Shane Doan.
But the unsettled ownership situation has also had an impact on another key part of their roster. According to Sarah McLellan of the Arizona Republic, the Coyotes have -- for the time being -- put his contract talks on hold with starting goaltender Mike Smith until the ownership situation is settled.
"When you start looking at big contracts, including the length of deals, you certainly want ownership to be included in the process," Maloney told the McLellan, while also adding that the two sides have "exchanged ideas."
Smith is entering the final year of a two-year contract he signed prior to last season to serve as the replacement for Ilya Bryzgalov, and he's set to make $2 million during the 2012-13 campaign.
Maloney said shortly after the season ended that a contract extension for Smith would be one of his goals for the offseason.
When the Coyotes lost Bryzgalov, who was viewed as a vital part of their success the previous two seasons, to the Philadelphia Flyers last summer it was expected that the team would suffer as a result. Not only did they not suffer, they ended up winning the franchise's first ever division title (even going back to its days in Winnipeg) and ended up coming within three games of reaching the Stanley Cup Final. On an individual level, Smith was not only better than Bryzgalov this past season in Philadelphia, he was also better than Bryzgalov ever was in Phoenix.
Smith finished .930 save percentage in 67 regular season games which was the third best mark in the NHL. He finished fourth in the Vezina Trophy voting behind Henrik Lundqvist, Jonathan Quick and Pekka Rinne, and probably should have received more consideration than he did for the Hart Trophy considering how well he played and how many shots he had to face every night. It was a pretty incredible season, and one that few saw coming given how Smith had spent the first five years of his career as a backup in Dallas and Tampa Bay, appearing in more than 40 games in a single season just twice. At various times throughout his career he showed some signs that he could one day be a starting goalie in the NHL, but I don't know that anybody expected what he did last year.
Over the past four years there have been 52 goalies that appeared in at least 82 games, and Smith ranks 15th over that stretch in terms of save percentage (.916). Of course, a lot of that is due to what he did last season in Phoenix (did Dave Tippett's system have any impact on that? maybe a little) which is a performance that's probably impossible for him to repeat.
Why? Look at it this way: between 2000 and 2010 there were only 13 examples of a goalie appearing in at least 50 games and finished with a save percentage better than .925 (three goalies: Roberto Luongo, Tim Thomas and Tomas Vokoun did it twice, seven did it once). Those goalies saw an average drop of more than 13 points in their save percentage the following season, while only one (Dwayne Roloson while playing for Jacques Lemaire and the Minnesota Wild in the early 2000s) saw an increase the next season.
So assuming the Coyotes ownership situation gets resolved and they look to keep Smith it becomes a question of how much they expect his performance to regress (because it almost has to), and how much they would be willing to invest in the position. Big investments in goalies can be risky and a lot of times end up not being worth it. It's also position that seems to have players slip through the cracks and emerge as starters after bouncing around the league.
Some of the goalies that signed contract extensions:
Pekka Rinne (Nashville): 7 years, $49 million
Ondrej Pavelec (Winnipeg): 5 years, $19.5 million
Jonathan Quick (Los Angeles): 10 years, $58 million
Carey Price (Montreal): 6 years, $39 million
St. Louis had a success story similar to Phoenix's in net this past season with Brian Elliott. They signed him for less than a million dollars on July 1 last summer after he washed out in Ottawa and Colorado, and he ended up leading the league in save percentage. He received a two-year extension from the Blues worth $1.8 million per season.
Even if Smith sees a regression next season he's still worth more than that, but he's not going to touch the type of deals that Rinne and Quick received in Nashville and Los Angeles.
For more hockey news, rumors and analysis, follow @EyeOnHockey and @agretz on Twitter and like us on Facebook.
The former Boston Bruin was the first black player to play in the NHL

Inclement weather led to the Charlotte Checkers and Bridgeport Sound Tigers playing in front...

The NHL chose the Detroit rocker as its All-Star Game entertainment and not everyone is th...
NHL fans from all over seem to agree on one thing: Hating Kid Rock

The team tweeted on Monday that Shaw would be re-evaluated in 7-10 days

The Montreal forward was hospitalized after taking a Zdeno Chara slap shot to the head