Coyotes to open lots to tailgating before weekend games this season
The Phoenix Coyotes will be opening parking lots at the arena four hours early on weekends this year to encourage tailgating. Great idea.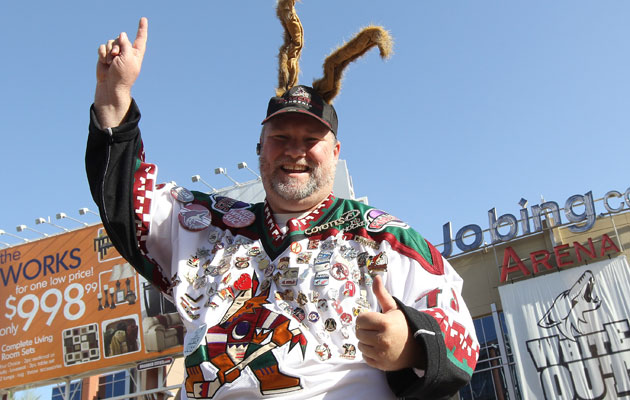 NHL previews: Atlantic Division | Metropolitan Division | Central Division | Pacific Division
With new ownership in place, the Phoenix Coyotes' next objective is to do what they can to get people in the seats and get the franchise rolling in the right direction. To that end the Coyotes announced a unique and cool idea on Wednesday; they're opening up parking lots for tailgating.
There will be 17 games on weekends at home throughout the season, 17 chances to bust out the grill, the makeshift beer pong table and enjoy an afternoon tailgating. For four hours before games. From the Coyotes:
Tailgating on Jobing.com Arena parking lots (A, B, G, J, K and Y) will begin with the Coyotes first weekend regular season home game on Saturday, October 19 when the Coyotes take on the Detroit Red Wings. Game time is 6 p.m. with lots opening at 2:00 p.m. In total, the Coyotes will have 17 tailgating experiences during the regular season.

"We are excited to introduce tailgating prior to all Coyotes weekend home games this season," said LeBlanc. "We are very fortunate to live in a city that has such great weather during the hockey season so we are encouraging fans to come early to our weekend games and enjoy the great atmosphere outside Jobing.com Arena. We are continually looking for new ways to enhance the game experience for our fans."
This is an excellent idea on many levels. The first: who doesn't enjoy tailgating? Remember, we're talking about Arizona here, not Canada, so pretty much all season long you will have great days for tailgating even in hockey season. If that's enough to entice more people to come enjoy the festivities, excellent.
It's also really smart to combat the parking issues with extra enticement. You'll recall that part of the lease agreement with the city of Glendale calls for revenue from parking to go to the city to help repay their investment. That was worrisome though because parking had been free at games and there is a nearby shopping area with free parking as an alternative. But by offering fans an opportunity to tailgate in the parking lot for four hours before games, that's a nice incentive and could certainly increase the odds fans will pay for the parking.
Excellent idea by the Coyotes here, not just allowing tailgating but encouraging it. Who knows, might lead to a louder arena at puck drop, too.
Players are set to give personalized messages for Adidas' former hockey equipment brand

The 40-year-old center is returning to the Wild after a successful run in Pittsburgh

Edmonton locks up its 21-year-old RFA a month after McDavid's historic extension
Even with a new coach and added veteran help, the Canucks have a long road ahead

Unlike expansion teams before them, the Knights have enough talent to entertain right away

Brian Lawton says he 'would not be surprised' if Boston deals its young star to end contract...