Dallas shooting for the Stars in summer overhaul
A trade sending Tyler Seguin and Rich Peverley to Dallas is the latest example of the Stars dramatically trying to boost the franchise.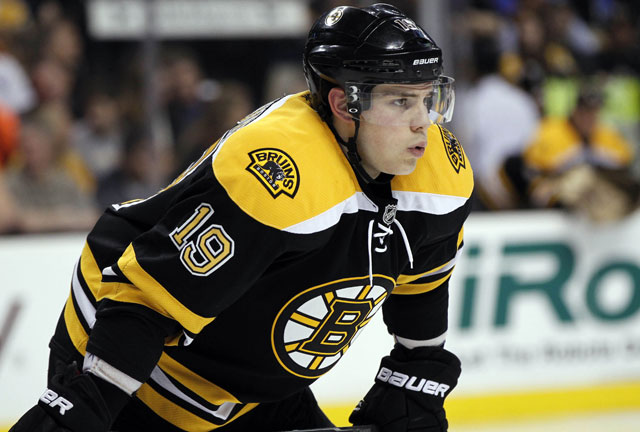 More NHL offseason: Rumors | Top 50 Free Agents | Buyout Tracker | Trades | Transactions
To borrow from the baseball lexicon, the Dallas Stars are swinging for the fences. The blockbuster trade they just pulled off on the Fourth of July is their latest cut.
For years now the Stars have been an afterthought. They have perpetually been just on the outside looking in, not quite good enough to make the playoffs, not quite bad enough to get high draft picks. They were in the worst spot a franchise can be -- mediocre purgatory.
Now they're trying to dig their way out and they have given Jim Nill the shovel. That was the first in many moves the Stars have done to try to turn around their fortunes. GM Joe Nieuwendyk was shown the door after the team didn't seem to make any real progress under his tenure. After a long search they settled on Nill, who immediately had to begin his own search; for a coach.
It took a while but Nill eventually settled on former Sabres coach Lindy Ruff to be behind the bench. He led the Sabres for a long time and had some pretty successful years in there. He's a well-respected coach who has been around the block, a change from the previously inexperienced Glen Gulutzan.
As far as the personnel goes, Nill got started on that, too. He made a move in trading for the rights to defenseman Sergei Gonchar and it didn't take long to re-sign him. The Stars certainly overpaid by giving Gonchar $10 million over two years, but it showed a lot about the franchise; they're going to play to win now. The days of being stuck in bankruptcy and handicapped by their wallets are gone. That doesn't mean they will become a team that spends to the cap, but it's not going to be a shackle on their hands anymore either.

Oh, and the Stars busted out a new logo and uniforms that so far have been met with a mostly positive response. The team literally won't look the same next season.
This move, though, the one to land Tyler Seguin among others in a major trade? This is as loud as the pronouncement gets. Nill is not just coming in to keep the status quo, he's going for the upgrades and he's not afraid to be bold.
To be clear, by sending Loui Eriksson to Boston, the Bruins are probably getting the best player in this trade. Eriksson is a vastly underrated player and it's scary to think of how good he will look on a line with Patrice Bergeron. He was not a problem in Dallas whatsoever, he's just the cost it takes to make a move like this one.
In Seguin the Stars are getting their top-line center for years to come. Remember, Seguin is still just 21 years old. In Boston he didn't have a chance to play center at all nor did he have a chance to play on the top line all that much. He's going to get those opportunities in Dallas and he could very well flourish.
You will hear a lot of criticism about Seguin's attitude, maturity, etc. Reminder: HE IS 21! It happens. Patrick Kane is another supremely talented player who was having off-ice issues -- and his were much more public than Seguin's -- and he has started to turn it around. The same could very well happen with Seguin.
"Tyler is a dynamic player that will be a part of our core group for a long time to come," Nill said in the team's release. "A player at his age, position and talent level are extremely difficult to acquire and we're thrilled to bring him into our organization."
Many people will tell you that this is a trade for the future in Dallas, that this is to set them up for a few years from now. Is it really, though? Are we all going to act like Seguin isn't already a very good player? Sure, he's going to get better still and he's going to be in Dallas' plans for a long time, but is a team that has Tyler Seguin and Jamie Benn on the top line not capable of making the postseason now? I think not. I mean we're talking about a player in Seguin who had 29 goals two seasons ago as a 20-year-old. He's not a project by any strech.
Further, add in the Gonchar addition as well as acquiring a veteran center like Rich Peverley in this deal and I don't think it's really as much about the future here as it is now. The future is absolutely brighter right now -- Seguin still has the potential to become a superstar -- but so is the present.
Yes, the Stars did have to give up some of their future to get this done, too, but we'll wait and see how that goes. We can be very sure that Seguin's future is bright, we can't say the same about prospect Joe Morrow. He was acquired by the Stars in the trade that sent Brenden Morrow to Pittsburgh. It makes you wonder a little about a guy who is traded twice in four months, doesn't it?
By the way, free agency hasn't even officially begun yet. That's going to happen on Friday and already the Stars have had a little chatter around them. They still have space under the cap if they want to continue being aggressive, maybe they'll try to find a winger to replace Eriksson. There aren't a ton of excellent options out there but there are some good players.
Is it all going to mean that the Stars will finally end this streak of seasons without a playoff appearance? I can't answer that, I don't know. But I'll tell you that Nill won't be called out for not trying.
The Rangers go with a darker blue and old-fashioned lettering for the outdoor game

It's time to hook your favorite NHL fan up with some Black Friday deals

The Lightning have Steven Stamkos to thank, and the Blues should be extra grateful for Brayden...
The Sabres will face the Rangers at Citi Field on New Year's Day in these sharp threads

SportsLine's Mike McClure, a DFS pro with more than $1M in winnings, gives optimal lineup...

Without the star power of the NHL, America is banking on big contributions from some AHL, KHL...