Dallas Stars trade rumors, trade deadline outlook
With the April 3 NHL trade deadline looming, are the Dallas Stars buyers, sellers or standing pat? What do they need?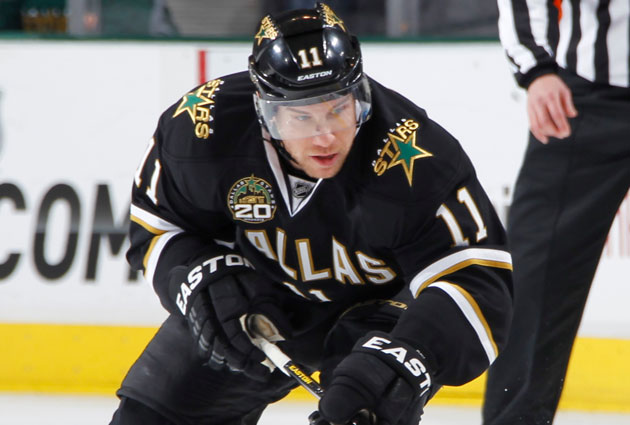 With the 2013 NHL trade deadline at 3 p.m. ET April 3, Eye on Hockey will examine

whether each team is a buyer or seller at the deadline, and who teams should look to sell or receive.
Buyers or sellers
Once again in the unfortunate position of being on the playoff bubble, the Dallas Stars can't quite decide what they want to be. They are in a position in the standings where they wouldn't be interested in selling as a playoff drought could be ended. At the same time, they have a roster that is a bit designed to sell.
That leaves them in the land of trade deadline purgatory a bit. They are part seller even though they probably don't want to be. You can't really call them buyers though because as we saw in their trading of Brenden Morrow, they got a prospect, not somebody to help them now.
You can also bet that they haven't forgotten two seasons ago when the rolled the dice on Brad Richards and then watched him walk away through free agency with nothing in return. That stung and they probably don't want to see that happen again.
So let's call them reluctant sellers.
Rumors
The Stars have had no shortage of rumors around them, and they all pretty much involve players being traded out of Big D.
First it was Morrow, the captain and career-long member of the Stars. His production had dipped a lot and he is an unrestricted free agent after the season, so the Stars shipped him to Pittsburgh. You could argue that anytime you trade away your captain you're sellers but at this point Morrow was expendable.
The rumor mill doesn't stop, though, so it was on the next targets in Dallas. There has been plenty of chatter about Jaromir Jagr, who signed just a one-year contract with the Stars over the summer. As you would presume, there are a lot of teams that would love to have Jagr.
However the Stars are one of them. GM Joe Nieuwendyk continues to hold out hope they can re-sign Jagr so they're talking extension. But remember how much Jagr seemed to enjoy Philadelphia last season and wouldn't commit to re-signing there, the Stars could have a hard time getting him to say yes.
At this point, though, it sure doesn't seem like the Stars are listening to offers for Jagr. The same probably can't be said about Derek Roy.
Like Jagr, Roy is new to the Stars, coming over in the offseason in a trade with Buffalo. Also like Jagr, he is a free agent after this season and as of last week there have not been any contract extension talks. That puts the Stars in a spot where they are surely at least listening to offers.
The teams that have been brought up as interested in Roy? Both the Ducks and the Senators according to Pierre LeBrun of ESPN.com and then Jim Matheson of the Edmonton Journal points to Chicago, though his is more speculation. In other words, there is interest.
Top targets
Especially if the Stars were to give up either Jagr or Roy, they would like to get some offensive help. They have a solid collection of forwards with the aforementioned two, Jamie Benn, Loui Eriksson, Erik Cole and Ray Whitney, but they don't have a ton of depth through the four lines.
They are starting to shape up pretty well on the blue line at this point with a couple of good prospects in Jamie Oleksiak and now Joe Morrow, but you can never have enough defenseman prospects, but at this point that would probably be a secondary concern. The Stars would more likely prefer to get offensive depth/prospects and/or draft picks.
More Trade Deadline Rumors: 
Saturday's showdown will serve as a rematch of one of the NHL's first-ever regular season...

Stacia Robitaille says Donald Trump told her in an elevator that she was coming home with...

Vladislav Yeryomenko was the Teddy Bear Toss goal scorer for the Calgary Hitmen
The Golden Knights are finally getting their No. 1 goalie back after a 25-game absence

Washington has won four straight, and the Kings are also on a tear right behind the Lightn...

The NHL says it's only interested in expanding to Seattle, but here's a look at all the moving...