Damien Brunner headed to Devils camp on professional tryout
Somehow Damien Brunner couldn't land a contract this summer but he'll get the chance to earn one as he's headed to Devils camp on a tryout.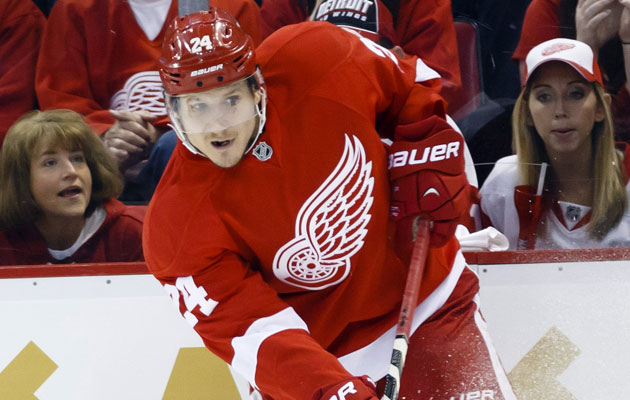 More NHL offseason: Rumors | Top 50 Free Agents | Buyout Tracker | Trades | Transactions
Perhaps the most surprising player who was unable to find a contract this summer in the NHL was former Red Wings forward Damien Brunner . He'll get his chance to earn a contract now as he will join the New Jersey Devils for training camp on a tryout. The Devils announced Brunner accepted their offer on Monday.
At this point GM Lou Lamoriello said there are no promises but they'll figure out if/where Brunner fits with the team and go from there.
"He's a natural scorer," Lamoriello said. "He's scored throughout his whole career and he's a very skillful player."
My question: What took so long? I understand full well that Brunner had a tough finish to last season, seeing his production fall off as the season went on, but he's young and showed he has plenty of scoring potential. At this point he could be a bargain for the Devils, if he makes the team that is.
Really, though, that shouldn't be an issue. The Devils have a need for more scoring, something they addressed already this summer by brining in Michael Ryder, Jaromir Jagr and Ryane Clowe. But at this point you have no idea what you might realistically get from Jagr or Clowe and frankly you can never have enough scorers on your roster.
The only way it might not work is that the Devils have a pretty crowded forward camp at this point with 15 players already under contract at forward. But it's very hard to imagine somebody with Brunner's ability won't be able to earn a spot.
Brunner made his NHL debut last season at the ripe age of 26 years old and finished with 12 goals and 14 assists. While he slowed down the stretch he did pick it back up in the postseason with five goals and four assists in 14 games.
NHL players are still disappointed they won't be going to skate in PyeongChang

With Artemi Panarin in the mix and a Vezina winner headlining the defense, Columbus can be...

The league's crackdown on faceoff infractions and slashing penalties isn't without some cr...
Joffrey Lupul spent last season on long-term IR but seems to be saying he's healthy

Early playoff trouble has been evident, but the Wild tout an offense capable of making another...

Why walk with skate guards when you can rollerskate instead?