Damien Brunner signs two-year, $5 million deal with Devils
Damien Brunner was given a pro tryout by the Devils last week and this week he was given a multi-year contract.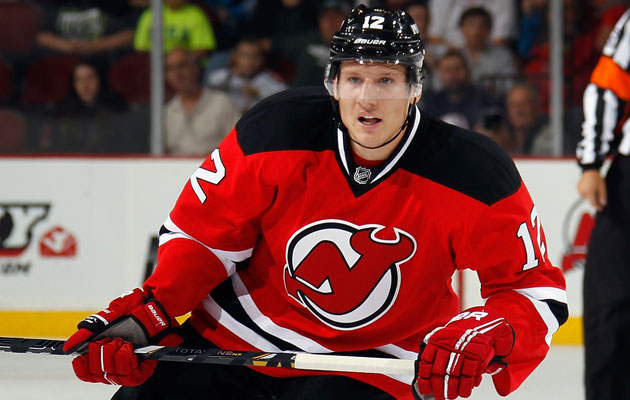 NHL Previews: Atlantic Division | Metropolitan Division | Central Division | Pacific Division
Well, that didn't take long. The New Jersey Devils announced on Tuesday that they've signed forward Damien Brunner to a multiyear contract.
Brunner, who only has one NHL season under his belt, last year with the Red Wings, was unable to find a dance partner this summer for a new contract. At one point it looked like he might head back to his native Switzerland while he waited. That was until the Devils gave him a tryout and brought him into camp. A week later and they sign him to a contract.
"I'm really excited about being a Devil and sticking around," Brunner said.
Brunner's agency released the contract details, saying it's for two seasons and $5 million, or $2.5 million per season.
It's interesting for a player who came in on a PTO, not only did they sign him but it was for a long-term deal. That shows they must have really loved what he's done in camp for them.
It's not hard to see why. Brunner was good, not great but good, in his first NHL season last year. His lack of suitors this summer was a surprise given the fact that he had 26 points in 44 games last season. Not like he was going to receive a mega deal or anything, but surely he had to fit in somewhere.
For New Jersey it's another step in trying to up the offense and help cover for the departed Ilya Kovalchuk. This summer they have brought in Jaromir Jagr, Ryane Clowe and Michael Ryder to try and get to that end. While none of those guys are in Kovalchuk's class at this stage, together they're an interesting group to complement the Devils' previous corps. Will they be a dangerous team as a result? I don't believe so, but signing a player like Brunner won't hurt.
Ontario's 2017 RBC Canadian Open plays host to some puck shots from the legendary golfer

The unsigned forward, still in search of a team, is campaigning for himself

The league shoots down a report that NHL players could still be permitted to go to the Oly...
The 45-year-old forward remains unsigned but has shown little desire to hang up the skates

Pittsburgh also has been linked to Matt Duchene and could be in the mix for Tyler Bozak

Nashville extends its 24-year-old restricted free agent with what could be bargain numbers