Daniel Paille cleared, will play for Bruins to start second round
Daniel Paille missed the entire first round of the playoffs with an undisclosed injury but he's been cleared and will play when the Bruins start Round 2.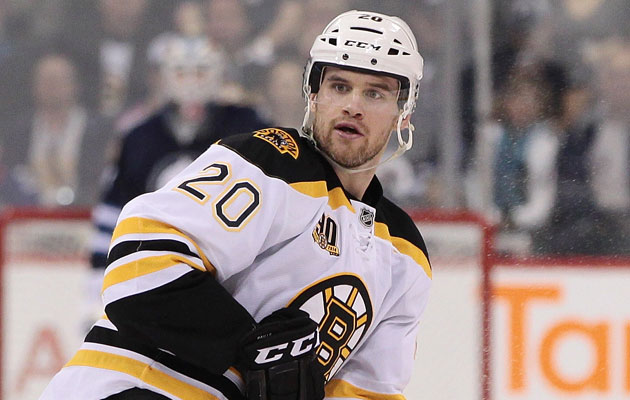 More Playoffs: Schedule, TV listings | Expert Picks | Bracket | Scores | Odds
The Boston Bruins are going to get Daniel Paille back just in time for their second-round series against the rival Montreal Canadiens.
Paille has been out of the lineup for three weeks, his last game coming on April 12 against the Sabres. He has been increasingly practicing with the team, though, and on Tuesday coach Claude Julien said Paille is a go for Game 1, whenever that might be.
Paille isn't a scorer for the Bruins -- though he did nearly hit double digits in goals and assists with 9 each -- but instead is part of the Bruins' quality fourth line, or the Merlot Line as they're known. Along with Gregory Campbell and Shawn Thornton, they are an energy line for the Bruins and in the case of Paille and Campbell, do a lot of work on the penalty kill.
In practice on Tuesday he was playing on the second line in Brad Marchand's spot but that might not be permanent as Marchand was missing from practice.
Also of note at the Bruins practice on Tuesday was Dennis Seidenberg skated with the team. He still hasn't been cleared for contact but the defenseman, who was once believed to be out for the season with a bad knee injury, partnered with Andrej Meszaros on the Bruins' fourth pairing.
The 45-year-old free agent is taking things patiently as September approaches

The playoff drought might not end immediately, but something is brewing in restocked Buffa...

Former Lightning standout will be guarding the net in style in 2017-18
Devils are still in rebuilding mode, but they have reason for hope thanks to young additio...

Buffalo is in the midst of contract extension talks with Jack Eichel, and the payout could...

Los Angeles isn't rushing to sign the 45-year-old forward any time soon