Darryl Sutter on Drew Doughty's goal total: 'Who cares?'
Drew Doughty has appeared in 28 games for the Los Angeles Kings this season and has yet to score a goal. This should not be a huge concern, and it's not one for coach Darryl Sutter.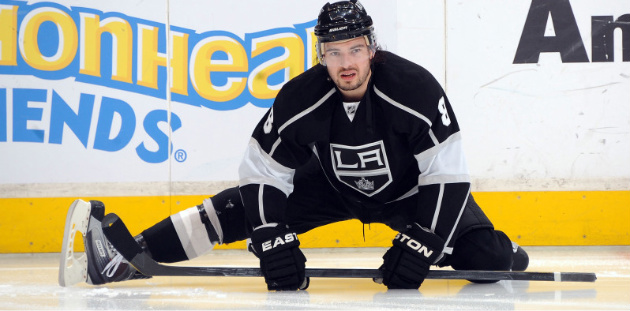 More NHL: Scores | Standings | Odds | Fight-O-Meter | League Leaders | Rumors
Drew Doughty has appeared in 28 games for the Los Angeles Kings this season and has yet to score a single goal. 
Is that a point of concern for the Kings? Or perhaps a sign of a player who is struggling? Not according to Kings coach Darryl Sutter.
"Who cares?" said Sutter after the Kings' morning skate on Tuesday, via Jon Rosen of the Kings Insider, when asked about Doughty's lack of goals this season. "Maybe he'll score three tonight. A defenseman's always one game away from being at his career average."
For what it's worth, over the first four years of his career Doughty had never taken more than 10 games to record his first goal of the season. It at least stands out given the rest of his career.
But it's certainly not for poor play or a lack of effort.
More from Sutter, again via Kings Insider:
"Drew's been awesome. I can pick three or four mistakes out all year. Literally. The only thing I try and do is keep pressure off him because he hasn't scored. There are times during games where he forces it where he doesn't have to. It's like I tell him, 'Just beat one. You don't have to beat five.' Because if you beat one, there's a good chance you're making a good enough play that somebody else is going to be open. It's hard for a young guy to do it still. It's still a struggle out there … Are we happy with him? Of course we're happy with him. [He's] a guy that plays 26 minutes on a team that's six games over .500 at his age."
When Sutter says that Doughty has been awesome, he's not lying, and it really stands out when you dig a little deeper than just goals, assists and the total minutes that he plays and look at some of his underlying numbers.
He's actually averaging more shots per game (2.21) than he has at any other point in his career, and the Kings as a team are out-shooting their opponents by an average margin of 25-21 per 60 minutes of 5-on-5 play and attempting 19 more (taking into account missed shots and blocked shots) than their opponents. That's a sign of dominant possession and the Kings playing at the right end of the ice with Doughty on the ice. And he's doing that while playing some of the toughest minutes on the Kings blue line.
The goal total (or more accurately, the lack of goals) at this point comes down to a lot of bad luck and some percentages working against him personally. I already mentioned how he's getting more shots on goal than he usually does, and not only that, he's getting them from a closer distance than he normally does. His average shot this season has come from 44.9 feet. Over the first four years of his career, where he's been a nearly 7 percent shooter, his average shot has ranged from between 46 and 49 feet.
He's too talented and playing too well to be shut out for long, and when Sutter says a defenseman is always one game away from matching his career average he's not at all wrong. We look at zero goals in 28 games for a player like Doughty and think it's a big deal, but here's how many goals he's had after 28 games in the first four years of his career: 3, 6, 2, 2. How far is he really behind from a normal season?
Based on the shot attempts he's getting (not to mention where he's getting them from) and his career performance, he's probably still on track to put four or five in the back of the net this season. And in a shortened season and when combined with his ability to drive play in the right direction, that's not bad for a No. 1 defenseman.
(Shot distances via Greg Sinclair's Shot App)
For more hockey news, rumors and analysis, follow @EyeOnHockey and @Agretz on Twitter and like us on Facebook. Also, subscribe to our YouTube Channel.
Buffalo's 20-year-old phenom pulls off the highlight of the night against Vancouver

The North American love affair with Edmonton's superhuman center continues to grow

The defending Western Conference champion Predators are also heating up early in the year
The Oilers' young star remains seriously unfair

David Kelly, a Toronto-born hockey analyst, has strong advice for Edmonton vs. Chicago game...

Gary Bettman says otherwise, for the time being, but Houston could be primed for a team